Bourne Memorials
Bourne has a few memorials around the town including the Butterfield Hospital, Abbey Church Roll of Honour and the cenotaph style memorial in the Memorial Gardens in South Street.
The list of the fallen is presented both in the church and on the memorial in South Street. Originally a few of the names only appeared on one or other of the memorials. The memorial in the Memorial Gardens has now been updated to add a further 37 names including some that only appeared on the memorial in the Abbey church.
Memorial Gardens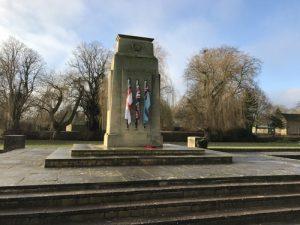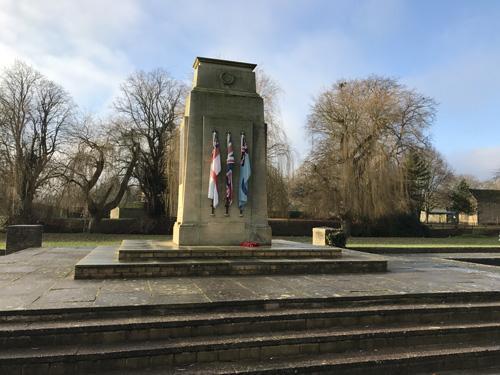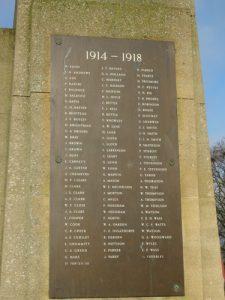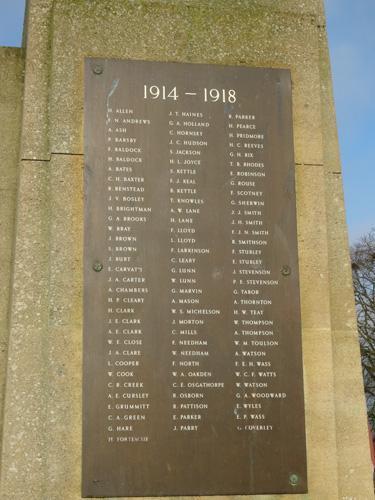 Harry Allen
Francis Nicholas Andrews
Albert Ash
Percy Victor Barsby
Frank Baldock
Harold Baldock
Arthur Bates (See Morton)
Christopher Henry Baxter
Robert Benstead
John Albert Victor Bosley
William Bray
Horace Brightman
George Alfred Brooks
John Brown
Sidney Brown
James Burt
Joseph Arthur Carter
Ewart Blake Carvath
Albert Chambers
J A Clare
Arthur Edwin Clarke
Harry Procter Clarke
Joseph Edward Clarke
Herbert Percy Cleary
William Elfleet Close
Walter Cook
Leslie Cooper
George Coverley
Charles Richard Creek
Albert E Cursley
Charles A Green (C R Green see Aslackby)
George Edwin Grummitt
John Thomas Haines
George Hare
George Arthur Holland
Cecil Hornsey
John G Hudson
Sidney Jackson
Harold Leonard Joyce
Frederick John Keal
Bertie Kettle
Stephen Kettle
Tom Knowles
Arthur W Lane
Harry Lane
Frank Larkinson
Cyril Leary
Fred Lloyd
Lancelot Lloyd
George Lunn
William Lunn
George Marvin
Arthur Mason
William Smith Michelson
Christopher Mills
Joseph Morton
Frank Harmstrong Needham
Walter Needham
Frederick North
William Arthur Oakden
Robert Osborn
Charles E Osgathorpe
Ellis Parker
Richard Parker
John William (Jack) Perry
Ralph Pattison
Harry Pearce
Harold Pridmore
Harold Charles Reeves
Thomas Benjamin Rhodes
George Henry Rix (RN)
Ernest Robinson
George Rouse
Fred Scotney
George Sherwin
Frederick John Norman Smith
James Henry Smith
John Smith
Reginald Smithson
John Richard Stevenson
Percy Edward Stevenson
Richard Ernest Stubley
Francis Stubley
Jim Tabor
Henry Walton Teat
Alfred Thompson
William Thompson
Arthur Thornton
William Morris Toulson
Ernest Cornelius Wass
Francis Edward Henry Wass
Arthur Watson
Wilfred Watson
William Charles Frederick Watts
George A Woodward
Ernest Wyles
Slate added to memorial in 2015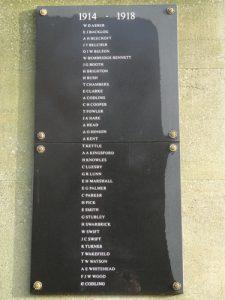 Edward James Backlog
Albert Henry Beecroft
John Thomas Belcher (See Dowsby)
Oliver Ira Wells Belton
William Bembridge Bennett
J G Booth
(Most Likely John Booth See Morton)
Horace Brighton
Herbert Bush
Thomas Chambers
Ernest Clarke
Albert Codling
Ernest Codling
Charles Herbert Cooper
T Fowler (see Morton)
John Albert Hare
Arthur Head (See Witham on the Hill)
Alfred Octavius Hinson
Arthur Kent
Thomas Kettle
Alfred Ashby Kingsford
Henry Knowles
Cyril Luesby
George Robert Lunn
E H Marshall
Eric George Palmer
Cyer Parker
Harold Pick
Ernest Smith
George Stubley
Harry Swarbrick
William Swift (See Morton)
John Charles Swift
T Wakefield
(possibly Thomas A Wakefield – See Haconby)
Thomas Willie Watson
A E Whitehead
(Possibly Albert Edward Whitethread – See Morton)
Roll of Honour in Bourne Abbey Church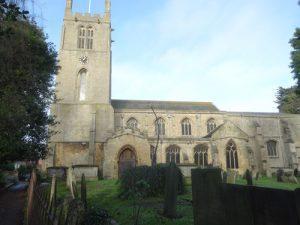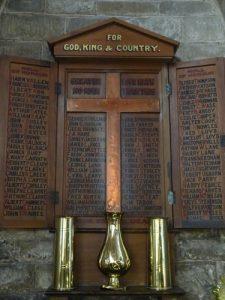 Butterfield Cottage Hospital
The Butterfield Cottage Hospital extension was built in 1920 as a lasting memorial to those that had given their lives for their country in the Great War of 1914-1918.