Biography of Private Harry Allen (26982)
2nd Royal Warwickshire Regiment
Formerly 5573 – Lincolnshire Regiment
Died 10th October 1916
Soldier
Name: Henry Allen
Date of birth: 1896
Place of Birth: Bourne, Lincolnshire, England
Date of Birth Registration: January – March 1896
Place of Birth Registration: Bourne, Lincolnshire, England
Father
Name: Albert Swain Allen
DOB: 1868
Place of Birth: Morton, Lincolnshire, England
Occupation: Postman
Mother
Name: Frances Corney
DOB: 1862
Place Of Birth: Aslackby, Lincolnshire, England
Marriage: 1889 Bourne District
Siblings: (Name), (DOB), (POB)
John D Allen, 1890, Bourne
Frances Mills Allen, 1892, Bourne
Henry Allen, 1896, Bourne
Mary Lawson Allen, 1897, Bourne
Dora Kathleen Allen, 1900, Bourne
Ethel May Allen, 1902, Bourne
Daisy Allen, 1907, Bourne
Census
1901: Harry is living with his parents in Bourne, Lincolnshire.
1911: Harry is living with his parent in Bourne Lincolnshire. The census gives him an age of 15 and he is listed as an office clerk.
Marriage
No marriage for Harry has been found and because of his age we can assume that he never had the opportunity to marry.
Newspaper Mentions
Stamford Mercury Friday 20th October 1916
BOURNE
News has been recieved of the death, in action, og priv, Harry Allen, of Bourne.  Before joining the Forces he was with Messrs. H. Sneath and Sons, of Thurlby, and also Messrs. Wherry and Sons, of Bourne.
Grantham Journal Saturday 28th October 1916.
District Roll of Honour
Private Harry Allen of Bourne
Mr and Mrs A S Allan, of Bourne, have received the following letter from a commanding officer concerning the death of their son, Private Harry Allen:- "It is with the deepest regret that I have to inform you of the death of your son. He was hit in two places on the head by a burst shell at about 2.30pm on the 10th inst. He never regained consciousness and died at seven o'clock the same evening in hospital, so that he never suffered any pain. I, his platoon commander, the Sergeant and all the men of his platoon wish to tender to you our most sincere condolence. Needless to say, your son always did hid duty and was most popular with his company." Pte Allen was a well-known visitor to Kirkby Underwood where his father was formerly postman for a great many years. He was of a very bright disposition. He used to be a singer in Bourne Abbey Church choir and also a teacher in the Sunday School. He would have been 21 next month. Great sympathy is felt for his parents and friends. A brother of the deceased is in the army.
Grimsby News Friday 10th November 1916
DIED OF WOUNDS.
Royal Warwickshire Regiment
Allen, 26982 H, (Lincoln).
Soldier's Died In The Great War
These records show that Harry Allen, 26982, Royal Warwickshire was killed in action on 10th October 1916 in the Western European Theatre in France and Flanders.
Pension Records
Effects Left Too
Medals
The British Medal
The Victory Medal
Memorials
UK:
Bourne, Roll of Honour in Bourne Abbey Church
Bourne War Memorial in the Memorial Gardens
Commonwealth War Graves Commission:
In Memory of Private Harry Allen, 26982, Royal Warwickshire who died on 10 October 1916 Age 20.
Son of Albert Swain Allen and Frances Allen of "The Willows" Meadow Gate, Bourne, Lincs
Remembered with Honour Nieppe Communal Cemetery
III. B. 8.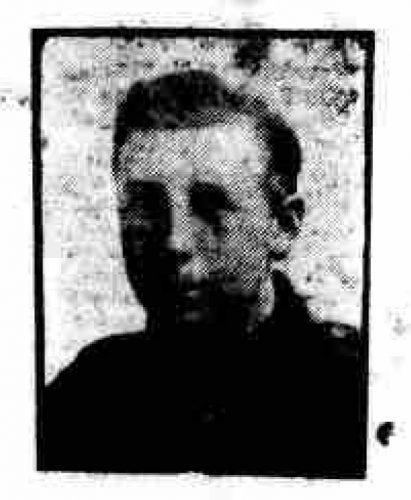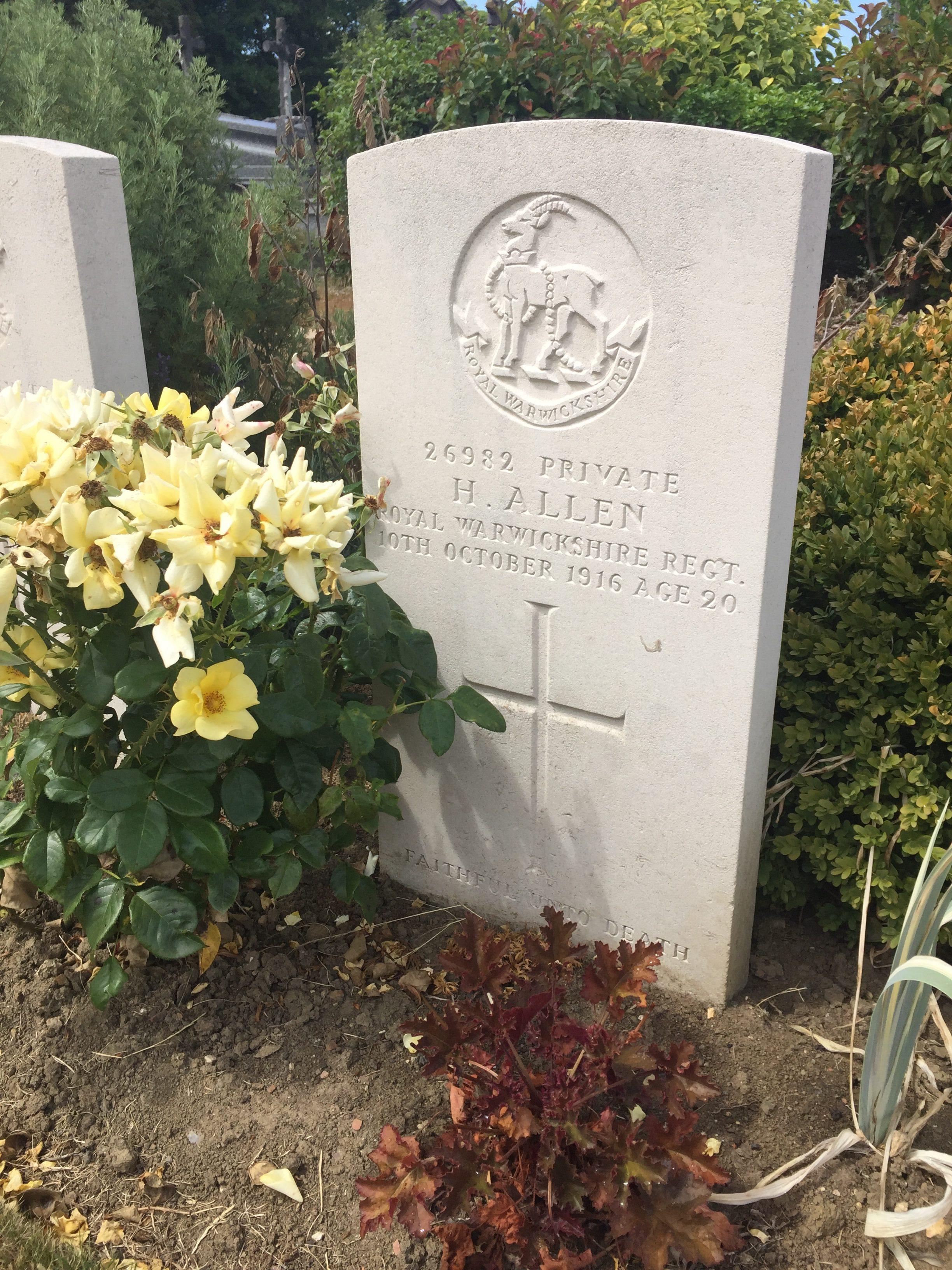 © Picture taken by South Lincolnshire War Memorials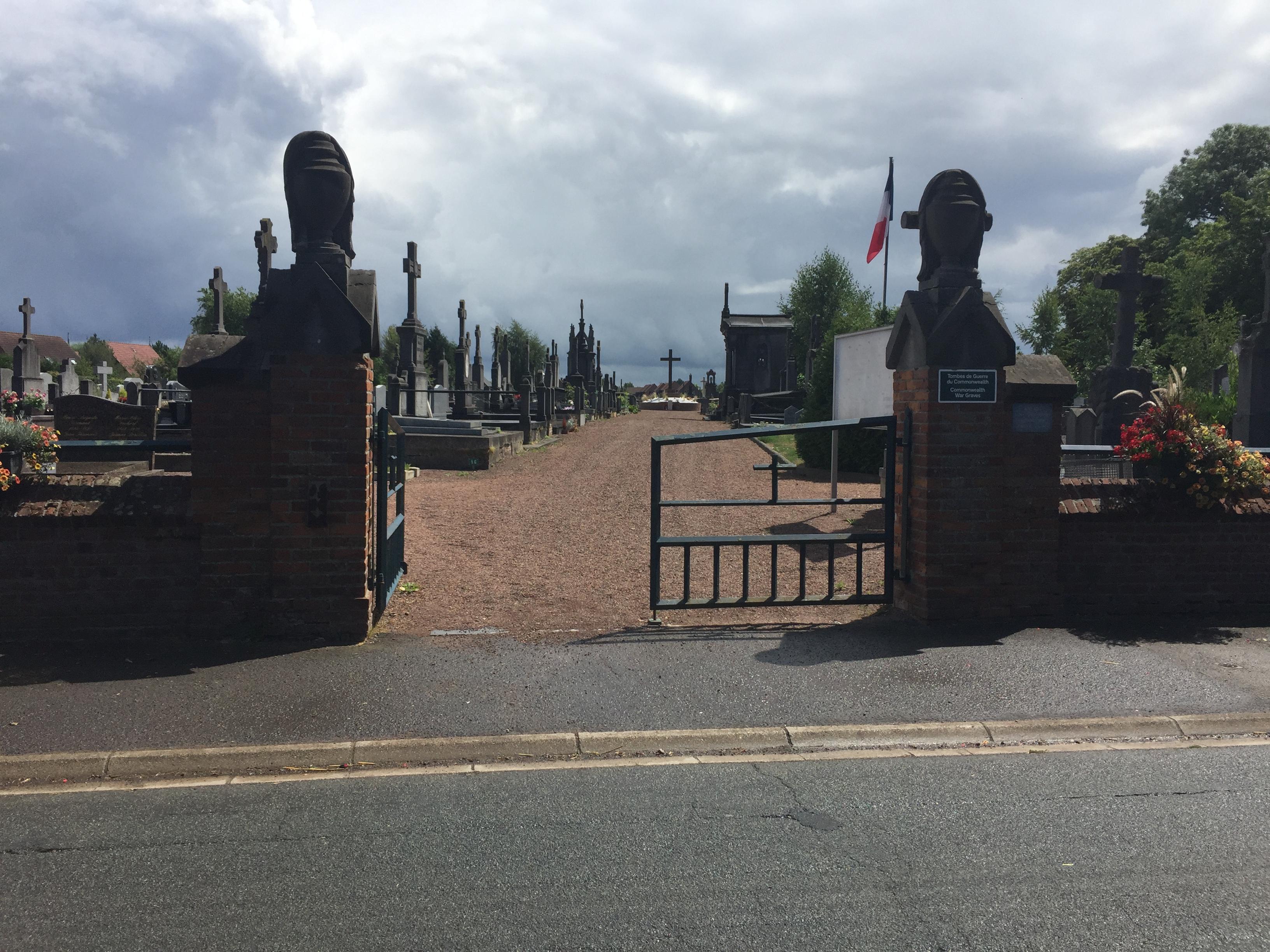 © Picture taken by South Lincolnshire War Memorials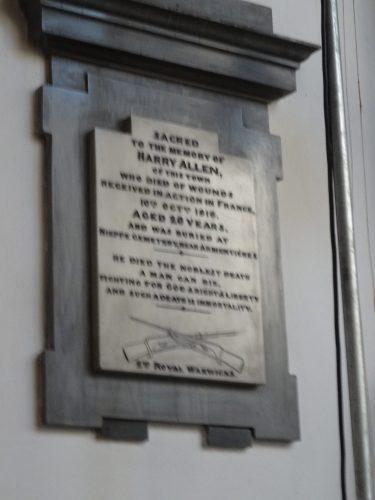 © Picture taken by South Lincolnshire War Memorials
Military Service Timeline
Enlisted in Lincoln
Died of wounds
This is ongoing research and will be posted when completed
Sources
WW1 Soldier's Records (www.ancestry.co.uk)
British Newspaper Archive.
Fold 3
Find My Past
Genealogist
Forces War Records
British Army Service Numbers
War Gratuity Calculator
Commonwealth War Graves Commission
National Archives – Battalion War Diaries
General Registry Office