Research into the War Memorial of Dowsby, Bourne, Lincolnshire
The following soldiers lost their lives in the Great War 1914-1918 and appear on a memorial in St Andrew's Church in Dowsby.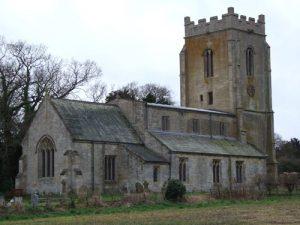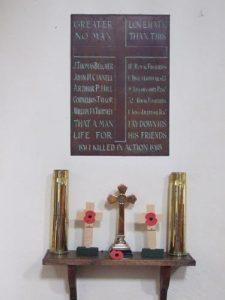 The memorial reads:-
GREATER LOVE HATH NO MAN THAN THIS.
 J. THOMAS BELCHER – 11th Royal Fusiliers
JOHN H CANNELL – 1st Duke of Cornwall's L I
ARTHUR P HILL – 8th Lincolnshire Regt
CORNELIUS TAYLOR – 32nd Royal Fusiliers
WILLIAM J A THORNLEY – 1st Kings Own Liverpool Regt
THAT A MAN LAY DOWN HIS LIFE FOR HIS FRIENDS
1914 KILLED IN ACTION 1918
Dowsby Church also has a grave maintained by the Commonwealth War Graves Commission of an airman who was killed in a flying accident in the Second World War.
ALEXANDER ARTHUR JOLLY – AIR GUNNER
As part of the memorials the parishioners of Dowsby also placed a new clock in the village church installed in 1921. The officials of the church at that time being the Reverend H.S. Chesshire with wardens A.W. Dean and J.R. Holmes.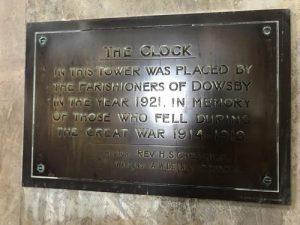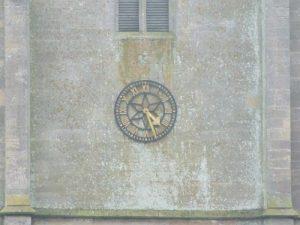 The research into these brave men of Dowsby is ongoing and we hope you will check back frequently