Biography of Private Frederick James william Wood (689741)
Northern Command Lab. Centre, Labour Corps Regiment
Died 11th December 1920
Soldier
Name: Frederick James William Wood
Date of birth: 1900
Place of Birth: Ingoldsby, Lincolnshire, England
Date of Birth Registration: April – June 1900
Place of Birth Registration: Grantham, Lincolnshire, England
Father
Name: James Wood
DOB: 1865
Place of Birth: Scawby, Lincolnshire, England
Occupation: Unknown
Do not think he is Frederick father as he died before is was born.
Mother
Name: Anne Elizabeth Emms
DOB: 5th February 1871
Place Of Birth: Frieston, Lincolnshire, Englnd
Marriage: 1889 Glanford Brigg District
Siblings: (Name), (DOB), (POB)
Bertha Elizabeth Alice Wood, 1890, Scawby
Stanley Ernest Wood, 1983, Scawby
Frederick James William Wood, 1900, Ingoldsby
Census
1901: Frederick is living with his grandparents in Ingoldsby, Lincolnshire.
1911: Frederick is living with his mother and step father at 62 Wood View, Bourne, Lincolnshire. The census gives him an age of 10 and he is listed as being at school.
Marriage
No marriage for Frederick has been found and because of his age we can assume that he never had the opportunity to marry.
Newspaper Mentions
Grantham Journal Saturday 18th December 1920
BOURNE
OBITUARY – The funeral took place on Wednesday afternoon of Pte. Fred Woods, who died the previous Saturday, after a somewhat lingering illness, contracted whilst in the Army, at Weelsby Camp, Grimsby, where, owing to the tents being overturned in a gale, deceased caught pneumonia, consumption supervening.  Deceased, whohad been brought up in a Military School, had been connected, more or less, with the Army for greater part of his life.  The funeral was conducted by Canon Grinter, and the coffin was borne by four members of the N.F.D.  S.  & S., who were represented at the funeral by Mr. A. L. Smith, and amonst the wreaths was one from the Federation.
Soldier's Died In The Great War
Pension Records
Effects Left To

Memorials
UK:
Bourne,

Bourne War Memorial in the Memorial Gardens
Commonwealth War Graves Commission:
In memory of Private Frederick James william Wood, 689741, Northern Command Lab. Centre, Labour Corps Regiment who died on 11 December 1920 Age 20
Son of James and Annie Elizabeth Wood, of 62, Wood View, Bourne.  Born at Ingoldsby, Lincs.
Remembered with honour, Bourne Cemetery
Inscription: AT REST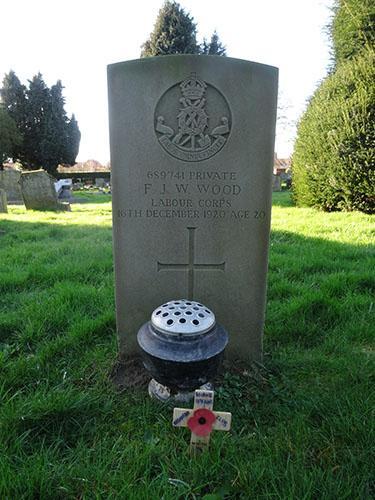 © Picture taken by South Lincolnshire War Memorials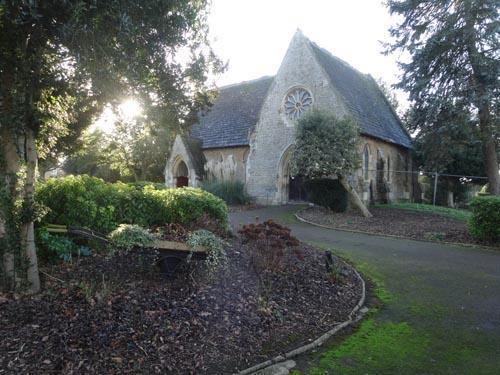 © Picture taken by South Lincolnshire War Memorials
Military Service Timeline
This is ongoing research and will be posted when completed
Sources
WW1 Soldier's Records (www.ancestry.co.uk)
Commonwealth War Graves Commission
British Newspaper Archive.