Biography of Private Cyer Parker (201987)
2nd/4th Battalion Lincolnshire Regiment
Died 7th April 1917
Soldier
Name: Cyer John Parker
Date of birth: 1893
Place of Birth: Bourne, Lincolnshire, England
Date of Birth Registration: April – June 1893
Place of Birth Registration: Bourne, Lincolnshire, England
Father
Name: John Thomas Parker
DOB: 1862
Place of Birth: Bourne, Lincolnshire, England
Occupation: Labourer
Mother
Name: Mary Ann Cooper
DOB: 1864
Place Of Birth: Toft, Lincolnshire, England
Marriage: 1888 Bourne District
Siblings: (Name), (DOB), (POB)
Mary Parker, 1886, Bourne
Dory Parker, 1889, Bourne
Winifred Parker, 1890, Bourne
Millicent Ann Parker, 1891, Bourne
Cyer John Parker, 1893, Bourne
Thomasina Parker, 1896, Tongue End
Morris William Parker, 1899, Bourne
Gwendoline Ivy W Parker, 1901, Bourne
Freda Funny Parker, 1905, Bourne
Plus 1 more whose name is unknown taken from the 1911 census
Census
1901: Cyer is living with his parents in Willoughby Road, Bourne, Lincolnshire.
1911: Cyer is living with his parents at 1 Bedford Cottage, Willoughby Road, Bourne, Lincolnshire. The census gives him an age of 18 and he is listed as an assistant general dealer.
Marriage
No marriage for Cyer has been found and because of his age we can assume that he never had the opportunity to marry.
Newspaper Mentions
Grantham Journal Saturday 5th May 1917
LOCAL CASUALTIES:- Lieut Arthur Wherry was wounded in action last week and on Thursday reached Dover. He is now in Hospital at Wanstead, suffering from a flesh wound in the thigh caused by shrapnel. The wound is not of a serious character  and Lieut Wherry is favourably progressing towards recovery. News was received last week that Pte Parker had been killed in action. Pte Parker, up to the time he joined up was employed by Messrs. Foley and Butler and was closely associated with the Wesleyan Church and School being an energetic worker. On Monday, an intimation was received at Bourne that Pre Fred Lloyd of Burghley Street has been killed in action. Pte Lloyd had spent several years in the Army and on the outbreak of was was called up as one of the reserve men. He had been home several times during the intervening period and had not long been out on active service after his last leave. On Wednesday the death in action of another Bourne boy was notified, Pte George Marvin, son of Mr and Mrs Hy Marvin, Bedehouse Bank. He went out with his regiment early in the New Year and leaves a young widow and one child.
Soldier's Died In The Great War
These records show that Private Cyer Parker, 201987, 4th Bn Lincolnshire Regiment was killed in action on 7th April 1917 in the Western European Theatre in France and Flanders.
Pension Records
Effects Left To
Medals
The British Medal
The Victory Medal
Memorials
UK:
Bourne, Roll of Honour on Bourne War Memorial in the Memorial Gardens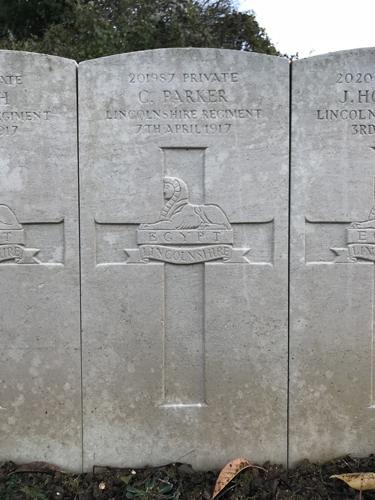 © Picture taken by South Lincolnshire War Memorials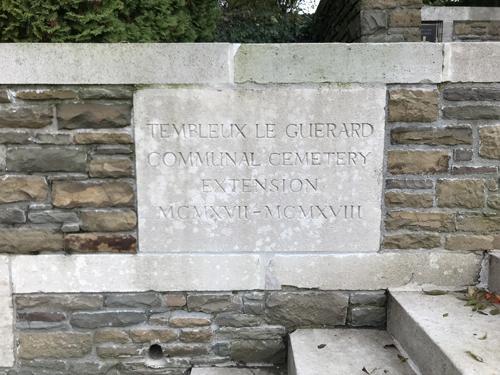 © Picture taken by South Lincolnshire War Memorials
Military Service Timeline
Today we remember Bourne man, Private Cyer Parker who died on this day, 7th April 1917 whilst serving with the 2nd/4th Battalion Lincolnshire Regiment.

Cyer John Parker was born in Bourne in the spring of 1893. One of 10 children born to John Thomas Parker, a Farm Labourer of Bourne and his wife Mary Ann Cooper from Toft. The couple's marriage was registered in the Bourne district in 1888.

• Mary Parker, 1886, Bourne

• Dory Parker, 1889, Bourne

• Winifred Parker, 1890, Bourne

• Millicent Ann Parker, 1891, Bourne

• Cyer John Parker, 1893, Bourne

• Thomasina Parker, 1896, Tongue End

• Morris William Parker, 1899, Bourne

• Gwendoline Ivy W Parker, 1901, Bourne

• Freda Funny Parker, 1905, Bourne

• Plus 1 more whose name is unknown but mentioned on the 1911 census.

The 8 year old Cyer was living with his parents in Willoughby Road Bourne on census night in 1901. His father John is working as an ordinary agricultural worker.

Ten years later Cyer is still living in Bourne with his parents and was working as an assistant General Dealer. Life could not have been that easy for the family as Thomas was working on the land and his mother Mary Ann was working in a pea factory. Of the children still at home older sister Dory was working as a domestic servant, younger sister Thomassina was an apprentice dressmaker and even twelve year old Morris was working as a News Boy as well as attending school.

From newspaper articles later we know that Cyer was an energetic member of the Wesleyan Chapel and also worked at the school. He gained employment with Messers Foley and Butler before the war. Foley and Butler had a shop on North Street in Bourne, where the Jubilee Pub sits today, and were General and Furnishing Ironmongers, Furniture Dealers and also Automobile Engineer and Agents.

The 1911 census had mentioned that Cyer was working as an assistant general dealer.

Cyer joined the 2nd/4th Battalion Lincolnshire Regiment during the war, unfortunately due to a lack of surviving records the details of his service is not known. 60% of all WW1 records were destroyed in a London warehouse fire in the Blitz of WW2 and so we can only work with other surviving records to attempt to piece together Cyer's time in military service.

In January 1916 parliament announced the Military Service Act that declared that all men between the ages of 18 and 41 who were not exempt or married would be conscripted into military service on the 2nd March 1916. Up to this point enlisting had been voluntary and man men working in agriculture in our area, feeding the Country and Army, were now eligible for conscription from March.. A percentage men of every farm were kept as exempt after conscription but this was decided largely by a court rural tribunal.

From the War gratuity payment received by Cyer's mother after his death and also his original Regimental number it would point to him enlisting around the first part of February 1916 thus he enlisted before the date when full conscription was assumed.

Although everything mentions Cyer being in the 2nd 4th Battalion Lincolnshire regiment it is likely that between February and at least late in May he would have been on basic training unless he had any previous experience of serving with a territorial unit. The 1st / 4th were a front line territorial unit and the 2nd /4th (second line battalion) would originally feed the first line force with trained recruits. However as the need for more and more men, Battalions etc became prevalent a lot of the 2nd line battalions were eventually posted to the active front.

The 2nd / 4th Battalion of the Lincolns has been formed in Lincoln in September 1914 and then moved to St. Albans to join the 177th Brigade of the 59th Division.

Just after Cyer joined in February 1916 the Battalion were moved to Dublin and Fermoy in Ireland, however without full service records it is not known how long Cyer would be training for or when and if he joined them in Ireland.

On recall from Ireland the Battalion was based at Fovant in Wiltshire from January 1917 and in February they were mobilised for war landing in France in February 1917. On the 23rd February 1917 the 2nd/4th Lincolnshires embarked on the SS Lydia from Southampton and arrived in Le Havre, France the following day. They had been appointed to the 59th Division (2nd North Midland) and the 177th Brigade.

The Battalion took over a sector close to Estrees but within two weeks they were in pursuit of the retiring German army, finding themselves crossing the Somme and by 18th March they occupied Peronne. During Spring of 1917 the enemy carried out a tactical withdrawal back to the Hindenberg Line, this allowed them the shorten the front and hold better defensive positions.

On the 31st March the 2/4th Lincolnshire and the 2/5th Leicesters were involved in the capture of Hesbécourt and Hervilly, before moving east to take Hill 140 as part of the 177th Brigade.

2nd April – The 2/4th Leicestershire Regiment were unsuccessful in their goal to take Fervaque Farm. The Lincolnshires were tasked with the same goal the following day but again were unsuccessful.

5th April – The Battalion was once more in action near Templeux. By Noon they had taken a new outpost on the line between Templeux and Hargicourt village and suffered heavy shelling during the afternoon.

6th April – saw more heavy shelling and the battalion HQ was hit. A patrol that advanced to an old German trench north of Hargicourt was shelled out. The day saw 4 killed and 16 other ranks wounded.

7th April – patrols were sent out to take German posts on the outskirts of Hargicourt but no enemy were found there. The patrol laid up for the rest of the day but saw nothing. The afternoon saw more heavy shelling and the post was shelled out and moved to a disused German trench. 1 other rank was killed and 6 wounded.

Private Cyer John Parker was officially termed as killed in acction on the 7th April and we can only assume this to be part of the actions described above.

Grantham Journal Saturday 5th May 1917

LOCAL CASUALTIES:- Lieut Arthur Wherry was wounded in action last week and on Thursday reached Dover. He is now in Hospital at Wanstead, suffering from a flesh wound in the thigh caused by shrapnel. The wound is not of a serious character and Lieut Wherry is favourably progressing towards recovery. News was received last week that Pte Parker had been killed in action. Pte Parker, up to the time he joined up was employed by Messrs. Foley and Butler and was closely associated with the Wesleyan Church and School being an energetic worker. On Monday, an intimation was received at Bourne that Pre Fred Lloyd of Burghley Street has been killed in action. Pte Lloyd had spent several years in the Army and on the outbreak of was called up as one of the reserve men. He had been home several times during the intervening period and had not long been out on active service after his last leave. On Wednesday the death in action of another Bourne boy was notified, Pte George Marvin, son of Mr and Mrs Hy Marvin, Bedehouse Bank. He went out with his regiment early in the New Year and leaves a young widow and one child.

• Commonwealth War Graves Commission:

• In memory of Private C Parker, 201987, 2nd/4th Bn., Lincolnshire Regiment who died on 7 April 1917

• Remembered with honour, Templeux-Le-Guerard Cummunal Cemetery Extension

• Cyer John John Parker is also remembered on the Bourne, Roll of Honour in the Abbey Church and also on Bourne War Memorial in the Memorial Gardens

Initially his effects and pension was paid to his mother Mary Ann at an address of 2 Horseshoe terrace, Meadowgate, Bourne. From pensions records we can see that at some point she died possibly in old age and from then the pensions were paid to his father Thomas, his last address was listed as C/O St George's Hospital, Stamford

https://southlincolnshirewarmemorials.org.uk/our-villages/bourne/cyer-john-parker/
Sources
WW1 Soldier's Records (www.ancestry.co.uk)
Commonwealth War Graves Commission