Biography of Lance Corporal Christopher Henry Baxter, (43015)
7th Battalion Lincolnshire Regiment
Formerly 1st Battalion Lincolnshire Regiment
Died 14th August 1918
Soldier
Name: Christopher Henry Baxter
Date of birth: 1890
Place of Birth: Lenton, Lincolnshire, England
Date of Birth Registration: July – September 1890
Place of Birth Registration: Grantham, Lincolnshire, England
Father
Name: Charles William Baxter
DOB: 1866
Place of Birth: Great Humby, Lincolnshire, England
Occupation: Waggoner on fram
Mother
Name: Sarah Jane Bradford
DOB: 1867
Place Of Birth: Lenton, Lincolnshire, England
Marriage: 1887 Grantham District
Siblings: (Name), (DOB), (POB)
Mary Elizabeth Bradford, 1887, Lenton
Sarah Jane Baxter, 1890, Lenton (Died 1906)
Christopher Henry Baxter, 1890, Lenton
Edith A Baxter, 1893, Lenton
Charles William Baxter, 1893, Haceby
Census
1891: Christopher is living with his parents at his grandparents house in Lenton, Lincolnshire
1901: Christopher is living with his father in Haceby, Lincolnshire
1911: Christopher is living with the Faulkner family in Humby, Lincolnshire. The census gives him an age of 20 and he is listed as a waggoner on farm
Wife
Name: Alice Horsman
Date of birth: 1894
Place of Birth: Spanby, Lincolnshire, England
Marriage
Date of Marriage: 1915
Place of Marriage: Bourne District, Lincolnshire
Children
Alice Cambrai Baxter, 1918, Bourne
Wife's parents
Father: Edward Horsman
Mother: Annie cooke
Newspaper Mentions
Grantham Journal Saturday 16th June 1917
LINCOLNSHIRE REGIMENT CASUALTIES
Wounded
Baxter 43015 C. (Bourne)
Soldier's Died In The Great War
These records show that Lance Corporal Christopher Henry Baxter, 43015, 7th Battalion Lincolnshire Regiment was killed in action on 14th August 1918 in France and Flanders.
Pension Records
Effects Left Too
Medals
The British Medal
The Victory Medal
Memorials
UK:
Bourne, Roll of Honour in Bourne Abbey Church
Bourne War Memorial in the Memorial Gardens
Commonwealth War Graves Commission:
In memory of Lance Corporal C H Baxter, 43015, 7th Battalion, Lincolnshire Regiment who died on 14 August 1918.
Remembered with honour, Heath Cemetery, Harbonnieres.
Grave VIII. E. 13.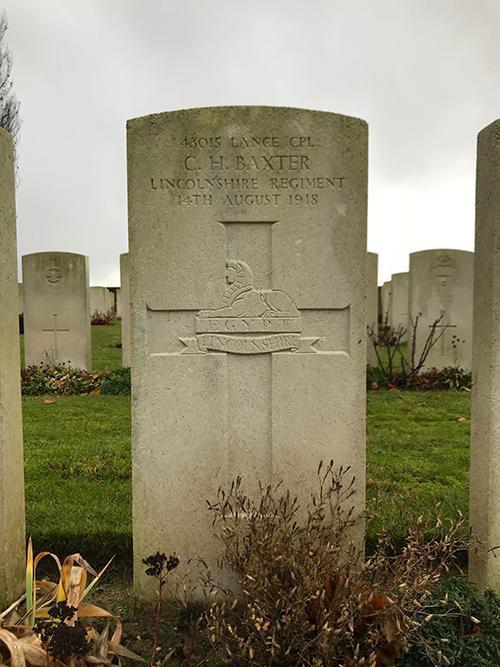 © Picture taken by South Lincolnshire War Memorials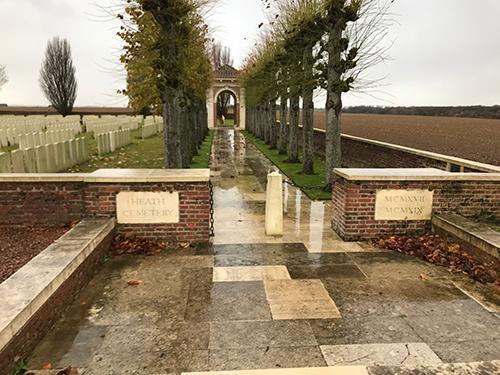 © Picture taken by South Lincolnshire War Memorials
Military Service Timeline
Enlisted in Bourne
Died of wounds
This is ongoing research and will be posted when completed
Sources
WW1 Soldier's Records (www.ancestry.co.uk)
British Newspaper Archive.
Fold 3
Find My Past
Genealogist
Forces War Records
British Army Service Numbers
War Gratuity Calculator
Commonwealth War Graves Commission
National Archives – Battalion War Diaries
General Registry Office