Biography of Private William Arthur Oakden (7010)
1st battalion, Princess Charlotte of Wales's (Royal Berkshire) Regiment
6260 The Kent R.G.A Militia
Died 14th November 1914
Soldier
Name: WIlliam Arthur Oakden
Date of birth: 1886
Place of Birth: Camberwell, Surrey, England
Date of Birth Registration: April – June 1886
Place of Birth Registration: Lambeth, Surrey, England
Father
Name: Arthur John Oakden
DOB: 1861
Place of Birth: Camberwell, Surrey, England
Occupation: Mercantile clerk (Ship Brokers)
Mother
Name: Ellen Horwood
DOB: 1857
Place Of Birth: Lacey Green, Buckinghamshire, England
Marriage: 1882 Lambeth, Surrey, England
Siblings: (Name), (DOB), (POB)
Ellen Hosking Oakden, 1883, Camberwell
Arthur Percy Oakden, 1884, Camberwell
William Arthur Oakden, 1886, Camberwell
Winifred Emily Oakden, 1888, Camberwell
Hilda Maud Oakden, 1890, Camberwell
Norman Edward Oakden, 1892, Camberwell
Clifford Stanley Oakden, 1896, Leytonstone
Albert Cecil Oakden, 1898, Leytonstone
Census
1891: William is living with his parents at 1 Sansom Street, Camberwell, Surrey.
1901: William is living with his parents at 97 Howson Road, Lewisham, Surrey.
1911: William is living with his parents at 61 Ruckholt Road, Leyton, Essex. The census gives him an age of 24 and he is listed as a Canvaser (photography).
Wife
Name: Eva Annie Goody
Date of birth: 17th November 1890
Place of Birth: Sudbury, Suffolk, England
Marriage
Date of Marriage: 1914
Place of Marriage: Bourne District
Wife's parents
Father: Robert Cross (Step Father)
Mother: Edna Goody
Newspaper Mentions
Grantham Journal Saturday 19th December 1914
REPORTED KILLED AT THE FRONT. – News was received on Tuesday morning that P.c. Oakden, who had been called up on the reserve, had been killed in action.  The news was conveyed in a letter to Mrs. Oakden by the Quartermaster from the seat of war, but up to the time of writing no confirmation had been reieved from the War Office.  P.c. Oakden was married only on August 1st, and on the following day recieved notice to rejoin his regiment.  Mrs Oakden has continued jer residence at Bourne, and when the news became known there were many expressions of sympathy for her.
Grantham Journal Saturday 30th January 1915
THE DEATH OF P.C. OAKDEN – Confirmation was receieved on Thursday morning of the death of P.c. Oakden, killed in action on Nov. 14th.  Within the past month, the War Office stated, in reply to an equiry, that the latest information was that Mr. Oakden was serving with his regiment.  The present bad news adds to the sadness of his young widow, who was maturally buoyed up by the hope that the rumour of his death was incorrect.
Sheffield Daily Telegraph Thursday 4th March 1915
Under date 6th Febrauary:-
KILLED
Oakden (7010), W., Berks.
The Scotsman Thursday 4th March 1915
Under date 6th February
KILLED
Oakden, 7010, W., Berks.
Ablingdon Free Press Friday 5th March 1915
CASUALTIES OF THE BERKS REGT.
A FURTHER LIST.
The following further casualties in the Berks Regiment are announced:-
KILLED
Oakden, W., 7010
Berkshire Chronicle Friday 5th March 1915
THE CASUALTY LIST.
HEAVY BERKS LOSSES>
MANY KILLED.
This week's casualty list contains the names of many Berkshire men who have laid down their lives for their country.
ROYAL BERKSHIRE REGIMENT.
N.C.o.'S AND MEN KILLED.
Private W. Oakden, 7010
Reading Mercury Saturday 6th March 1915
CASUALTY LIST.
ROYAL BERKSHIRE REGIMENT
N.C.O.'S AND MEN KILLED
Private W. Oakden, 7010.
Soldier's Died In The Great War
These records show that Private William Arthur Oakden, 7010, 1st Bn Princess Charlotte of Wales's (Royal Berkshire) Regiment was killed in action on 14th November 1914 in the Western European Theatre in France and Flanders.
Pension Records
Effects Left To
Medals
The British Medal
The Victory Medal
The 14 Star
Memorials
UK:
Bourne, Roll of Honour in Bourne Abbey Church

Bourne War Memorial in the Memorial Gardens
Commonwealth War Graves Commission:
In memory of Private William Arthur Oakden, 7010, 1st Bn., Royal Berkshire Regiment who died on 14 November 1914 Age 27
Son of Mr. and Mrs. Oakden, of Leyton, Essex, husband of Mrs. F. Coulson (formerly Oakden), of 23, St. Paul's St., Stamford, Lincs.
Remembered with honour, Ypres (Menin Gate) Memorial
Panel 45.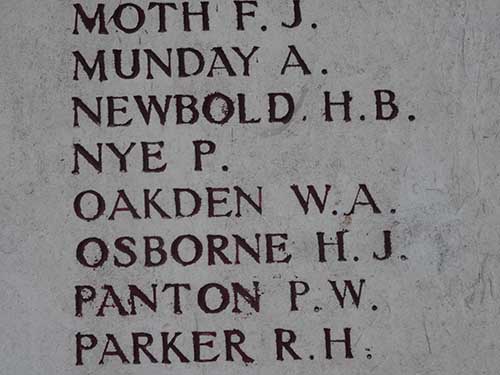 © Picture taken by South Lincolnshire War Memorials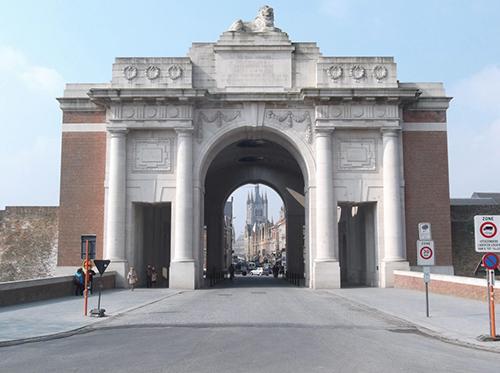 © Picture taken by South Lincolnshire War Memorials
Military Service Timeline
This is ongoing research and will be posted when completed
Sources
WW1 Soldier's Records (www.ancestry.co.uk)
British Newspaper Archive.
Fold 3
Find My Past
Genealogist
Forces War Records
British Army Service Numbers
War Gratuity Calculator
Commonwealth War Graves Commission
National Archives – Battalion War Diaries
General Registry Office