Biography of Private Leslie Cooper (55355)
B Company 12/13th Battalion Northumberland Fusiliers
Formerly 37910 – 261st Infantry Battery
Died 28th March 1918
Soldier
Name:Leslie John Henry Cooper
Date of birth: 1898
Place of Birth: Bourne, Lincolnshire, England
Date of Birth Registration: April – September 1898
Place of Birth Registration: Bourne, Lincolnshire, England
Father
Name: John Henry Cooper
DOB: 1874
Place of Birth: Witham on the Hill, Lincolnshire, England
Occupation: Brewer's Drayman
Mother
Name: Alice Mary Barnett
DOB: 1875
Place Of Birth: Bourne, Lincolnshire, England
Marriage: 1896 Bourne District
Siblings: (Name), (DOB), (POB)
Charlotte Alice Cooper, 1897, Bourne
Leslie John Henry Cooper, 1898, Bourne
Female Cooper, 1901, Bourne
Ronald Barnett Cooper, 1911, Bourne
Raymond Sydney Cooper, 1913, Bourne
Census
1901: Leslie is living with his parents in Bray's Yard, Bourne, Lincolnshire
1911: Leslie is living with his parents in Manning Road, Bourne, Lincolnshire. The census gives him an age of 12 and he is listed as being at school
Marriage
No marriage for Leslie has been found and because of his age we can assume that he never had the opportunity to marry.
Newspaper Mentions
Grantham Journal Saturday 27th April 1918
NEWS OF BOURNE BOYS – Mr and Mrs Joyce of Bedehouse Bank, have received information that their son, Pte. H.L.Joyce, Lincoln Regt., died in hospital in France, from gunshot wounds in the left thigh. Mr and Mrs J. Cooper of Manning road have had all the letters of their son, Leslie, returned marked "no address know." They have not yet had official notice that he is missing, although one of the letters was marked to that effect. Private Martin E Barnes, a native of Bourne, attached to the Notts and Derby Regiment has been missing since March 21st. The notification came to Pte. Barnes' sister Mrs F Hinson of Willoughby road. Pte Wm. Jackson son of Mr and Mrs Wm. Jackson of Eastgate has been taken prisoner. He is unwounded. This is the second son of Mr and Mrs Jackson who is now a prisoner of war, whist a third and younger son was killed in action some few months ago. Mrs Smallman of Elm Terrace has received official notification that her husband, Pte. E. Smallman is missing. Prior to his joining the Forces, Pte. Smallson was in the employ of Messrs. W.H. Smith and Son at their Bourne bookstall.
Nottingham Evening Post Tuesday 21st May 1918
MISSING
NORTHUMBERLAND FUSILIERS
Cooper 55355 L (Bourne)
Soldier's Died In The Great War
These records show that Private Leslie Cooper, 55355, 12/13th Bn Northumberland Fusiliers was killed in action on 28th March 1918 in the Western European Theatre in France and Flanders.
Medals
The British Medal
The Victory Medal
Memorials
UK:
Bourne, Roll of Honour in Bourne Abbey Church
Bourne War Memorial in the Memorial Gardens
Commonwealth War Graves Commission:
In memory of Private Leslie Cooper, 55355, "B" Coy. 12th/13th Battalion, Northumberland Fusiliers who died on 28th March 1918 Age 19
Son of John and Alice Cooper, of 2, Manning Rd., Bourne, Lincs.
Remembered with honour, Pozieres Memorial

Panel 16 to 18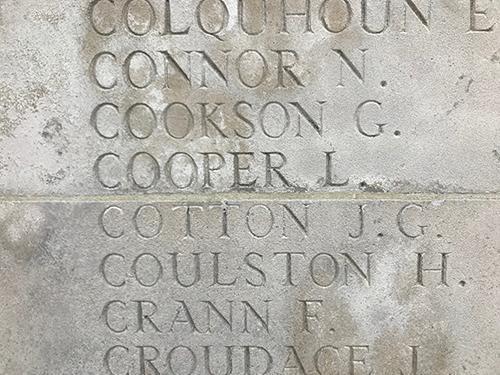 © Picture taken by South Lincolnshire War Memorials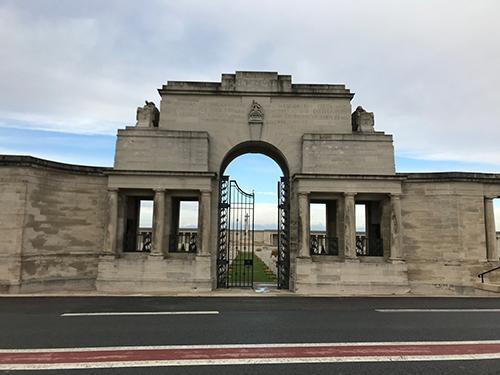 © Picture taken by South Lincolnshire War Memorials
Military Service Timeline
Sources
WW1 Soldier's Records (www.ancestry.co.uk)
British Newspaper Archive.
Fold 3
Find My Past
Genealogist
Forces War Records
British Army Service Numbers
War Gratuity Calculator
Commonwealth War Graves Commission
National Archives – Battalion War Diaries
General Registry Office
Red Cross POW