Biography of Private Frank Harmston Needham (201984)
1st battalion Lincolnshire Regiment
Formerly 2nd/4th and 1st/5th Lincolnshire Regiment
Died 23rd October 1918
Soldier
Name: Frank Harmston Needham
Date of birth: 1897
Place of Birth: Northorpe, Lincolnshire, England
Date of Birth Registration: January – March 1897
Place of Birth Registration: Bourne, Lincolnshire, England
Father
Name: Francis Robert Needham
DOB: 10th June 1868
Place of Birth: Northorpe, Lincolnshire, England
Occupation: Woodman
Mother
Name: Emily Harmston
DOB: 1869
Place Of Birth: Stamford, Lincolnshire, England
Marriage: 1895 Bourne District
Siblings: (Name), (DOB), (POB)
Frank Harmston Needham, 1897, Northorpe
Robert Harmston Needham, 1900, Bourne (Died 1901)
Adelaide Annie Needham, 1905, Bourne
Census
1901: Frank is living with his parents at Northorpe, Lincolnshire.
1911: Frank is living with his parents at West Field Cottage, West Road, Bourne, Lincolnshire.
Marriage
No marriage for Frank has been found and because of his age we can assume that he never had the opportunity to marry.
Newspaper Mentions
Lincolnshire Echo Wednebsday 12th June 1918
OFFICIAL LOCAL CASUALTIES.
WOUNDED.
LINCOLNS.
Needham, 201984 Pte F H (Bourne).
Soldier's Died In The Great War
These records show that Private Frank Harmstrong Needham, 201984, 1st Bn Lincolnshire Regiment was killed in action on 23rd October 1918 in the Western European Theatre in France and Flanders.
Pension Records
Effects Left To
Medals
The British Medal
The Victory Medal
Memorials
UK:
Bourne, Roll of Honour in Bourne Abbey Church

Bourne War Memorial in the Memorial Gardens
Commonwealth War Graves Commission:
In memory of Private F H Needham, 201984, 1st Bn., Lincolnshire Regiment who died on 23 October 1918 Age 23
Son Francis Robert Needham, of 40, West Fields, West Road, Bourne, Lincs.
Remembered with honour, Vendegies-Au-Bois British Cemetery
Grave A. 22.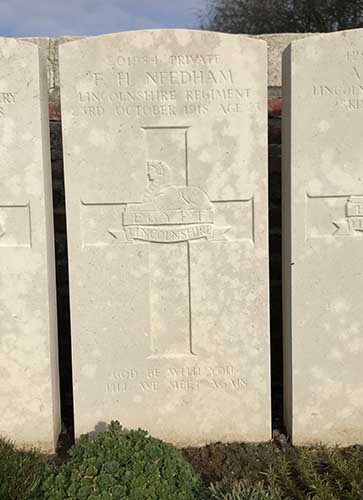 © Picture taken by South Lincolnshire War Memorials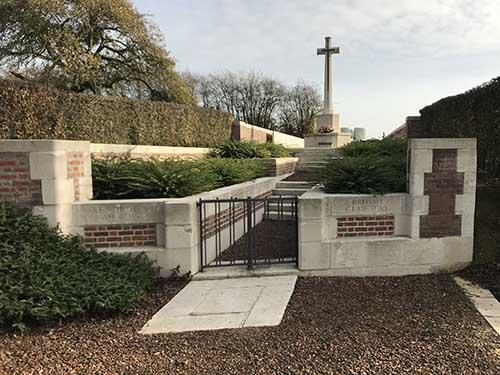 © Picture taken by South Lincolnshire War Memorials
Military Service Timeline
This is ongoing research and will be posted when completed
Sources
WW1 Soldier's Records (www.ancestry.co.uk)
British Newspaper Archive.
Fold 3
Find My Past
Genealogist
Forces War Records
British Army Service Numbers
War Gratuity Calculator
Commonwealth War Graves Commission
National Archives – Battalion War Diaries
General Registry Office