Biography of Lance Corporal Harold Pridmore, (27005)
2nd Battalion Royal Warwickshire Regiment
Formerly 27005 1stBattalion Royal Warwickshire Regiment
Formerly 5577 Lincolnshire Regiment
Died 9th October 1917
Soldier
Name: Harold Ranby Pridmore
Date of birth: 4th July 1889
Place of Birth: Eastgate, Bourne, Lincolnshire, England
Date of Birth Registration: July – September 1889
Place of Birth Registration: Bourne, Lincolnshire, England
Father
Name: Unknown
DOB:
Place of Birth:
Occupation:
Mother
Name: Elizabeth Pridmore
DOB: 1870
Place Of Birth: Pinchbeck, Lincolnshire, England
Marriage:
Siblings: (Name), (DOB), (POB)
Harold Ranby Pridmore, 1889, Bourne
Census
1891: Harold is living with his grandmother at Eastgate, Bourne, Lincolnshire.
1901: Harold is living with his grandmother at West Street, Bourne, Lincolnshire.
1911: Harold is living with his grandmother at West Street, Bourne, Lincolnshire. The census gives him an age of 21 and he is listed as a grocier assistant.
Wife
Name: Laura Ashley Neal
Date of birth: 8th December 1890
Place of Birth: Deeping St Nicholas, Lincolnshire, England
Marriage
Date of Marriage: January – March 1916
Place of Marriage: Bourne District
Wife's parents
Father: John Ashley Neal
Mother: Mary Elizabeth Corten
Newspaper Mentions
Lincolnshire Echo Monday 8th January 1917
On Thursday morning official notification was received of the death of Pt Scotney eldest son of Mr A Scotney, butcher, North Street, Bourne. Deceased, who was in the 2nd Royal Warwick's, met his death on December 20th. He was in the same regiment as Pte. H. Pridmore, another Bourne boy, both od whom were buried as the result of a bursting shell and it is stated that Pte. Scotney met his death from exposure before being rescued. Pte. Pridmore is now in hospital suffering from frost bite, consequent upon exposure. In the early stages of the war Mrs Scotney's brother was killed in action.
Grantham Journal Saturday 3rd November 1917
WAE NOTES :- THREE DEATHS AND SEVERAL CASUALTIES. Official notification has been received this week of the death of three Bourne boys. Pte. Jim Tabour, son of Mr and Mrs George Tabour, of Wood View, is reported killed in action. Deceased, who had been in the Army eighteen months, leaves a young widow and children. Pte. Sydney Jackson, son of Mr and Mrs W Jackson, of Eastgate, has died of wounds. A letter addressed to his parents by the Chaplain of his regiment conveyed the sad intelligence, the letter being written at the request of deceased after having been mortally wounded. Pte. Harold Pridmore, who ws a member of the R.A.M.C., is reported killed whilst attending to the wounded soldier, deceased having been caught by a sniper. Prior to his enlistment, he was employed by the Peterborough Co-operative Society, at their Bourne branch and leaves a widow. Pte. J.R. Arnold who has been in hospital in France for several weeks suffering from shell shock, is now an inmate of a V.A.D. hospital Great Warley, Essex. The Latest reports indicate that he is favourably progressing. Second A.M. Griffiths, who was reported wounded some few weeks back, is now in hospital at Stockport. He was wounded in the right arm and we understand he is making satisfactory progress.
Grantham Journal Saturday 10th November 1917
MEMORIAL SERVICE AT WEST STREET:- In memory of Lance-Corpl. Harold Pridmore (Warwick's), a service was conducted by the Rev. H.G. Drake. During the evening the choir sang "Blessed are the Dead" and Mrs Pearson, the organist played the Dead March in Soul. There was a large congregation. The text was "Whosoever shall lose his life for My sake, shall find it." After paying a tribute to the character of Lance-Corpl. Pridmore, who attended the West Street Sunday school and had served for several years in its Choir, the preacher referred to great loss of life being sustained in these days, each meaning a vacancy in some home and each meaning so much less activity for the State in days to come. If we only think of these deaths as losses, we have reason to be depressed but they are the seed of liberty and a better dawn would arise because of the darkness of this terrible night. The speaker referred to Belgium as the least among the nations and how Christ had warned those who offended one of the least these. The preacher closed with an earnest appeal to all present not to spend life in selfish ease, but in active service for Christ and humanity, for such lives are veneer lost but are truly gained.
War Office Weekly Casualty List November 20th 1917
KILLED
ROYAL WARWICKSHIRE REGIMENT
Pridmore 27005 L-Cpl. H. (Bourne)
Soldier's Died In The Great War
These records show that L Corporal Harold Pridmore, 27005, 2nd Battalion Royal Warwickshire Regiment was killed in action on 9th October 1917 in the Western European Theatre in France and Flanders.
Pension Records
Effects Left To
Medals
The British Medal
The Victory Medal
Memorials
UK:
Bourne, Roll of Honour in Bourne Abbey Church
Bourne War Memorial in the Memorial Gardens
Commonwealth War Graves Commission:
In memory of Lance Corporal Harold Pridmore, 27005, 2nd Battalion, Royal Warwickshire Regiment who died on 9 October 1917.
Remembered with honour, Tyne Cot Memorial
Panel 23 to 28 and 163A.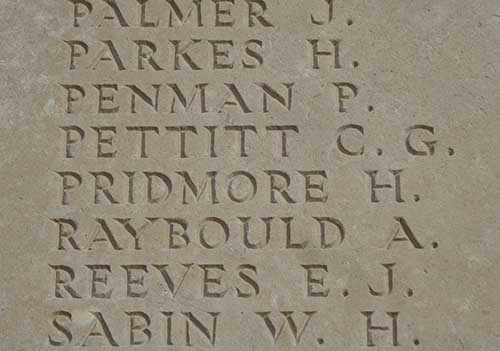 © Picture taken by South Lincolnshire War Memorials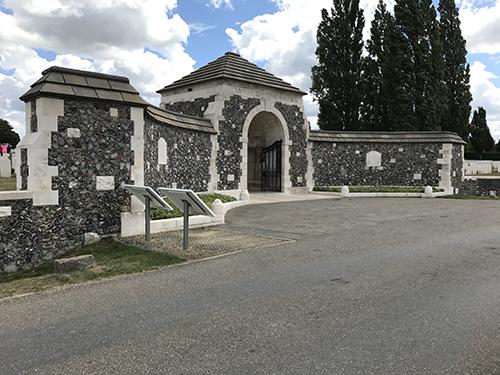 © Picture taken by South Lincolnshire War Memorials
Military Service Timeline
This is ongoing research and will be posted when completed
Sources
WW1 Soldier's Records (www.ancestry.co.uk)
British Newspaper Archive.
Fold 3
Find My Past
Genealogist
Forces War Records
British Army Service Numbers
War Gratuity Calculator
Commonwealth War Graves Commission
National Archives – Battalion War Diaries
General Registry Office