Biography of Private Henry Walton Teat (21488)
8th Battalion Lincolnshire Regiment
Died 21st August 1917
Soldier
Name: Henry Walton Teat
Date of birth: 1894
Place of Birth: Bourne, Lincolnshire, England
Date of Birth Registration: January – March 1894
Place of Birth Registration: Bourne, Lincolnshire, England
Father
Name: Henry Walton Teat
DOB: 1861
Place of Birth: Bourne, Lincolnshire, England
Occupation: Soda water bottler
Mother
Name: Alice Brand
DOB: 1865
Place Of Birth: Bourne, Lincolnshire, England
Marriage: 1883 Bourne District
Siblings: (Name), (DOB), (POB)
Elizabeth Ada Teat, 1885, Bourne
Henry Walton Teat, 1894, Bourne
Charlie Teat, 1901, Bourne
Census
1901: Henry is living with his parents at 7 Hereward Street, Bourne, Lincolnshire.
1911: Henry is living with his parents in Meadowgate, Bourne, Lincolnshire. The census gives him an age of 17 and he is listed as a labourer to bricklayer.
Marriage
No marriage for Henry has been found but he did have a child with Mary Elizabeth Downes called Henry Kitchener Teat Downes born in 1916.
Newspaper Mentions
Grantham Journal Saturday 25th November 1916.




LETTERS FROM BOURNE SOLDIERS.




Pte H Cooper, of the Lincolns, writing to Mr. J. J. Davies early in November, say:  This afternoon Harry Teat and comrades from Rippingale, Deeping and Easton, were talking about you and about dear old Bourne, and we thought you would like to know the boys of "the old brigade" are still alive and well and going strong. There are a few more Bourne boys round here, but we haven't come across them yet. But we hope to. And we hope there will come the time when we shall all meet together again in Bourne. I am pleased to tell you that Fred Hinson and A Carter are quite well and wish to be remembered to you and also to the boys at Bourne. We have has some rough weather out here, raining practically all the day. Today it is a bit better. We are glad to hear that young Kelby has been presented with the D.C.M. at Bourne and we hope he will enjoy good luck to live long and wear it. We think there is a silver lining not far away now and we hope to have good luck to land safely back in the old town once again.
Soldier's Died In The Great War
These records show that Private Henry Walton Teat, 21488, 8th Bn Lincolnshire Regiment was killed in action on 21st August 1917 in the Western European Theatre in France and Flanders.
Pension Records
Effects Left To
Medals
The British Medal
The Victory Medal
Memorials
UK:
Bourne, Roll of Honour inBourne Abbey Church

Bourne War Memorial in the Memorial Gardens
Commonwealth War Graves Commission:
In memory of Private H W Teat, 21488, 8th Bn., Lincolnshire Regiment who died on 21 August 1917
Son of Mrs H Teat of South St. Bourne, Lincs
Remembered with honour, Outtersteene Communal Cemetery, Bailleul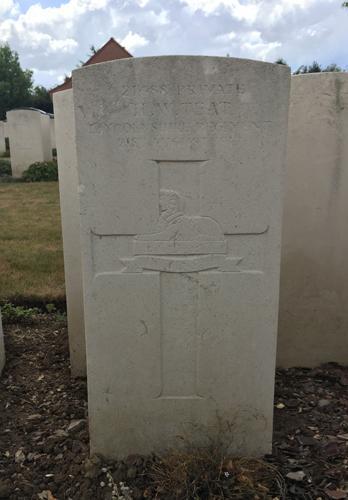 © Picture taken by South Lincolnshire War Memorials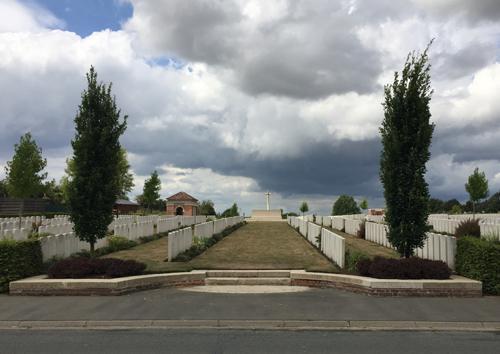 © Picture taken by South Lincolnshire War Memorials
Military Service Timeline
Enlisted in Bourne, Lincolnshire
Died of wounds
This is ongoing research and will be posted when completed
Sources
WW1 Soldier's Records (www.ancestry.co.uk)
Commonwealth War Graves Commission
British Newspaper Archive.