Biography of Private William Charles Frederick Watts (24876)
8th Battalion South Staffordshire Regiment
Formerly 1st South Staffordshire
Died 19th November 1917
Soldier
Name: William Charles Frederick Watts
Date of birth: 1890
Place of Birth: Holbeach Marsh, Lincolnshire, England
Date of Birth Registration: July – August 1890
Place of Birth Registration: Holbeach, Lincolnshire, England
Father
Name: Frederick Watts
DOB: 6th September 1855
Place of Birth: Eaton, Bedfordshire, England
Occupation: Farmer on farm
Mother
Name: Johanna Depear
DOB: 1855
Place Of Birth: Whaplode, Lincolnshire, England
Marriage: 16th May 1876, Eaton Socon, Bedfordshire, England
Siblings: (Name), (DOB), (POB)
Elizabeth Emily Watts, 1878, Holbeach St John
Percy Watts, 1881, Holbeach St John
Clara Ellen Watts, 1883, Holbeach St John
Daisy Olive Watts, 1886, Holbeach
Fanny Elsie Dora Watts, 1888, Holbeach
William Charles Frederick Watts, 1890, Holbeach
Sydney John Arthur Watts, 1893, Holbeach
Maud Annie Watts, 1895, Holbeach
Olga Irie Frances Watts, 1896, Holbeach
Thomas John Daniel Watts, 1897, Holbeach
Census
1891: William is living with his parent at Holbeach, Lincolnshire.
1901: William is living with his parents at Bettinson's Farm, Thurlby, Lincolnshire.
1911: William is living with his the Parker family at Willoughby Road, Bourne, Lincolnshire. The census gives him an age of 20 and he is listed as a farm labourer.
Wife
Name: Emily May Parker
Date of birth: 27th December 1892
Place of Birth: Bourne, Lincolnshire, England
Marriage
Date of Marriage: 1911
Place of Marriage: Bourne Dictrict
Children
Reginald Frederick Watts, 1913, Bourne
Violet E Watts, 1916, Bourne
Wife's parents
Father: George Wilson Parker
Mother: Elizabeth Emily Falkner
Newspaper Mentions
Grantham Journal Saturday 9th December 1916
A NARROW ESCAPE – Amongst the many marvellous escapes of men on active service may be mentioned that of Pte, W. Watts, of Bourne South Fen, who was recently wounded.  The bullet which struck him passed through one cheek, over his tongue, and out of the other cheek, afterwards killing a conrade close by.  Pte. Watts is now in hospital at Newcastle, and his brother, Pte. Sidney Watts, is also wounded and in hospital.  We inderstand that the latter has unfortunately to undergo a second operation.   He is now at Darlington.
The Times Friday January 12th 1917
WOUNDED
S. STAFFS. R.
Watts, 24876 W. C. F. (Bourne)
Sheffield Daily Telegraph Tuesday 8th January 1918
N.C.O.'S AND MEN
Third Report
KILLED
Watts (24876), W. C. F (Bourne)
War Office Weekly Casualty List January 8th 1918
KILLED
SOUTH STAFFORDSHIRE REGIMENT
Watts 24876 W. C. F. (Bourne)
Soldier's Died In The Great War
These records show that Private William Charles Watts, 24876, 8th Bn South Staffordshire Regiment was killed in action on 19th November 1917 in the Western European Theatre in France and Flanders.
Pension Records
Effects Left To
Medals
The British Medal
The Victory Medal
Memorials
UK:
Bourne, Roll of Honour in Bourne Abbey Church

Bourne War Memorial in the Memorial Gardens
Commonwealth War Graves Commission:
In memory of Private W Watts, 24876, 8th Bn., South Staffordshire Regiment who died on 19 November 1917 Age 27
Husband of Emily May Watts, of 51, Willoughby Rd., Bourne, Lincolnshire
Remembered with honour, Solferino Farm Cemetery
Grave II. B. 20.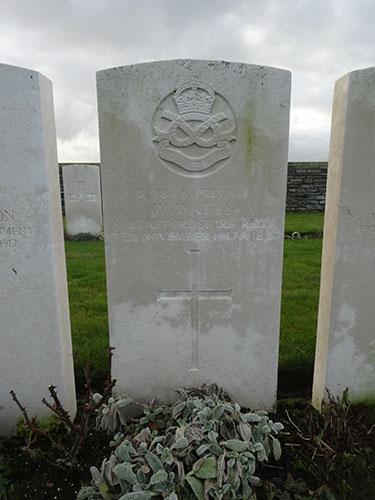 © Picture taken by South Lincolnshire War Memorials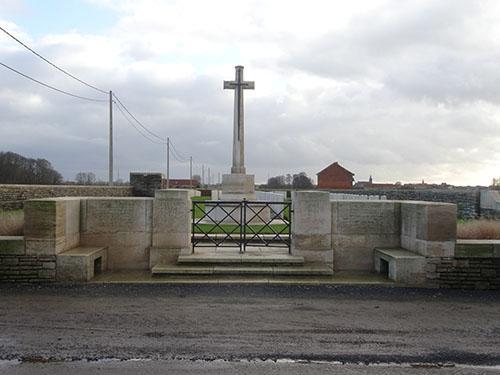 © Picture taken by South Lincolnshire War Memorials
Military Service Timeline – Published biography
William was born in Holbeach Marsh in 1890 the son of Frederick Watts, a shepherd, b.1855 in Eaton Bedfordshire and his wife Johanna Depear, b.1855 in Whaplode.

Frederick and johanna were married on the 16th May 1876 in Eaton Socon Bedfordshire and would go on to have ten children:-

Elizabeth Emily Watts, 1878, Holbeach St John

Percy Watts, 1881, Holbeach St John

Clara Ellen Watts, 1883, Holbeach St John

Daisy Olive Watts, 1886, Holbeach

Fanny Elsie Dora Watts, 1888, Holbeach

William Charles Frederick Watts, 1890, Holbeach

Sydney John Arthur Watts, 1893, Holbeach

Maud Annie Watts, 1895, Holbeach

Olga Irie Frances Watts, 1896, Holbeach

Thomas John Daniel Watts, 1897, Holbeach

William can be found on the 1891 census of Holbeach St Marks where is father was working as a shepherd. Ten years later the 1901 census shows us that the family had moved to bettinson's farm in Thurlby where frederick was working as a groundskeeper and now aged 44. As well as their children the house also had two farm servants living there, John Webb was a labourer on the farm and Robert Langley a Horseman.

The 1911 census shows that Frederick and Johanna were now living in Tallington Fen (Market Deeping) and that Frederick was now working as a farm foreman. Maud, Sidney and Thomas were still at home and we now find that William is living as a lodger in Bourne.

William is now working as a farm labourer aged 20. He is living in Willoughby Road and living in the house of George and Elizabeth Parker and their family. George was a small holder aged 60 and had been married to Elizabeth for 39 years. They still had six children living at home out of the 9 surviving children (two had already died). In the household were :-

Henry aged 29 a Carrier for the Council

Herbert aged 20 a warehouseman

Emily May aged 18 a factory hand

Arthur aged 15 an agricultural labourer

The census was taken on the 2nd April 1911 and we can see that William Watts would marry Emily May Parker, the couple were married in Bourne and the marriage was registered between July and September 1911. Emily was born in Bourne on the 27th December 1892 and was living with her parents on Willoughby Road.

William and Emily were to have two children of their own, Reginald Frederick Watts was born on the 21st May 1913 and Violet E born on the 7th June 1916.

Although William's full military service records did not survive the warehouse fire in the Blitz, we know that he joined the Army and served with the 1st South Staffordshire Regiment. From his war gratuity payment received by his dependants after the war we can calculate that he joined in the month after the 20th April 1916.

In January 1916 the Military Services act was brought in meaning that any single man aged between 18 and 41 could be conscripted into Military Service from may 1916. This was amended in May to include married men. As we have no full records we are not sure if William volunteered or was conscripted. We do know that he joined the South Staffordshire Regiment and was assigned to the 1st Battalion.

In September 1916 the county regiments were overwhelmed with new men to train and the system could not cope. Training Reserve Battalions were brought into being where men were all trained centrally and then after their training was completed they would be assigned to to new regiment either at home or when they arrived in France at the Base Camps.

Without records not much is known about William but we do find him mentioned in a newspaper article in the Grantham Journal in December 1916:

A NARROW ESCAPE – Amongst the many marvellous escapes of men on active service may be mentioned that of Pte, W. Watts, of Bourne South Fen, who was recently wounded. The bullet which struck him passed through one cheek, over his tongue, and out of the other cheek, afterwards killing a comrade close by. Pte. Watts is now in hospital at Newcastle, and his brother, Pte. Sidney Watts, is also wounded and in hospital. We understand that the latter has unfortunately to undergo a second operation. He is now at Darlington.

William eventually rejoined the army and either on his return to France or at some time later he joined the 8th Battalion South Staffordshire Regiment.

We do find in our researches that men returning to base camp, following convalescence, could be posted to another Battalion that was in more need to replacement men.

Again we cannot really say when William returned to the front and the 8th Battalion we cannot really tell his full story at this time.

On the 19th November the Battalion were in Bridge Camp in Elverdinghe (Near Ypres) where they had been since the 14th for training. Before that they were in training at Piddington Camp near Proven and during that time received a draft of 135 replacement men. Thus we cannot really say when William arrived with the battalion.

The Battalion Diary for the 19th tells us:-

7.45am – battalion paraded ready to move to the front line.

10am – Reached Huddleston Camp where a rest of 4 hours was taken and dinners were served. 3 days rations were issued here, each man's rations being done up in a seperate sandbag. Gumboots, thigh, were also issued, to one company only, for experimental purposes.

2.30pm – Moved off from Huddleston Camp to relive the 10th West Yorkshire Regiment in the frontline. Tranquille Ho – 19 Metre Hill Sector. 2 companies in front line, 2 companies in support. Heavy Barrage on tracks and roads in the neighbourhood of Langemark during relief. Many casualties were received in passing through this barrage. Relief was completed at 10.55pm, Headquarters at Souvenir Farm "Pillbox".

William Watts was most likely one of the "Many Casualties" mentioned in the diary entry for the 19th November 1917.

Commonwealth War Graves Commission:

In memory of Private W Watts, 24876, 8th Bn., South Staffordshire Regiment who died on 19 November 1917 Age 27. Husband of Emily May Watts, of 51, Willoughby Rd., Bourne, Lincolnshire. Remembered with honour, Solferino Farm Cemetery

William Watts is also remembered on the Bourne Roll of Honour in the Abbey Church and also on the War Memorial in the Memorial Gardens. He is also remembered on a page dedicated to him on our own website.

https://www.southlincolnshirewarmemorials.org.uk/our-villages/bourne/william-charles-frederick-watts/
This is ongoing research and will be posted when completed
Sources
WW1 Soldier's Records (www.ancestry.co.uk)
British Newspaper Archive.
Fold 3
Find My Past
Genealogist
Forces War Records
British Army Service Numbers
War Gratuity Calculator
Commonwealth War Graves Commission
National Archives – Battalion War Diaries
General Registry Office