Biography of Lance Corporal Joseph Edward Clarke (7933)
B Company 2nd Battalion Leicestershire Regiment
Died 24th November 1914
Soldier
Name: Joseph Edward Clarke
Date of birth: 1889
Place of Birth: Stapenhill, Derbyshire, England
Date of Birth Registration: October – December 1889
Place of Birth Registration: Burton upon Trent, Staffordshire, England
Father
Name: Joseph Clarke
DOB: 1861
Place of Birth: Mickleover, Derbyshire, England
Occupation: Sheperd
Mother
Name: Hannah Hall
DOB: 1868
Place Of Birth: Coton Park, Derbyshire, England
Marriage: 4th July 1889 Stapenhill, Staffordshire, England
Siblings: (Name), (DOB), (POB)
Kate Ella Martin, 1889, Burton upon Trent (Step sister)
Joseph Edward Clarke, 1889, Stapenhill
William Clarke, 1891, Stapenhill
Arthur Edwin Clarke, 1893, Drakelow
Sarah Clarke, 1895, Drakelow
Census
1891: Joseph is living with his parents at 199 Heath Road, Stapenhill, Staffordshire.
1901: Joseph is living with his father at 7 Robinsons Road, Newhall, Derbyshire.
1911: Joseph could not be found although on his military paper indicate that he may be in India.
Relatives in services
Joseph's brother Arthur Edwin also fought and was killed in WW1. Joseph can be found on our page dedicated to the Bourne War Memorial.
Marriage
No marriage for Joseph has been found and because of his age we can assume that he never had the opportunity to marry.
Newspaper Mentions
Birmingham Daily Post Friday 12th February 1915
A SIXTH LIST.
The following casualties amonget non-commissioned officers and men of the Expeditionary Force are reported from the Base, under date December 21, 1914:
KILLED.
CLARKE, 7933, Lce. corpl. J., Leicestershire Regiment
The Scotsman Friday 12th February 1915
'The: following casualties among non-commissioned officers and men of the Expeditionary Force are reported from the Base under date 21st Docember 1014:-
KILLED.
Clarke, 7933, L. Cpl. J., Leic.
The Times Friday 12th February 1915
ROLL OF HONOUR
LOSSES IN THE RANK AND FILE
The following casualties among officers in the Expeditionary Force are reported from Gerenal Headquarters.
Also Under Date December 21.
KILLED
LEICESTERSHIRE REGIMENT
Clarke, 7933 L. – Cpl. J.
Soldier's Died In The Great War
These records show that L Corporal Joseph Clarke, 7933, 2nd Bn Leicestershire Regiment was killed in action on 24th -November 1914 in the Western European Theatre in France and Flanders.
Pension Records
Effects Left To
Medals
The British Medal
The Victory Medal
The 14 Star with clasp
Memorials
UK:
Bourne, Roll of Honour in Bourne Abbey Church

Bourne War Memorial in the Memorial Garden
Commonworth War Graves Com

mission:
In memory of Lanc Corporal Joseph Edward Clarke, 7933, B Coy., 2nd Bn., Leicestershire Regiment who died on 24 November 1914 Age 25
Son of Joseph Clarke, of 23, Eastgate, Bourne, Lincs., and the late Hannah Clarke
Remembered with honour, Le Touret Memorial
Panel 11.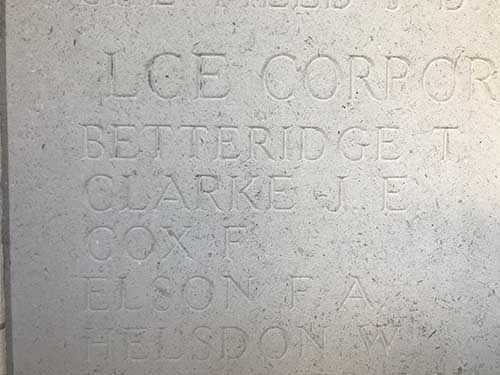 © Picture taken by South Lincolnshire War Memorials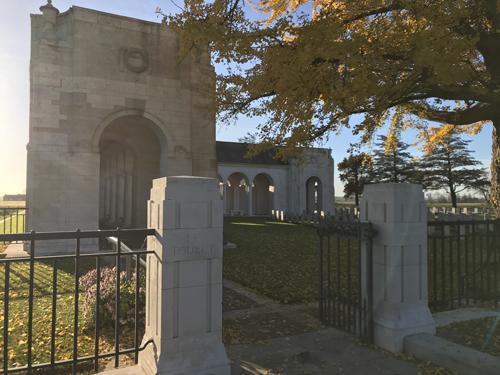 © Picture taken by South Lincolnshire War Memorials
Published Biography
Joseph Clarke was born in Stapenhill, Burton on Trent, in 1889. He was the son of Joseph Clarke a labourer then Brickmaker born in Mickleover Derbyshire in 1861, and his wife Hannah Hall, born in Coton Park, Derbyshire in 1868.

Joseph and Hannah were married on the 4th July 1887 in Stapenhill Derbyshire. They were to have four children together:-

Joseph Edward Clarke, 1889, Stapenhill

William Clarke, 1891, Stapenhill

Arthur Edwin Clarke, 1893, Drakelow

Sarah Clarke, 1895, Drakelow

We can look at Joseph's young life through the census returns and he is first found on the 1891 census of Stapenhill. At 199 Heath Road Stapenhill, in a four room house, we find Joseph Clarke a 29 year old brickmaker, his wife Hannah and their one year old son Joseph E Clarke.

Tragedy struck the family when Hannah died on the 1st March 1898. She was interred at Burton Cemetery on March 5th leaving Joseph to bring up the young family.

We can see Joseph and his young family on the 1901 census of Newhall St John in the Swadlincote district of Derbyshire. Joseph Clarke, a 40 year old Widower, is working as a pipeyard labourer (earth pipes) and is living in a four room house at 7 Robinsons Road. In the house we find Joseph Edward (11), William (9), Arthur E (7) and Sarah (5) plus a housekeeper Harriet Ann Smith (33) a housekeeper born in Eynsham Oxfordshire and her daughter Kate E Martin (11) born in Burton on Trent.

Harriett Ann Martin, aged 22, Married John Smith a widower and colliery worker in Church Gresley on the 21st September 1891.

The next time we find the family is in Warmington near Oundle Northamptonshire. Joseph aged 50 is the head of the household and we find that on the census he has a new wife Harriet Ann and the census return says they have been married for 24 years. We know that this is incorrect as in 1911 if she had lived Hannah and Joseph would have been married for 24 years. when we did deeper we find out that actually Harriet and Joseph were living as man and wife although they did not marry until 1930 in Bourne.

Also in the household we find the only child living at home is Sarah now aged 15 although the couple do say that they have had six children of which one had already died.

We find that of the children, Arthur is working as a horseman on a farm in Yaxley, William is working as a domestic groom in East Haddon, but thus far we have not found Joseph. From military records we think that he was probably serving with the Army in India at the time.

Later research shows that the 2nd Battalion Leicestershire Regiment, were At the time of the 1911 Census (RG 14/34987), based at Fort St George, Chennai, Madras, India where we find Joseph with his Battalion.

On the 2nd July 1906 Joseph Clarke enlisted in the Leicestershire Regiment. From the attestation paper we find that he is 18 years and 1 month in age and gives his religion as Wesleyan. The is five feet six and a half inches in height and weighs 117 pounds. His Military history sheet would also show us that Joseph's father and three siblings were living at Great Bowden (Leicestershire).

On the 5th July Joseph was posted to the Depot of the Regiment and after training was posted to the 1st Battalion on the 21st November 1906. Whilst serving with the 1st Battalion in February 1907 Joseph was awarded his 3rd Class Education Certificate and then in November 1907 he was appointed as Unpaid Lance Corporal. In February 1908 Joseph would be awarded his 2nd Class Education Certificate and then in June 1908 he was granted the pay of his new rank.

From records it would be fair to say that Joseph's journey in the Army may not have been the smoothest, we find him on the 23rd February 1910 having been arrested and waiting trial. The next day he was sued by civil power and convicted of being "Drunk and Disorderly". He was sentenced to pay a fine of 15/ and 9/6 costs or 14 days imprisonment. (He paid the fine).

His rank was reverted back to Private due to misconduct.

Joseph next appears in his army record being deducted pay for absence from the 5th June 1910 to the 13th June 1910. Only one month later he was back in the guard detention room on the 13th July awaiting trial. He would remain on detention until the 24th and the next day he would stand trial.

He was tried by District Court Marshall and sentenced to 112 days detention (28 days remitted) for striking his superior officer.

On the 2nd October 1910 his detention period expired and he returned to duty.

Joseph's next posting would arrive on the 7th December 1910 when he was posted to the 2nd Battalion Leicestershire Regiment and was posted to India with his new Battalion.

During his time in India Joseph would pass instructional classes in Supply Duties in whilst in Madras on the 17th August 1911 and eventually would once more be appointed to the rank of unpaid lance corporal on the 28th December 1912.

As we have seen before, it would not be long before once more Joseph's rank was reverted to that of Private when on the 5th March 1913 he was demoted due to misconduct.

Joseph also underwent a spell in Hospital between the 6th February 1912 and the 16th February whilst being treated for acute Orchititis (inflammation of the testicals) caused by an accident at Foodhall

When Britain declared war on Germany on the 4th August 1914 the 2nd battalion were still in India and they would receive orders to mobilise for war on the 9th August. They would become the British Battalion of the Garhwal Brigade of the 7th Indian Division.

The 2nd Battalion left Ranikhet and via Ratighat, Bhowali, Jeolikote, arrived in Kathgodam 42 miles and four days later. Here they entrained for Bareilly and marched to South Camp on the 15th August.

Over the next week men would arrive from detachments across the region and equipment was gathered ready for war. On the 24th a telegram from the 20th Brigade was received "No orders yet for your move"

The mobilisation was complete and the Battalion ready to move, the arsenal wired "Boots should be supplied regimentally" Tghis however could not probably be arranged. The diary had mentioned many times that 160 pairs of spare boots were still required as well as the fact that men and the medical officer were missing and some other parts were late.

26th August 1914 – Bareilly

Inspection of all mobilised units in bareilly by Major-General F. Macbean, C.V.O., C.B.. Units paraded at full F.S. Strength without transport. Marched past in column of route.

On Parade :- 4th cavalry, 20th Battery Royal Field Artillery. 2nd Leicester Regiment, 21st The Black Watch, 41st Dogras.

29th August 1914 – Bareilly

Head Quarters 20th Brigade leaves Lansdowne on 30.8.14 arrive Karachi 2nd September.

Head Quarters 7th Division leaves Meerut and Head Quarters 21st Brigade leaves Bareilly on same date.

3rd September 1914 – Bareilly

Telegram from Control Simla ordering Battalion to leave Bareilly for Karachi on 5th September

5th September 1914 – Bareilly

Battalion entrained fro Karachi. One Train departed 8.5am

8th September 1914 – Karachi

Arrived 11.28am. Quartered in rest camp pending orders to embark. Strength of Battalion in camp – Officers (including medical) 20, W.O.2 (including asst surgeon) other ranks 864.

11th September 1914 – Rest Camp Karachi

Battalion Inspected by Major General Keary, C.B, DSO, Commanding 20th Infantry Brigade.

10am – 15th September 1914 – Karachi

Battalion Headquarters and 2 companies (C&D) embarked on S.S. Devanha. Strength Officers 10, Other ranks 437.

The SS Davanha was built for the Peninsular & Oriental Steam Navigation Company (P&O) to be used on the India/China route. On 22 Aug 1914 the Devanha was requisitioned as a Troopship. Requisitioned vessels continued to be manned by their normal P&O staff of officers and their peacetime P&O crews.

10am 16th September 1914 – Karachi

Half Battalion (A&B companies) embarked on S.S. Elephanta. Strength Officers 9, Other ranks 417.

The Battalion, although it left its Peace Station with 69 hours notice, and although all requisitions were dispatched immediately to complete equipment and also retraining the Battalion was 4 day marching to Bareilly, it took exactly 5 weeks to get on board ship. The men in the mean time in the middle of the hot weather and the rains were in camp and suffered consequently in their health. At Bareilly 2 companies were put under shelter and although the C.O. urged that buildings should be requisitioned, and buildings being available, in order to get the men under cover from the heat and wet, this was refused by the O.C. Bareilly. It was only by dint of repeated telegrams and remonstrations that the requisitions were complied with, both by the arsenal and clothing factory. On the 22nd August the last requisitions was complied with. Had it been necessary to embark the Battalion at once, it would have gone only partially equipped.,

21st September 1914 – Sailed from Karachi

Joseph once again has an entry in his service record as on the 30th September 1914 he is once more (for the third time) appointed as unpaid Lance Corporal.

4th October 1914 – Arrived at Port Said

6th October 1914 – Sailed from Port Said

Disembarked at Marseilles and moved to Valentine Camp

Arrived at Orleans and moved into camp

26th October 1914 – Orleans 9.30pm

Entrained for "X" arrived Lillers about 7pm 27.10.14. Lay in Town Square the night of 27th-28th

28th October 1914 – Lillers

7.0am marched to Callonne arrived about 11am and Billeted.

7.0am Marched from Callonne. In firing line (Trenches) in relief of 3rd Worcestershire Regiment trenches were very much "unimproved".

Battalion under very heavy shell fire. Capt Tristram and 3 men killed and 9 men wounded. Continued sniping by enemy, strengthening of trenches etc., commenced.

Situation unchanged, heavy shell fire and continuous sniping. 1 man killed and 1 wounded.

We see from the diaries that the Battalion went into action and sadly lost their first casualties. Joseph had now been in Military Service for eight years and even so this new mechanised warfare must have come as a shock to an experienced soldier.

The Battalion Diary is very detailed and makes excellent reading but in the process of telling Joseph's own story we will skip to the 23rd where the Battalion had just moved from Billets in Hamel.

Orders to move at once to Bareilly Hd Qtrs at Gorre received at 3.30pm. Orders to hold in readiness to move received at 3.32pm. Duplicate of this received at 3.40pm. Reached Gorre at 5.30pm and ordered to proceed and report to General Edgerton Commanding Ferozepore Brigade, centre section (Near Festubert). Eventually Major Gordon Commanding & B&C Companies remained.

Report by Major H Gordon on operations by B & C Companies on night of 23/4 November:-

About 4am I took B & C Companies uo the communications trench to a point about 70x from the part of the fire trench occupied by Germans, this fire trench was in prolongation of the trench held by the 104th Pioneers. This Regiment had been sent up to attack and recapture the part of the trench held by the enemy. This was the right of the German trench. Unknown to us the 1/39 Garwhals had been sent to attack the left part of the trench at about 3am. Brig Gen Egerton ordered 1 company 2nd Leicestershire Regiment to attack the trench in flank and 1 company 107th Pioneers to extend to our left, while 1 company of each regiment was to be in reserve. I ordered B Company to lead and C company in support. B Company got out in good order and gained their position by moving along a natural ditch parallel to and about 15 x in rear of the fire trench. The company of Pioneers who were to form on our left also got into position. When the advance began the Pioneers for the most part instead of prolonging to our left, closed on to B Company and hampered their movement. Capt H.A. Grant had his men into the enemy's trench and had he and a2nd Lieut M.W. Seton-Browne were killed. The enemy retired and we killed a number of them in their retirement. The officer commanding the Pioneer Company came back and reported that his men were unable to advance on account of heavy losses. I went forward and separated our men from the Pioneers and brought them along to where the remaining men of B Company had established themselves in the enemy's trench. I then reported the situation to the General Officer Commanding who ordered a retirement from the trench. This took place about 6am and by 7am I had got away all the wounded. Subsequently it transpired that the 1/39th Garwhals actually joined up to the part of the trench captured by us at about 6.30am. At 8.30am I left Festubert with the 2 companies to proceed to billets at Gorre when we came under shrapnel fire. ENDS.

Remainder of Battalion Hd Qtrs, A, D, Companies, M Guns and 1st Line) returned to Gorre where we came under in reserve under orders of General Macbean commanding Bareilly Brigade. Arrived at Gorre 1.45am 24thth eventually returned to billets at La Coutre during early afternoon.

25th to 27th November 1914

Remained in billets in La Coutre.

It was in the action described above that Lance Corporal Joseph Edward Clarke was killed.

Initial reports received from the Officer Commanding the 2nd Battalion Leicesters on the 28th November indicated that Joseph had been reported missing in the night operation of the 23/4 November.

On the 6th December another report from Captain W.S. Orchard 1/8th Gurwhals attached to the 2/8 Burkehas now confirms that Joseph had been killed in action at Festubert Village on the night of the 23rd-24th November 1914.

In September 1915 a letter in the army records shows that Mr Joseph Clarke was living at Mr Pick's Cottage, Deeping St Nicholas, Spalding when the Army first requested the release of Joseph's effects.

Another letter asking for details of next of kin were sent to Miss S Clark, Vine House, Littleworth, Spalding on the 24th April 1919.

Father – Joseph Clarke – 23 East gate Bourne

Brother – William Clarke – Cranmore Cottage, Deeping St James

Sister – Sarah Stubbs – 23 east Gate, Bourne.

In September 1919 Joseph's effects were released to Mr Joseph Clarke of 23 East Gate, Bourne, Lincolnshire. In. reality the officer in charge at the depot confirmed that there were no personal effects held. Joseph would also sign for his son's British War and victory medals in May 1921.

On the 19th June 1921, Joseph Clarke (60) filled out the 1921 census forms. He was at the time employed as a Brick Layer's Labourer in the employ of Mr Roberts, a builder in Bourne. He is living with Harriet Ann Clarke (53) his wife and also The Waite family are visiting. Thomas Waite (60), his wife Kate Ella Waite (31) and 6 year old daughter Elizabeth Harriet May Waite, Granddaughter to Harriet and Joseph. They are still living in the house at 23 East gate Bourne.

Noticeably missing from the census are son's Joseph Edward Clarke killed in 1914 and Arthur Edwin Clarke killed in 1915, both commemorated on the Bourne War Memorial.

Commonworth War Graves Commission:

In memory of Lanc Corporal Joseph Edward Clarke, 7933, B Coy., 2nd Bn., Leicestershire Regiment who died on 24 November 1914 Age 25. Son of Joseph Clarke, of 23, Eastgate, Bourne, Lincs., and the late Hannah Clarke

Remembered with honour, Le Touret Memorial.

Joseph is also remembered on the Bourne Roll of Honour in Bourne Abbey Church and also on the Bourne War Memorial in the memorial gardens. Joseph is also remembered on a page dedicated to his memory on our own web site.

https://www.southlincolnshirewarmemorials.org.uk/our-villages/bourne/joseph-edward-clarke/

In October 1930 Joseph Clarke would eventually marry Harriet A Smith (nee Martin) some 19 years after we first saw them claiming to be man and wife on the 1911 census.
Sources
WW1 Soldier's Records (www.ancestry.co.uk)
British Newspaper Archive.
Fold 3
Find My Past
Genealogist
Forces War Records
British Army Service Numbers
War Gratuity Calculator
Commonwealth War Graves Commission
National Archives – Battalion War Diaries
General Registry Office