Biography of Private Francis Edward Henry Wass (18368)
6th Battalion Lincolnshire Regiment
Died 14th September 1916
Soldier
Name: Francis Edward Henry Wass
Date of birth: 1887
Place of Birth: Gedney, Lincolnshire, England
Date of Birth Registration: April – June 1887
Place of Birth Registration: Holbeach, Lincolnshire, England
Father
Name: William Wass
DOB: 1855
Place of Birth: Toft, Lincolnshie, Engalnd
Occupation: Farm labourer
Mother
Name: Fanny Garfitt
DOB: 1857
Place Of Birth:
Marriage: 30th May 1881 Baston, Lincolnshire, England
Siblings: (Name), (DOB), (POB)
Frederick William Garfit, 1877, Baston (Half brother)
Harriett Elizabeth Garfit, 1878, Baston, (Half sister)
Thomas Garfit, 1882, Baston, (Half brother)
Charlotte Ann Wass, 1883, Thurlby
Arthur Wass, 1885, Sutton Marsh
Francis Edward Henry Wass, 1887, Gedney
Maria Wass, 1889, Baston
Annie Wass, 1892, Toft
Mary Wass, 1893, Toft
Ellen Wass, 1895, Toft
Alice Maud Wass, 1897, Toft
Joseph Wass, 1900, Baston
Census
1891: Francis is living with his parents in Toft, Lincolnshire.
1901: Francis is living with his parents in Baston.
1911: Francis is living with his wife and son at Baston Common, Baston, Lincolnshire The census gives him an age of 34 and he is listed as a farm labourer.
Wife
Name: Maude Louisa Bailey
Date of birth: 8th October 1889
Place of Birth: Peterborough, Northamptonshire, England
Marriage
Date of Marriage: 1908
Place of Marriage: Bourne District
Children
Francis Leslie Wass, 1910, Bourne
Mabel Ida Wass, 1911, Bourne
Violet M Wass, 1912, Stamford
Wife's parents
Father: Walter Bailey
Mother: Thomasine Arundell
Soldier's Died In The Great War
These records show that Private Francis Edward Henry Wass, 18368, 6th Bn Lincolnshire Regiment was killed in action on 14th September 1916 in the Western European Theatre in France and Flanders.
Pension Records
Effects Left To
Medals
The British Medal
The Victory Medal
The 15 Star
Memorials
UK:
Bourne, Roll of Honour in Bourne Abbey Church

Bourne War Memorial in the Memorial Gardens
Commonwealth War Graves Commission:
In memory of Private F E H Wass, 18368, 6th Bn., Lincolnshire Regiment who died on 14 September 1916
Remembered with honour, Ovillers Military Cemetery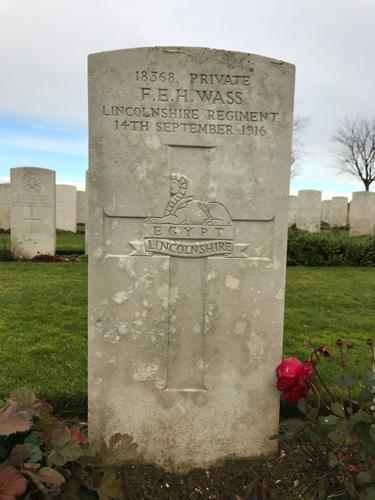 © Picture taken by South Lincolnshire War Memorials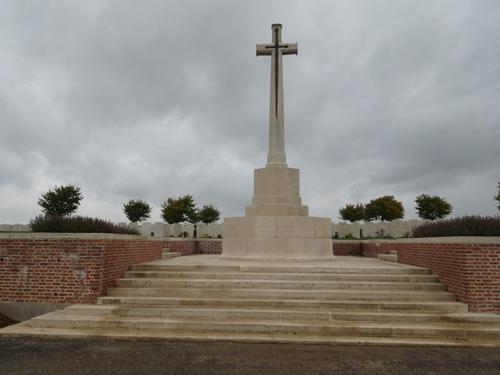 © Picture taken by South Lincolnshire War Memorials
Military Service Timeline
This is ongoing research and will be posted when completed
Sources
WW1 Soldier's Records (www.ancestry.co.uk)
Commonwealth War Graves Commission