Biography of Private Cyril Humphreys Leary (512480)
R.A.M.C Territorial Force, 3rd London Field Ambulance
Died 5th November 1918
Soldier
Name: Cyril Humphreys Leary
Date of birth: 1895
Place of Birth: Bourne, Lincolnshire, England
Date of Birth Registration: July – September 1895
Place of Birth Registration: Bourne, Lincolnshire, England
Father
Name: William Robert Leary
DOB: 1860
Place of Birth: Wainfleet, Lincolnshire, England
Occupation: Organist, choirmaster and teacher.
Mother
Name: Margaret Ann Humphreys
DOB: 1866
Place Of Birth: Wainfleet, Lincolnshire, England
Marriage: 1887 Spilsby District
Siblings: (Name), (DOB), (POB)
Arthur Haydn Leary, 1888, Bourne
Cyril Humphreys Leary, 1895, Bourne
Census
1901: Cyril is living with his parents at South Street, Bourne, Lincolnshire.
1911: Cyril is living with his parents at Abbey Road, Bourne, Lincolnshire. The census gives him an age of 15 and he is listed as being at school.
Relatives in services
Cyril brother Arthur served in the Royal Air Force.
Marriage
No marriage for Cyril has been found and because of his age we can assume that he never had the opportunity to marry.
Newspaper Mentions
Grantham Journal Saturday 9th November 1918
DEATH OF MR. Cyril Leary – Quite a gloom was cast over the town on Wednesday morning, when the news came that Mr. Cyril Leary, son of Mr. and Mrs. W. R. Leary, of Abbey Road, had died. About a week ago, his parents received notification that he was in a Brighton hospital with influenza, and on Saturday morning they received a wire that he was dangerously ill.  His parents proceeded to Brighton, and on reaching the hospital found their son suffering from pneumonia, following influenza, and in a critical condition.  A letter written on Monday evening indicated that there was a slight improvement, but he succumbed on Tuesday evening.  Deceased was the youngest son of Mr. and Mrs. Leary and at the outbreak of war was in College with a view to following the scholastic profession.  After serving for about two years in Salonika, he returned to England, less the a month ago and reached Bourne whilst his brother was also on leave.  His robust appearance then seemed to indicate he had quite overset an attack of malarial fever whilst in the service.  His visit home was preparatory to going into training as a cadet with a view to taking a commission in the Army.  His untimely death, at the age of 23, has closed what promised to be a brilliant and successful career.  He was educated at Bourne Council Schools and gained one of the Kesteven Minor Scholarships.  He continued his career at Stamford Grammar School, where he succeeded in gaining further honours and distinction, and then commenced work at Bourne, where he had previously been a scholar and finally reached College.  He possessed a fine character and exercised an excellent influence over the boys.  As a sportsman, he excelled in the same way that he did in all other matters that he took in hand.  As a footballer he was soon selected captain of the School team, whilst at cricket he was one of the most promising players of Bourne C.C.  He was a strict adherent of the Church of England and in his boyhood days was a member of the Church choir.  The deepest sympathy is expressed on all hands with members of deceased's family.  A correspondent from Bourne writes :- Even as the great war of freedom is drawing to its close, it is still taking its heavy toll of the bright young life of the Empire, and never a week passes without bringing its terrible burden of grief into some home in our town.  Among the latest upon whom the hand of death has suddenly fallen is Cadet Cyril Leary, the younger son of Mr. W. R. Leary, the well-known organist and choirmaster of Bourne Abbey Church.  At the outbreak of the war, which occurred during his successful and promising collegiate career at St. Mark's College, Chelsea, he volunteered for military service. After training with the Middlesex, he was selected for special work with the R.A.M.C., and in due course he was despatched oversea for active service in Salonika, where he bore a gallant part in the strenuous work that fell to the lot of that army among malarial morasses and rugged mountains.  He suffered from an attack of malaria but recovering, continued his military duties.  Towards the end of the summer, he was recommended for a commission.  Quite recently, he had a brief and happy period of leave at home, and he was then called to enter upon his cadet artillery course at Brighton.  His pathetically sudden death has come as a great shock to all who so recently saw him the very picture of health and gallant young manhood.  His bright and happy manner and his courteous and sympathetic spirit, won him friends wherever he went.  At College he was popular, not only in the playing fields, but he left his mark as a student of exceptional promise and ability.  He was so sincere and straightforward that he unconsciously exercised a cherry and inspiriting influence alike among his fellow students at College and among his comrades in the Army.  His generous nature and his willingness to help others made him everywhere a general favourite.  In his lamentably early death the teaching profession has unquestionably lost one who would have won honour and distinction, as he possessed those natural gifts of influencing others and enlisting the sympathy and eager attention of boys, that are indispensable for the truest and enduring success in the high calling of a teacher.  With his parents the most profound sympathy is felt in their irreparable loss.
Soldier's Died In The Great War
These records show that Private Cyril Humphreys Leary, 512480, Territorial Force Bn Royal Army Medical Corps died on 5th November 1918 at home.
Pension Records
Effects Left To
Medals
The British Medal
The Victory Medal
Memorials
UK:
Bourne, Roll of Honour in Bourne Abbey Church
Bourne War Memorial in the Memorial Gardens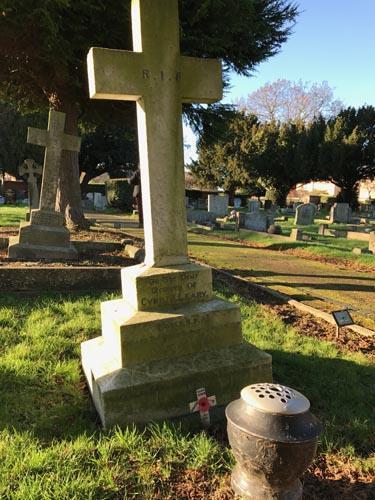 © Picture taken by South Lincolnshire War Memorials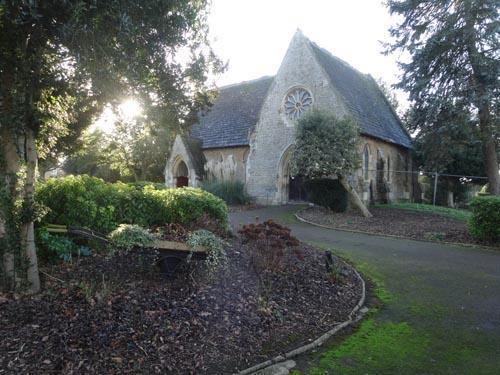 © Picture taken by South Lincolnshire War Memorials
Military Service Timeline
Enlisted in Lincoln
Serviced in Salonika
Died of Pneumonia in Hospital in Brighton
This is ongoing research and will be posted when completed
Sources
WW1 Soldier's Records (www.ancestry.co.uk)
British Newspaper Archive.
Fold 3
Find My Past
Genealogist
Forces War Records
British Army Service Numbers
War Gratuity Calculator
Commonwealth War Graves Commission
National Archives – Battalion War Diaries
General Registry Office