Biography of Sergeant George Alfred Brooks, (68459)
Royal Field Artillery C Battery 165th Brigade
Died 11th March 1917
Soldier
Name: George Alfred Brooks
Date of birth: 6 March 1881
Place of Birth: Oxford, Oxfordshire, England
Date of Birth Registration: April – June 1881
Place of Birth Registration: Headington, Oxfordshire, England
Father
Name: James Brooks
DOB: 1851
Place of Birth: Shipton Under Wychwood, Oxfordshire, England
Occupation: Coachman
Mother
Name: Elizabeth Jane Patman
DOB: 1844
Place Of Birth: Quadring, Lincolnshire, England
Marriage: 13 June 1874 Chelsea
Siblings: (Name), (DOB), (POB)
Edith A Brooks, 1875, Folkingham
James Henry Brooks, 1877, Banbury
Frederick William Brooks, 1878, Enstone
George Alfred Brooks, 1881, Oxford
Lavina Kate Brooks, 1884, Headington
Census
1881: George is living with his family in Oxford, Oxfordshire
1891: George is living with his mother in Headington, Oxfordshire
1901: George may be living in South Africa. Taken from his Attestation papers
1911: George is listed in India on the census with his battery, commanded by Major Hugh Wordsworth Atlay (Later served with 38th battery in WW1)
Relatives in services
Brother Frederick William also serviced in the war in the Royal Artillery
Wife
Name: Esther Jane Leeden
Date of birth: 1887
Place of Birth: Bellary, India
Marriage
Date of Marriage: 1 January 1907
Place of Marriage: Campbelpore
Children
Frederick James Brooks, 1907, Campbelpore
George Richard Brooks, 1907, Campbelpore
Cecil Alfred Brooks, 1909, Rawal Pindi
Esther Ada Brooks, 1912, Dacca
Harry Norman Brooks, 1913, Calcutta
Wife's parents
Father: George Leeden
Mother: Unknown
Newspaper Mentions
Grantham Journal Saturday 31 March 1917
Bourne
THE LATE SERGT. BROOKS.- During the past week, Mrs Brooks of Hereward Street, Bourne has received the following letter from Battery Sergt Major A Payne with reference to Sergt Brooks whose death in action we recorded last week. The letter was written on March 15th and says:- "It is with very deep regret and sympathy from myself and sergeants of the Battalion I inform you of your husband's death which occurred on 11th March 1917. He was killed in action and I can assure you that he will be sadly missed by both officers and men of the Battalion. If there is anything I can do for you in the way of fixing up his affairs, I shall only be to pleased to have a line from you. Trusting you will try and bear up and be brave like a soldier's wife should be."
Paper Unknown 13th April 1917
WW1 War Office Casualty Lists
Killed
Royal Field Artillery
Brooks, G. A., Sergeant, 68459
Soldier's Died In The Great War
These records show that George Alfred Brooks, 68459 Royal Horse Artillery and Royal Field Artillery Regiment was killed in action on 11th March 1917 in the Western European Theatre in France and Flanders.
Pension Records
Effects Left Too
Medals
The British Medal
The Victory Medal
The 15 Star
South Africa Medal 1899 with Clasps "Cape Colony", "Orange Free State", "Transvaal", "S Africa 1901"
Memorials
UK:
Bourne, Roll of Honour in Bourne Abbey Church
Bourne War Memorial in the Memorial Gardens
Commonwealth War Graves Commission:
In memory of Lieutenant George Alfred Brooks, 68459, "C" Bty, Royal Field Artillery who died on 11 March 1917.
Remembered with honour, Hebuterne Military Cemetery.
Grave III. Q. 2.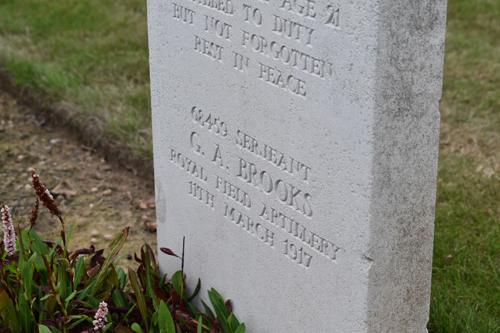 © Picture taken by South Lincolnshire War Memorials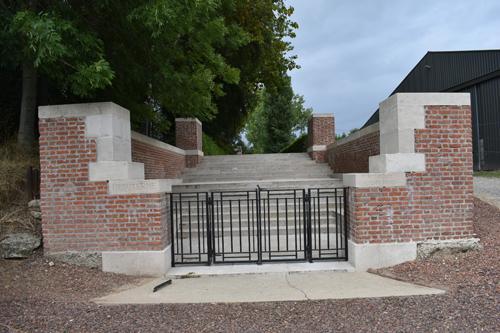 © Picture taken by South Lincolnshire War Memorials
Military Service Timeline
Today we remember Bourne man, Sergeant George Alfred Brooks, "C" Battery, 165th Brigade Royal Field Artillery. Killed in Action on this day 11th March 1917.

George was born in Headington Oxfordshire on 6th March 1881, to James Brooks, a coachman, and his wife Elizabeth Patman.

James and Elizabeth were married in Chelsea in 1874, James being from Oxfordshire and Elizabeth being born in Quadring Lincolnshire.

Their first daughter Edith was born in Folkingham and the other 4 were all born in Oxfordshire.

James passed away in 1884 leaving Elizabeth and her young family living in Oxfordshire for some time before moving back to Lincolnshire in the late 1890s., living in Terrace Yard, North Street Bourne by 1901.

George was a career soldier originally Joined the 4th Lincs 'Militia' in 1896, at the age of 15, leaving them in 1897. When he joined his mother was living in North Street Bourne although George was born in Oxfordshire.

There is a George Alfred Brooks, born Oxfordshire, serving with the Derby Regiment, listed in the Police Gazette as an absentee from the militia. There is a gap in the research between 1897 when George left the Lincolnshire Militia and 1900 when he attested to the regular army with the Lincolnshire regiment.

George attested to the 3rd Battalion Lincolnshire Regiment on 24th February 1900 this being a reserve battalion, George was then posted to the 2nd Battalion Lincolnshire regiment in May.

George saw his first taste of overseas action being involved in the South Africa Campaign.

August 1901 saw George transferred to the 42nd Brigade Royal Field Artillery and the on to the 69th Brigade in October 1901.

On 1st April 1904 George extended his service to complete 8 years with the colours, still being with the 69th Brigade Royal Field Artillery and then attaining a promotion to acting Bombardier in July 1904.

In 1905 another promotion saw George attain the rank of Bombardier. Later that year saw him taking his equitation at Rawl Pindi on 26th April for promotion to Corporal on 29th January 1906, extending his service to complete 12 years with the colours.

Whilst serving in India George met Esther Jane Leeder, who was born in Bellary India in 1887.

They married in Campbelpore India on 1st January 1907.

In 1907 Esther gave birth to their twin boys, Frederick James and George Richard.

A reorganisation of the Army in may 1908 saw George become part of the 2nd Ammunition Column before another posting in February 1909 put him once again under the 69th Brigade.

Sadly for the young family the twins died in March 1908 whilst in India.

In 1909 the family was extended again with the birth of George and Esther's son Cecil Alfred whilst on the posting in Rawl Pindi.

George was promoted to a Sergeant in December 1909 and posted to the 67th brigade before his final posting to the 38th Brigade in October 1910.

George was discharged from the army on 11th March 1912, having completed his 1st Period of 12 years.

February 1900 to May 1900, Home Service.

May 1900 to October 1901 South Africa.

October 1901 to February 1912 India.

February 1912 to March 1912 India.

George's original records ended in March 1912 after his discharge, his last posting being with the 38th Brigade Royal Field Artillery.

After leaving the Army the family moved to England where George's Mother and Sister were still living in Bourne.

The family was now 5 children with the youngest two Harry and Esther, being born after 1913.

We can assume that when leaving the army George would have been put on the Army Reserve list and then recalled to the Army after the outbreak of war in 1914.

Currently there is little detail about George's call-up after the outbreak of war and all we can say for certain is that at the time of his death in 1917 he was posted to the C Battery 165th Brigade Royal Field Artillery.

During the war the batteries were regularly moved between brigades making it difficult to follow a given person or battery throughout the war. The Royal Field Artillery was the largest of the artillery arms of the army and were responsible for horse drawn medium calibre guns and howitzers deployed close to the front line and reasonably mobile.

The RFA was organised into brigades. The 165th Brigade was originally part of the 31st division and received orders in November 1915 to move to France. This order was superseded in December and the Division was shipped to Egypt.

In March 1916 the divisional artillery was shipped to France and arrived via Marseille.

By early 1917 the 165th Brigade was in the field in The Somme around Bayencourt. The HQ was at Bayencourt and the batteries were in positions on the Herburterne Plain.

On the 6th March the batteries advanced to occupy positions behind Rossignol Wood, the HQ moving to Herbuterne.

During the 11th the HQ and batteries were shelled, the Casualties on this day were listed as 2nd Lt Lovett-Thomas of C Battery was killed and 1 other rank wounded.

Sergeant George Brooks was killed as a result of the enemy shelling on the 11th March 1917. He is buried in the Heberturne Military Cemetery.

The Grantham Journal on 31st March 1917 carried the following story,

During the past week, Mrs Brooks of Hereward Street, Bourne has received the following letter from Battery Sergt Major A Payne with reference to Sergt Brooks whose death in action we recorded last week. The letter was written on March 15th and says:- "It is with very deep regret and sympathy from myself and sergeants of the Battalion I inform you of your husband's death which occurred on 11th March 1917. He was killed in action and I can assure you that he will be sadly missed by both officers and men of the Battalion. If there is anything I can do for you in the way of fixing up his affairs, I shall only be to pleased to have a line from you. Trusting you will try and bear up and be brave like a soldier's wife should be."

After George's Death Esther left Bourne and returned to India, with three children Cecil, Esther and Harry.

George was awarded the following campaign medals;

South Africa Medal 1899 with Clasps

In memory of Lieutenant George Alfred Brooks, 68459, "C" Bty, Royal Field Artillery who died on 11 March 1917. Remembered with honour, Hebuterne Military Cemetery.
Sources
WW1 Soldier's Records (www.ancestry.co.uk)
British Newspaper Archive.
Fold 3
Find My Past
Genealogist
Forces War Records
British Army Service Numbers
War Gratuity Calculator
Commonwealth War Graves Commission
National Archives – Battalion War Diaries
General Registry Office