Biography of Private Frederick John Keal (27001)
10th Battalion Royal Warwickshire Regiment
Formerly 5059 – Lincolnshire Regiment
Died 25th March 1918
Soldier
Name: Frederick John Taylor Keal
Date of birth: 1878
Place of Birth: Bucknall, Lincolnshire, England
Date of Birth Registration: January – March 1878
Place of Birth Registration: Horncastle, Lincolnshire, England
Father
Name: John Keal
DOB: 1838
Place of Birth: Revesby, Lincolnshire, England
Occupation: Farm labourer
Mother
Name: Jane Reed
DOB: 1936
Place Of Birth: Bucknall, Lincolnshire,England
Marriage: 1859 Horncastle District
Siblings: (Name), (DOB), (POB)
Eliza Keal, 1863, Horncastle
Mary Owen Keal, 1866, Bucknall
John Tom Keal, 1868, Bucknall
Samuel Keal, 1870, Tupholme
Lucy Ann Keal, 1873, Bucknall
Emma Keal, 1875, Bucknall
Frederick John Taylor Keal, 1878, Bucknall
Plus 2 more who's  name are unknown taken from the 1911 census
Census
1881:Frederick is living with his parents in the Cottage, Tattershall, Lincolnshire,
1891: Frederick is living with his parents in Thimbleby, Lincolnshire,
1901: Frederick is living with the Bash family in Washington, Lincolnshire. The census gives him an age of 23 and he is listed as a waggener on farm.
1911: Frederick is living with his children at Sotby, Wragby, Lincolnshire as his wife Mary is a prisoner at H.M. Prison, Hucknall Road, Bagthorpe, Nottingham. The census gives him an age of 33 and he is listed as a gathman.
Wife
Name: Mary Ann Dawson
Date of birth: 1886
Place of Birth: Thimbleby, Lincolnshire, England
Marriage
Date of Marriage: 1901
Place of Marriage: Horncastle District
Children
Henry William Keal, 1902, Edlington
Annie Keal, 1903, Moorby
Charles John Keal, 1904, Langton
Wife's parents
Father: William Dawson
Mother: Maria Hind
Newspaper Mentions
War Office Weekly Casualty List 30th October 1917
Daily List of October 23rd
WOUNDED
ROYAL WARWICKSHIRE REGIMENT
Keal 27001 F. J. (Bourne)
Lincolnshire Echo Wednesday 29th May 1918
OFFICIAL LOCAL CASUALTIES
KILLED
WARWICKS
Keal, 27001 F. J. (Bourne)
Soldier's Died In The Great War
These records show that Private Frederick John Keal, 27001, 10th Bn Royal Warwickshire Regiment was killed in action on 25th March 1918 in the Western European Theatre in France and Flanders.
Medals
The British Medal
The Victory Medal
Memorials
UK:
Bourne, Roll of Honour in Bourne Abbey Church
Bourne War Memorial in the Memorial Gardens
Commonwealth War Graves Commission:
In Memory of Private Frederick John Keal, 27001, 10th battalion, Royal Warwickshire Regiment who died on 25 March 1918 Age 48
Husband of M. Keal, of South Fen, Bourne, Lincs.
Remembered with Honour, Arras Memorial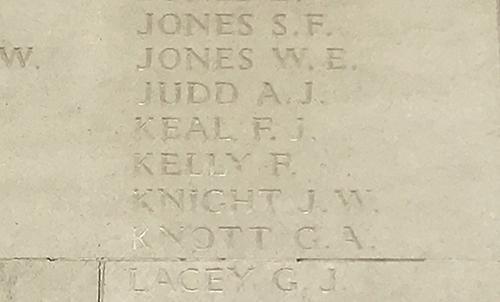 © Picture taken by South Lincolnshire War Memorials

© Picture taken by South Lincolnshire War Memorials
Military Service Timeline
Today we remember Bourne man Frederick John Keal who died on this day 25 March 1918, aged 40 whilst serving with the 10th Battalion Royal Warwickshire Regiment.
Born in Bucknall, Lincolnshire in January 1878, Frederick was the son of John Keal, a farm labourer from Revesby, and Jane (nee Reed) from Bucknall. John and Jane were married in 1859 in Horncastle.
They went on to have seven children, with Frederick being the youngest:
Frederick John Taylor (1878).
Due to being born in the 1870's, this means that we have access to a number of Census records to paint a greater picture of Frederick's life before war was even in sight.
In 1881, at the age of 3 Frederick is recorded to be living with his parents at Cottage, Tattershall with his parents and siblings. In 1891, the family had moved to Thimbleby, Lincolnshire. He is the only child still living in the family house.
By 1901, Frederick is no longer living with his family. Instead, he boards with the Bash family in Wispington outside of Horncastle. At the age of 23, he worked as a waggoner on the farm.
That same year Frederick married Mary Ann Dawson who had also lived in Thimbleby. They were married in Horncastle.
Frederick and Mary Ann went on to have three children:
In 1911, Frederick was living with his children at Sotby, East Lindsey, Lincolnshire. He is noted as being married by Mary is not recorded at this address as she was arrested earlier that year. Also living at this house was Amy Wilson, the housekeeper, and her daughter Annie.
Well before the outbreak of the First World War, we are aware that Frederick joined the Lincolnshire Regiment. Due to his Army Service Number being 5059, we can detect that he enlisted in late 1898 when he would have been aged 20. When working back from his war gratuity payment, it is possible to estimate that Frederick would have joined the war effort in January 1916. In the same month, the Military Service Act came into force. This stated that anyone over 18 who was unmarried in November 1915, would be eligible for conscription on 2nd March. Although this does not apply to Frederick as he was married, he may have believed that eventually he would have been called up to fight once all these men had been conscripted. He may have also thought that his previous military experience would work in his favour. Frederick enlisted in Lincoln, with the hope of re-joining the Lincolnshire Regiment but was in fact posted to the 2nd Royal Warwickshire Regiment.
After researching on the Forces War Records website, it is possible to piece together Frederick's journey throughout the war which proves extremely useful as his service records are not accessible.
Unfortunately for Frederick, he experienced a number of medical issues. In December 1916, he was recorded to have pleurisy- a condition affecting the lungs which causes chest pains and can make breathing difficult. He was noted to have been on No. 29 Ambulance Train, but the destination is unknown. Less than a year later, he was admitted to hospital with pyrexia, or better known as a fever. This was first recorded on 08/07/17 at No. 50 Casualty Clearing Station, Messines before he was transferred from sick convoy No. 15 Ambulance Train to be taken to hospital in Rouen on 11/08/1917. As the dates are a month apart, it is apparent that this sickness did not seem to get better. This record also shows us that Frederick was now with 11th Battalion, enabling us to see his movements throughout the war.
Frederick's next entry comes merely two months later on 23/10/17 where he became entitled to wear a 'wound stripe' as authorised under Army Order 204 of the 6th July 1916. According to The Long Long Trail website, this was a:
''strip of gold Russian braid, No. 1 two inches in length, sewn perpendicularly on the left sleeve of the jacket to mark each occasion on which wounded.''
In Frederick's case we are unaware of the injury, yet it is likely that it was sustained in battle. This neatly coincides with the War Office Weekly Casualty List of the 30th October 1917, with Frederick's name falling under the subheading of 'Daily List of October 23rd'. He is now registered at this date to be living in Bourne.
Even though Frederick had been injured on a number of occasions, he returned to the frontline. The next time he was to be mentioned in the newspaper would unfortunately was to be declared as killed in action. This was in the Lincolnshire Echo dated Wednesday 29th May 1918. As this is a few months ahead, it is probable that Frederick went missing, and was believed killed, on March 25th but not enough evidence was given to confirm this.
Frederick's connection to Bourne is confirmed on the Commonwealth War Graves Commission website, where he is listed as the 'Husband of M. Keal of South Fen, Bourne, Lincs.'
Frederick is commemorated on the Arras Memorial at Faubourg d'Amiens Cemetery, Arras. As he is commemorated by name on the walls of the Memorial rather than with an identified headstone it is either that his body was not recovered from No Man's Land, or that he was buried but could not be named so therefore lies under an unidentified headstone.
Faubourg d'Amiens Cemetery was created in March 1916, and was used to bury those who had died from wounds from local medical and dressing points behind Allied lines. The cemetery was used until November 1918, but was enlarged after the Armistice when smaller cemeteries were merged with this larger one. Faubourg d'Amiens Cemetery is the resting place for over 2,650 Commonwealth soldiers, 10 of which are unidentified.
Surrounding the cemetery is the Arras Memorial, which commemorates almost 35,000 servicemen from the United Kingdom, South Africa and New Zealand. These men died in the Arras area between Spring 1916 to 7 August 1918 and who have no known grave, just like that of Frederick John Keal. Both the cemetery and memorial were designed by Sir Edwin Lutyens, a key architect involved in the work of the Commonwealth War Graves Commission.
Lutyens also designed the Arras Flying Services Memorial at this site, with the assistance of Sit William Reid Dick. This Memorial commemorates nearly 1,000 airmen of the Royal Naval Air Service, the Royal Flying Corps, and the Royal Air Force who were killed on the entire Western Front and who have no known grave. The memorial was unveiled by Lord Trenchard, Marshal of the Royal Air Force on 31 July 1932.
Frederick's name can be found on Bay 3.
Sources
WW1 Soldier's Records (www.ancestry.co.uk)
Commonwealth War Graves Commission