Biography of Private Arthur Watson (202487)
2nd/4th Battalion Lincolnshire Regiment
Died 26th September 1917
Soldier
Name: Arthur Watson
Date of birth: 1880
Place of Birth: Corby, Lincolnshire, England
Date of Birth Registration: July – September 1880
Place of Birth Registration: Bourne, Lincolnshire, England
Father
Name: John Thomas Watson
DOB: 1851
Place of Birth: Marston, Lincolnshire, England
Occupation: General labourer
Mother
Name: Fanny Christina Harrison
DOB: 1855
Place Of Birth: Kirky Underwood, Lincolnshire, England
Marriage: 25th May 1876 Irnham, Lincolnshire, England
Siblings: (Name), (DOB), (POB)
James Harrison Watson, 1873, Kirkby Underwood
Mary Ann Watson, 1877, Corby
Arthur Watson, 1880, Corby
Sarah Lizzie Watson, 1883, Corby
Emily Watson, 1886, Corby
Census
1881:

Arthur is living with his parents in the High Street, Corby, Lincolnshire

1891: 

Arthur is living with his parents in Stone Pit Terrace, Corby, Lincolnshire

1901:

Arthur is not found yet.

1911: 

Arthur is living with his wife and 2 children in The Row, Edenham, Lincolnshire. The census gives him an age of 20 and he is listed as a general labourer.
Wife
Name: Mary Maria Falkner
Date of birth: 1890
Place of Birth: Bourne, Lincolnshire, England
Marriage
Date of Marriage: 1909
Place of Marriage: Bourne District
Children
Ivy Watson, 1909, Bourne
Raymond Archibald Falkner Watson, 1910, Edenham
Emily Mary Amelia Watson, 1913, Bourne
Wife's parents
Father: Charles Frederick Falkner
Mother: Eliza Ann Cartledge
Newspaper Mentions
Grantham Journal Saturday 13th October 1917
KILLED IN ACTION:- Mrs Watson, of Hereward Street, Bourne, has received a letter from Pte. Hilton, of the Lincolnshire Regiment, stating that her husband, Pre Arthur Watson, had been killed in action. This has been confirmed by a letter from Second-Lieut. Percy Squirrell, stating that death took place on September 26th. The letter referred to the gallantry of the decreased, and expressed the deepest sympathy with the widow.
Grantham Journal Saturday 20 October 1917
Pte. A. Watson of Corby.
Pte. Arthur Watson, son of Mr. and Mrs. Watson of Corby was killed in action on September 26th.
The sad news was conveyed in the rolling letter from an officer to his wife:- "Dear Mrs. Watson- I am sorry indeed to have to tell you your husband Pte. A. Watson met his death whilst fighting gallantly in the attack on September 26th. He will be greatly missed by us all. He was indeed, a brave, cheerful and fearless soldier and we all wish he might have been spared. With deepest sympathy from us all" Pte. Watson had worked on the Grimsthorpe Estate for a great number of years and was held in high esteem by his fellow workmen. He was thirty-eight years old. He leaves a wife and three children, who reside at Bourne.
War Office Weekly Casualty List November 13th 1917
KILLED
LINCOLNSHIRE REGIMENT
Watson 202487 A. (Bourne)
Soldier's Died In The Great War
These records show that Private Arthur Watson, 202487, 4th Bn, Lincolnshire Regiment was killed in action on 26th September 1917 in the Western European Theatre in France and Flanders.
Pension Records
Effects Left To
Medals
The British Medal
The Victory Medal
Memorials
UK:
Bourne, Roll of Honour in Bourne Abbey Church

Bourne War Memorial in the Memorial Gardens
Commonwealth War Graves Commission:
In memory of Private Arthur. Watson, 202487, 2nd/4th Bn., Lincolnshire Regiment who died on 26 September 1917.
Remembered with honour, Tyne Cot Memorial

Panel 35 to 37.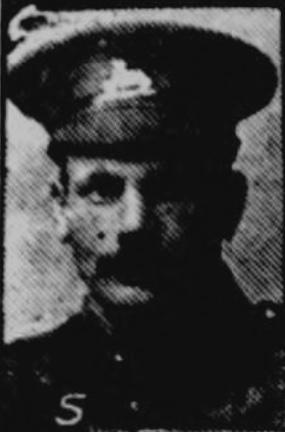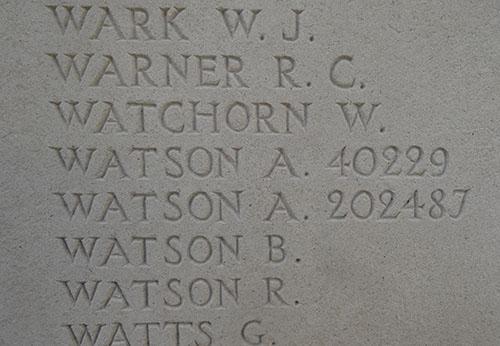 © Picture taken by South Lincolnshire War Memorials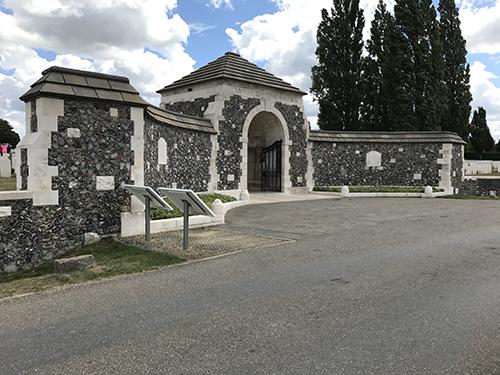 © Picture taken by South Lincolnshire War Memorials
Military Service Timeline
This is ongoing research and will be posted when completed
Sources
WW1 Soldier's Records (www.ancestry.co.uk)
British Newspaper Archive.
Fold 3
Find My Past
Genealogist
Forces War Records
British Army Service Numbers
War Gratuity Calculator
Commonwealth War Graves Commission
National Archives – Battalion War Diaries
General Registry Office