Biography of Private George Stubley (75284)
1st/7th Battalion Durham Light Infantry
Formerly 19th Battalion Durham Light Infantry
Died 13th April 1918
Soldier
Name: George Stubley
Date of birth: 1899
Place of Birth: Bourne, Lincolnshire, England
Date of Birth Registration: January – March 1899
Place of Birth Registration: Bourne, Lincolnshire, England
Father
Name: Frank Stubley
DOB: 1850
Place of Birth: Bourne, Lincolnshire, England
Occupation: Small Holder
Mother
Name: Sarah Elizabeth Walker
DOB: 1860
Place Of Birth: Bourne, Lincolnshire, England
Marriage: 17th May 1882 Bourne, Lincolnshire, England
Siblings: (Name), (DOB), (POB)
Emma Stubley Walker, 1882, Bourne
James Stubley, 1883, Bourne
Mary Ann Stubley, 1885, Bourne
John Francis Stubley, 1887, Bourne (Died 1890)
Albert Henry Stubley, 1888, Bourne
Richard Ernest Stubley, 1890, Bourne
Alfred Stubley, 1892, Bourne
Francis Stubley, 1894, Bourne
Arthur Stubley, 1897, Bourne
George Stubley, 1899, Bourne
Violet Stubley, 1901, Bourne
Edith May Stubley, 1903, Bourne
Annie Mabel Stubley, 1905, Bourne
Census
1901: George is living with his parents on South Fen, Bourne, Lincolnshire.
1911: George is living with his parents on South Fen, Bourne, Lincolnshire.. The census gives him an age of 12.
Marriage
No marriage for George has been found and because of his age we can assume that he never had the opportunity to marry.
Newspaper Mentions
Grantham Journal Saturday 22nd June 1918


KILLED IN ACTION – Official notification has been received by Mr. and Mrs. Francis Stubley, of North Fen, that their son, Pte. E. Stubley, who was some time ago missing, is now reported killed in action, the notification giving the place of burial. Pte. Stubbly was attached to the King's Own Royal Lancaster Regiment. Mr. and Mrs. Stubley had previously lost their son Francis, killed in action whilst another son, Pte. George Stubley , is now missing. There are two other sons also in the Army.
Soldier's Died In The Great War
These records show that Private George Stubley, 75284, 1st/7th Bn Durham Light Infantry was killed in action on 13th April 1918 in the Western European Theatre in France and Flanders.
Pension Records
Effects Left To
Medals
The British Medal
The Victory Medal
Memorials
UK:
Bourne War Memorial in the Memorial Gardens
Commonwealth War Graves Commission:
In memory of Private George Stubley, 75284, 1st/7th Bn., Durham Light Infantry who died on 13 April 1918 Age 19
Son of Francis and Elizabeth Stubley, of Wood House, North Fen, Bourne, Lincs.
Remembered with honour, Ploegsteert Memorial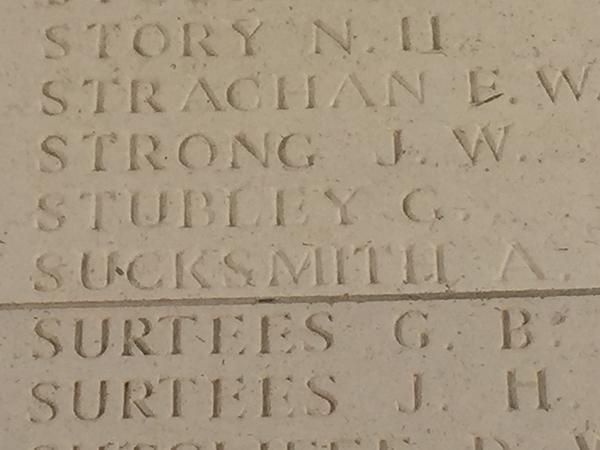 © Picture taken by South Lincolnshire War Memorials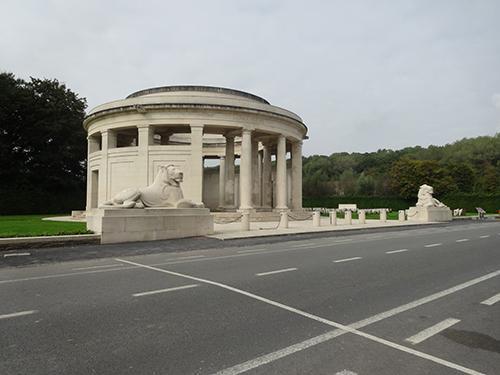 © Picture taken by South Lincolnshire War Memorials
Military Service Timeline
On reaching his 18th birthday in. January 1917 George was then the right age for conscription and attested in Grantham on the 30th January 1917.

In the spring of 1917 George is living Gladstone Villa, Rippingale, working as an agricultural labourer when he receives his notification of mobilisation and joins the Army at Grantham on the 3rd May 1917. The next day he was sent to Lincoln and receives his medical examination. This reports he was 5′ 3″ and weighed 108lbs, they noted that he was underweight but that this would not make him fail the examination.

one week later on the 11th May George was posted to 5th training reserve Battalion to undertake his basic training. The very next day he received his first inoculations, one of three sets he received before his posting abroad.

Following the completion of his training he received a posting to the 3rd Battalion Durham Light Infantry , their home service and training Battalion and officially joins them on 17th November.

After only three days is is posted to the 19th Battalion Durham Light Infantry and moves to Folkestone for embarkation to France. Later that day he arrives in Boulogne and onto camps in Etaples.
The 24th March sees George receiving his orders to be posted to the 1/7th Battalion of the Durham Light infantry (Pioneers) and to join his new Battalion in the field.

At this time the Battalion was around Estrees in heavy fighting.
Gorges first few days in the Battalion were most likely spent fighting a withdrawal back from Estrees to Caix along with most of the army brigades along that front. This lasted until the 31st Marchwhen the battalion marched to Saleux and entrained for Rue.

On the 1st April 1918, unbeknown to George or the family, his brother Francis was in hospital at Rouen and died from wounds received.

The following is from the Battalion Diary:

1st April 1918 – In The Field
Arrived at Bernay near Crecy and were billetted in farm.

2nd-3rd April 1918 –
Time devoted to refitting and reorganising

4th April 1918
The Battalion moved by bus to Beuvry (sheet 36) and were billeted at Le Quesnoy.

5th-6th April 1918
Re-equipping of the Battalion in progress

7th April 1918
Battalion moved to Robermetz (36A.L 19.A.)

8th April 1918
In billets Robermetz

9th April 1918
An enemy offensive commenced this morning and Meriville and estaires were heavily bombarded. B company were engaged clearing the debris from the roads in the former and C Company the latter.

10th April 1918
A Company proceeded this morning to reinforce the 6th DLI in front of Lestrem, the remainder of the Battalion stood to arms.

11th April 1918
C Company were engaged this morning digging a line of posts on either side of the main Neuf Berquin – Estaires road and B Company a line of posts in front of Meriville. As the day progressed the enemy pushed on his attack and all companies were in close touch with the enemy.
Towards nightfall the line fell back N.W. of Neuf Berquin.

12th April 1918
The 5th Division reieved the Division this evening and the Battalion collected at La Motte and occupied the out houses of the Chateau.

13th April 1918
About 5am the Chateau was heavily shelled for quarter of an hour resulting in several N.C.Os and men being killed and wounded. The Battalion were withdrawn to Billets at J.1.D.5.1

14th -17th April 1918
The Battalion was engaged in digging and wiring lines at J.5.6.11+12

It was during the shelling of the Chateau that Private George Stubley was reported as missing.

It was not until 21st June 1918 that the war office reported that George is presumed dead following lapse of time and that death occurred on or after the 13th April 1918.
This is ongoing research and will be posted when completed
Sources
WW1 Soldier's Records (www.ancestry.co.uk)
Commonwealth War Graves Commission
British Newspaper Archive.