Biography of Private Walter Needham (24852)
1st South Staffordshire Regiment
Died 20th April 1917
Soldier
Name: Walter Needham
Date of birth: 1889
Place of Birth: Thurlby, Lincolnshire, England
Date of Birth Registration: January – March 1889
Place of Birth Registration: Bourne, Lincolnshire, England
Father
Name: John William Needham
DOB: 1864
Place of Birth: Thurlby, Lincolnshire, England
Occupation: Timber feller
Mother
Name: Eliza (Eva) Kemp
DOB: 1867
Place Of Birth: Laxfield, Suffolk, England
Marriage: 1885 Bourne District
Siblings: (Name), (DOB), (POB)
John W Needham, 1886, Thurlby
Emily Needham, 1888, Thurlby
Walter Needham, 1889, Thurlby
Kate Needham, 1892, Thurlby
Joseph Needham, 1896, Thurlby
George Needham, 1900, Thurlby
Ivy Daisy Needham, 1907, Northorpe (half sister)
Stanley William Needham, 1910, Northorpe (half brother)
Census
1891: Walter is living with his parents at Northorpe Street, Thurlby, Lincolnshire
1901: Walter is living with his parents at Bottom Northorpe, Thurlby, Lincolnshire
1911: Walter is living with the Reeve family in Moulton Marsh, Lincolnshire. The census gives him an age of 22 and he is listed as a waggoner on farm.
Wife
Name: Elizabeth Ellen Rowlett
Date of birth: 1894
Place of Birth: Bourne, Lincolnshire, England
Marriage
Date of Marriage: 1913
Place of Marriage: Bourne District
Children
Ernest E Needham, 1914, Bourne
Ethel A Needham, 1916, Bourne
Wife's parents
Father: Edward Rowlett
Mother: Annie Mary Loud
Newspaper Mentions
Grantham Journal Saturday 19th May 1917
LOCAL CASUALTIES. Corpl Jos Brown son of Mr and Mrs Brown of Eastgate, Bourne is in hospital at Hampton Court suffering from wounds in his back and right hand. He is one of six sons, five of whom are in the army. Pte G Sherwin, son of Mr and Mrs Luke Sherwin, Bourne who some months ago was officially notified as wounded and missing, is now reported dead. The official notification of Pte Sherwin's death was received by his parents last week. A memorial service for Pte Sherwin and Pte W Needham was held on Sunday at the Abbey Church. Official notification has this week been received that Corpl E Robinson, son of Mr and Mrs John Robinson, Woodview, Bourne has been Killed in action. Corpl Robinson was attached to the Lincolns.THURLBY
ROLL OF HONOUR – Another well-known village lad has made the great sacrifice, in the person of Pre Walter Needham, whose father has recently heard the sad news. The second son of Mr William Needham of Northorpe, Pte Needham had been in the Army for two years. He was a quiet industrious lad and much respected in the village.
Soldier's Died In The Great War
These records show that Private Walter Needham, 24852, 1st Battalion South Staffordshire Regiment was killed in action on 20th April 1917 in the Western European Theatre in France and Flanders.
Pension Records
Effects Left To
Medals
The British Medal
The Victory Medal
Memorials
Commonwealth War Graves Commission:
In memory of Private Walter Needham, 24852, 1st Battalion, South Staffordshire Regiment who died on 20 April 1917, Age 28
Son of John William and Eliza Needham; husband of Elizabeth Ellen Needham of 8 Waterside, Willoughby Rd, Bourne, Lincs.
Remembered with honour, Ervillers Military Cemetery.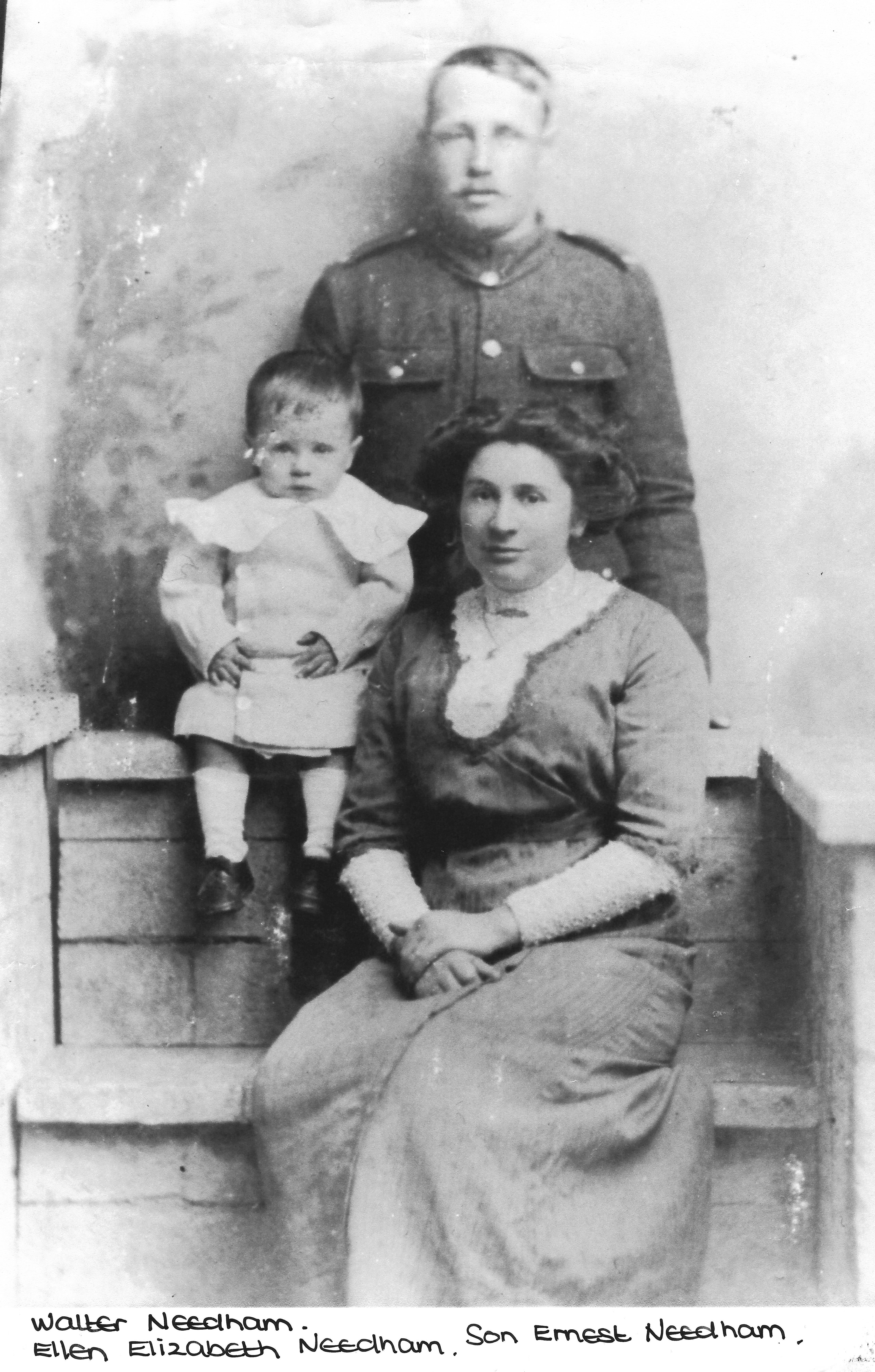 © Picture courtesy of Caroline Durno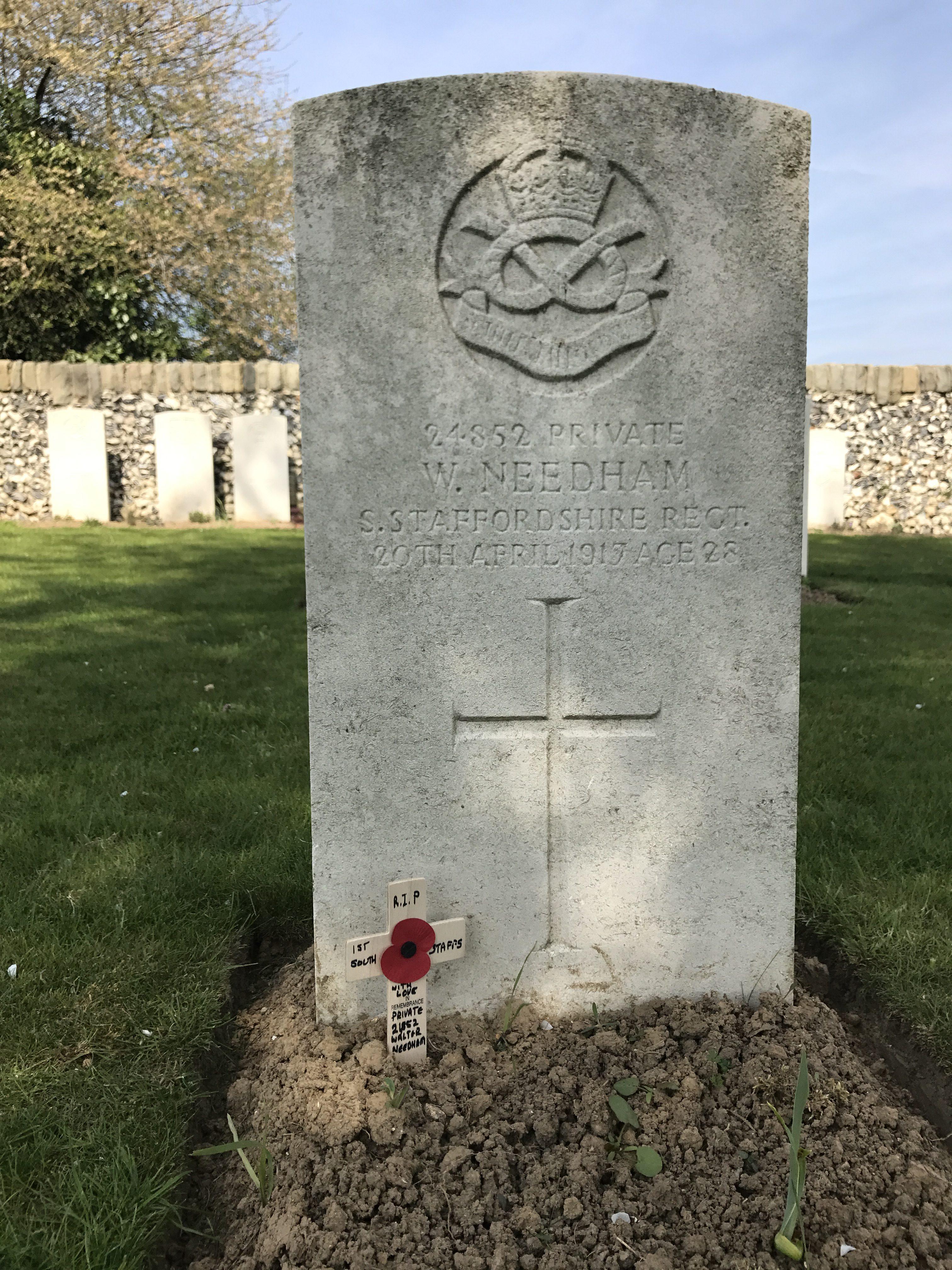 © Picture taken by South Lincolnshire War Memorials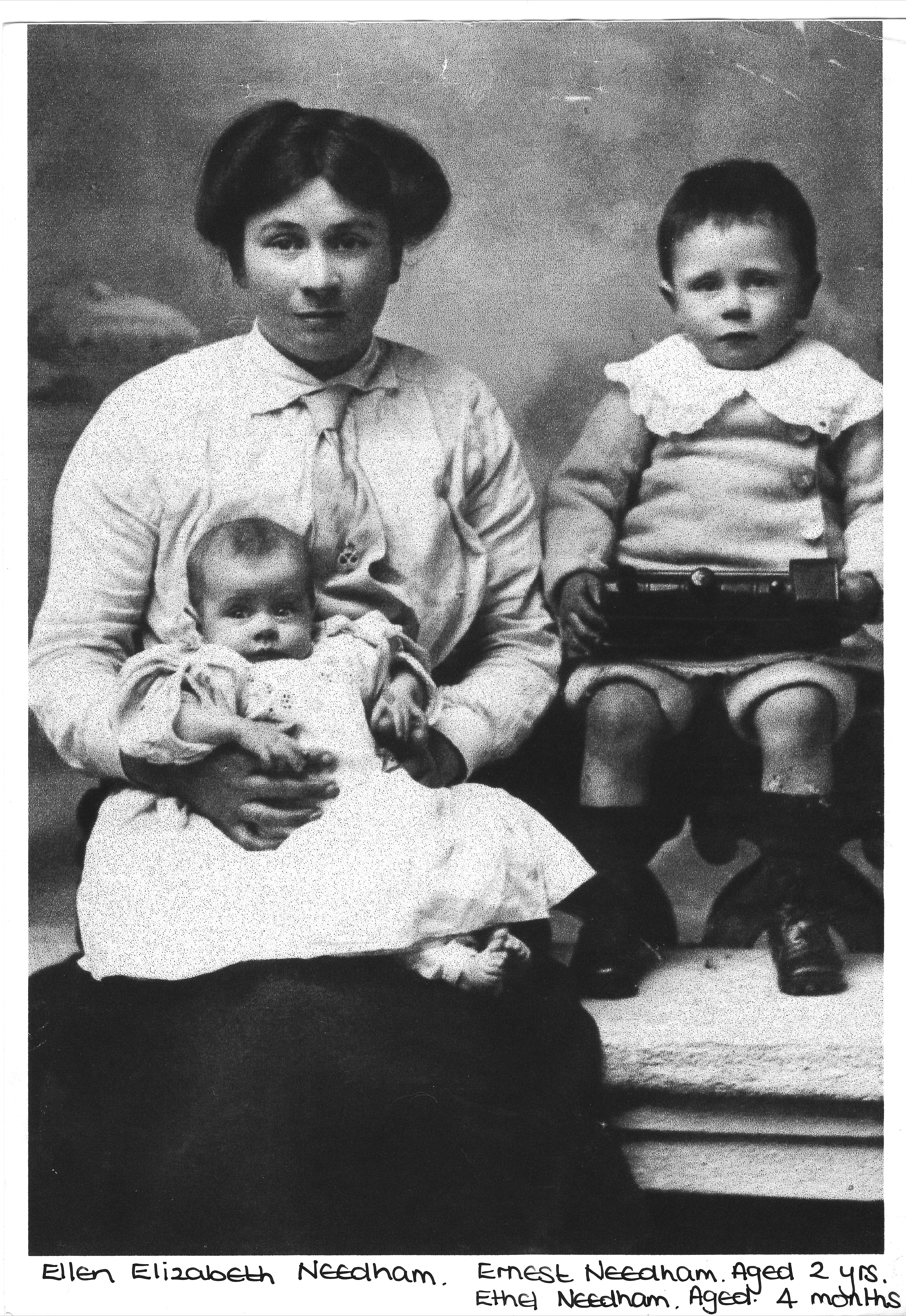 © Picture courtesy of Caroline Durno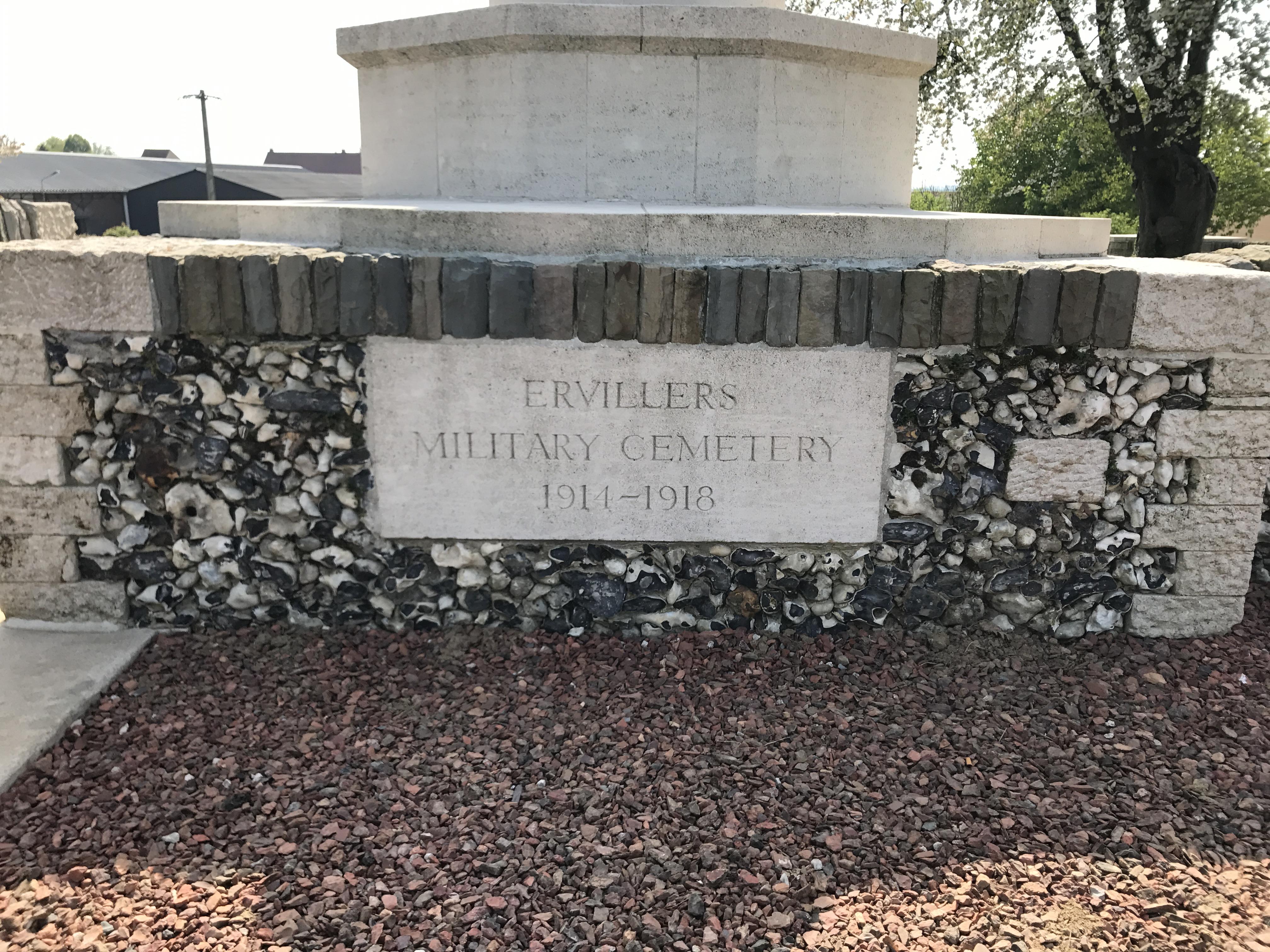 © Picture taken by South Lincolnshire War Memorials
Military Service Timeline
Walter enlisted in Bourne and was posted to the 1st Battalion South Staffordshire Regiment. He completed 2 years service and so its fair to say that his enlistment must have been around Spring of 1915. As we do not have access to Walter's full military records we can only really talk about the final month of his life with any certainty.The Battalion started April 1917 in Courcelles-Le-Compte undertaking preparations for a 2nd attack on Groisilles. Moved up at 8.20pm 2nd April attack on enemy lines 5-15am. Attack a complete success. Casualties 1 officer and 26 other ranks wounded. 22 prisoners taken by Battalion. Relieved by 2nd Royal Warwicks at 11pm. Returned to former Billets at Courcelles.

3rd April – Cleaning up. Moved to Puisieux at 2pm

4th April – Resting and cleaning up generally

5th 6th 7th April – Whole Battalion employed on Railway construction.

8th April – Sunday, Devine services held

9th April – Battalion employed in repairing roads

10th April – General training. Weather very bad, falls of snow

11th April – training during forenoon, moved to Logeast Wood in afternoon. Heavy falls of rain and snow.

12th April – Battalion returned to former Billets at Puisieux.

13th April – Weather improved, General Training.

14th April – Half Battalion employed on working parties, remainder training

15th April – Enemy attacked and temporarily occupied Lagnicourt. Battalion stood to to assist in retaking it if necessary but retaken by Anzacs. Stood down at 10:30am and 380 men on fatigue duties.

16th April – Portion of Battalion working parties, remainder training.

17th April- Heavy fall of snow. Battalion moved to Gomiecourt coming under orders of 187th infantry brigade.

18th April – Battalion relieved 21st Manchesters in trenches south east of Croiselles. Relief complete at 12:40am 19th

19th April – Trench duty, A company heavily shelled at railway embankment (Sheet 51B.U.25)
Casualties 1 officer wounded, 2 other ranks killed, 8 other ranks wounded.

20th April – As above casualties 1 officer wounded, 3 other ranks killed and 20 other ranks wounded. Heavy shelling.

21st April – As above casualties 5 other ranks wounded. Relieved by 2nd Gordons at 11:50pm to camp at A.30.c.7.7 near Gomiecourt.

Walter died of wounds on 20th April 1917 likely from the shelling of the 19th or 20th April in the trenches at the railway embankment.
Sources
WW1 Soldier's Records (www.ancestry.co.uk)
Commonwealth War Graves Commission
British Newspaper Archive.