Biography of Private John George Hudson (59164)
10th Battalion Sherwood Foresters (Notts and Derby Regiment)
Died 18th August 1918
Soldier
Name: John George Hudson
Date of birth: 1892
Place of Birth: Haconby, Lincolnshire, England
Date of Birth Registration: January – March 1892
Place of Birth Registration: Bourne, Lincolnshire, England
Father
Name: David Stennet Hudson
DOB: 1858
Place of Birth: Revesby, Lincolnshire, England
Occupation: Labourer bricklayer
Mother
Name: Elizabeth Ann Pearson
DOB: 1862
Place Of Birth: Cowbit, Lincolnshire, England
Marriage: 1880 Spalding District
Siblings: (Name), (DOB), (POB)
William Hudson, 1884, Carrington
Thomas Hudson, 1885, Frithville
Annie Hudson, 1887, Haconby
Ellen Hudson, 1889, Haconby
John George Hudson, 1892, Haconby
Elizabeth Hudson, 1894, Haconby
David Stennet Hudson, 1896, Haconby
Joseph Horace Hudson, 1899, Foston
Census
1901: George is living with his parents at Wellow Road, Owlerton, Nottinghamshire.
1911: George is living with a Elizabeth Smith at Havenhouse Road, Wainfleet, Lincolnshire. The census gives him an age of 20 and he is listed as a farm labourer.
Wife
Name: Annie Sims
Date of birth: 1892
Place of Birth: Stapleford, Nottinghamshire
Marriage
Date of Marriage: 1913
Place of Marriage: Nottingham District
Children
Arthur Hudson, 1913, Nottingham
Charles Edmund Hudson, 1915, Nottingham
Wife's parents
Father: Waldemar Sims
Mother: Sarah A Yarrow
Newspaper Mentions
Nottingham Evening Post Tuesday 27th, Wednesday 28th and Thursday 29th August 1918
HUDSON – Died of gas shell wounds, August 18th, Pte. George Hudson. Deeply Mourned – Sorrowing wife, sonnies Arthur, Eddie, mother, sisters, brother. Tom (in france)
Soldier's Died In The Great War
These records show that Private John George Hudson, 59164, 10th Bn, Notts and Derby (Sherwood Foresters) Regiment was killed in action on 18th August 1918 in the Western European Theatre in France and Flanders.
Pension Records
Effects Left To
Medals
The British Medal
The Victory Medal
Memorials
UK:
Bourne, Roll of Honour in Bourne Abbey Church
Bourne War Memorial in the Memorial Gardens
If you look carefully at the Roll of Honour in the church you can see the difference between a "C" and a "G" by comparing other names in the font used. Thus even though his name on the war memorial is J C Hudson, the Roll of Honour would point to this being a transcription error and he is in fact John G Hudson.
Commonwealth War Graves Commission:
In memory of Private J G Hudson, 59164, 10th Bn., Sherwood Foresters (Notts and Derby Regiment) who died on 18 August 1918 Age 27
Husband of Annie Hudson, of 19, Constance Street, New Basford, Notts.
Remembered with Honour, Mont Huon Military Cemetery, Le Treport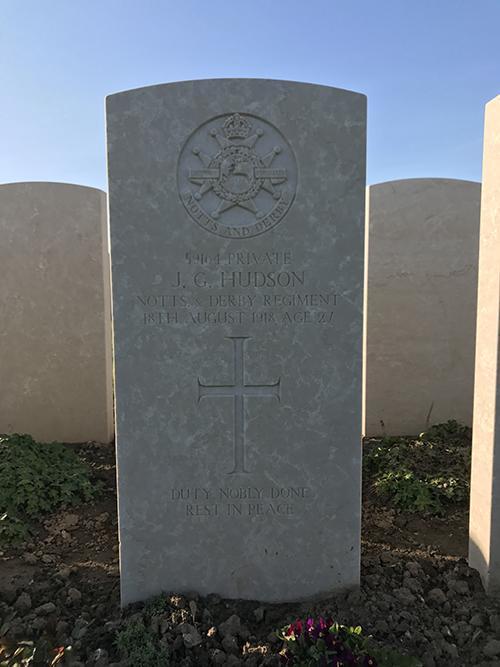 © Picture taken by South Lincolnshire War Memorials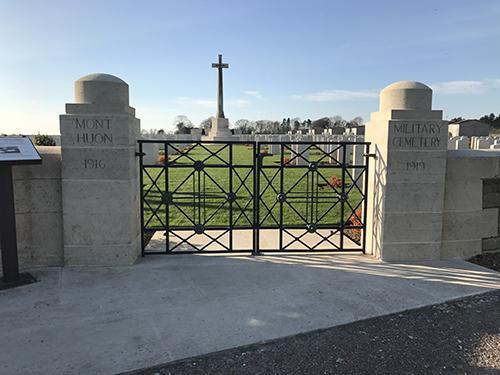 © Picture taken by South Lincolnshire War Memorials
Military Service Timeline
Enlisted in Nottingham
Died of wounds
This is ongoing research and will be posted when completed
Sources
WW1 Soldier's Records (www.ancestry.co.uk)
Commonwealth War Graves Commission
British Newspaper Archive.