Biography of Private John James Booth, (241635)
1st/5th Battalion Lincolnshire Regiment
Formerly 4939 1st/5th Battalion Lincolnshire Regiment
Died 19th June 1917
Soldier
Name: John James Booth
Date of birth: 1896
Place of Birth: Morton, Lincolnshire, England
Date of Birth Registration: January – March 1896
Place of Birth Registration: Bourne, Lincolnshire, England
Father
Name: Thomas Booth
DOB: 1868
Place of Birth: Haconby, Lincolnshire, England
Occupation: Portable engine driver
Mother
Name: Martha Jane Taylor
DOB: 1867
Place Of Birth: Bourne, Lincolnshire, England
Marriage: 1895 Bourne District
Siblings: (Name), (DOB), (POB)
John James Booth, 1896, Morton
Thomas Booth, 1898, Morton
Marjorie Booth, 1899, Morton
Bertie Booth, 1901, Morton
George Booth, 1903, Morton
Winifred Booth, 1906, Morton
Eliza Jane Booth, 1908, Morton
Census
1901: John is living with his parents in Morton, Lincolnshire.
1911: John is living with his mother in Morton, Lincolnshire. The census gives him an age of 16 and he is listed as a labourer on farm.
Marriage
No marriage for John has been found and because of his age we can assume that he never had the opportunity to marry.
Newspaper Mentions
Grantham Journal Saturday 14th July 1917
MORTON
SAD NEWS – On Friday week, Mrs. Jane Booth was the recipient of the sad official news that he eldest son, Pte. John Jame Booth, had been killed in action.  It is just a year since Pte. Booth arrived on French soil, and he has never failed during this time to write to his mother every week.  Everyone is deeply sorry for Mrs. Booth, for Jack was a real good boy to his mother, whose husband died suddenly nine years ago, when Jack was a boy of 12, and Mrs. Booth was left with a young family of seven.  His mother and little ones are heartbroken at the sad news.  A memorial service will be held in Morton Church tomorrow (Sunday).  The sympathy of the whole village goes to Mrs. Booth in her great loss.
Soldier's Died In The Great War
These records show that Private John James Booth, 241635, 5th Bn Lincolnshire Regiment was killed in action on 19th June 1917 in the Western European Theatre in France and Flanders.
Pension Records
Effects Left To
Medals
The British Medal
The Victory Medal
Memorials
UK:
Morton, Roll of Honour in St John the Baptist Church
Commonwealth War Graves Commission:
In memory of Private J J Booth, 241635, 1st/5th Bn., Lincolnshire Regiment who died on 19 June 1917
Remembered with honour, Loos British Cemetery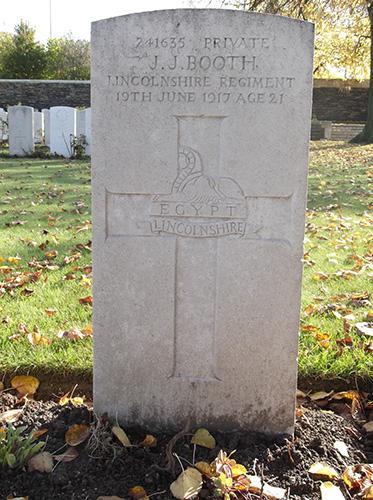 © Picture taken by South Lincolnshire War Memorials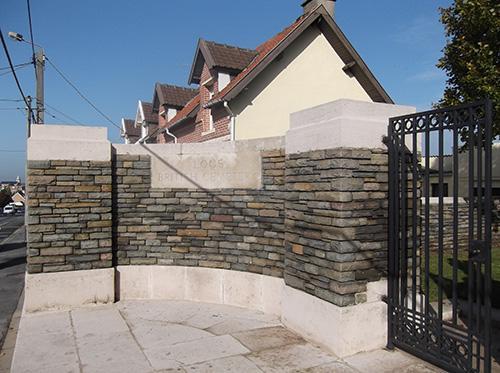 © Picture taken by South Lincolnshire War Memorials
Military Service Timeline
This is ongoing research and will be posted when completed
Sources
WW1 Soldier's Records (www.ancestry.co.uk)
Commonwealth War Graves Commission
British Newspaper Archive.