Biography of Boy 1st Class Harold Baldock, (J/36917)
Royal Navy
Died 30th December 1915
Sailor
Name: Harold Baldock
Date of birth: 24th April 1898
Place of Birth: Bourne, Lincolnshire, England
Date of Birth Registration: April – June 1898
Place of Birth Registration: Bourne, Lincolnshire, England
Father
Name: Fred Baldock
DOB:

16th September 1862

Place of Birth: Old Bolingbroke, Lincolnshire, England
Occupation: Carpenter and miller
Mother
Name: Annie Hipkin
DOB:

22nd May 1868

Place Of Birth: Frithville, Lincolnshire, England
Marriage: 1888 Spilsby District
Siblings: (Name), (DOB), (POB)
Frank Baldock, 1889, Stickford
Ivy Baldock, 1890, West Keal
Elsie Baldock, 1892, West Keal
John Thomas Baldock, 1894, West Keal
Fred Baldock, 1895, West Keal (Died 1896 age 1)
Harold Baldock, 1898, Bourne
Gordon Baldock, 1900, Bourne (Died 1905 age 5)
Doris Baldock, 1904, Bourne
Cyril Baldock, 1906, Bourne (Died 1911 age 5)
Edward Baldock, 1910, Bourne (Died 1910 age 0)
Plus 1 more name whose are unknown taken from the 1911 census
Census
1901: Harold is living with his parents in Bourne, Lincolnshire
1911: Harold is living with his parents in South Street, Bourne, Lincolnshire.
Relatives in services
Harold has two brothers Frank and John Thomas which also fought in WW1 but Frank was killed. Frank can be found on our page dedicated to the Bourne War Memorial.
Marriage
No marriage for Harold has been found and because of his age we can assume that he never had the opportunity to marry.
Newspaper Mentions
Grantham Journal Saturday 22nd January 1916
THE "NAVAL" – When the ill fated "Natal" went down there was considerable anxiety as to the fate of Harold Baldock, a Bourne lad, who had just been transferred to the ship.  His name had not appeared amongst the lists and the fear was entertained that the young man must have perished.  This has proved true, for on Saturday an official

notification reached his home that he had gone down with the vessel.  Only a fortnight before the "Natal" was sunk, young Baldock was at home on leave, and at that time had no idea that he would form part of the crew of the vessel; he had in fact, received instructions to join another boat, and was only transferred at the last minute to the "Natal".  The sympathy of all classes goes out to Mr. and Mrs Baldock and the members of the family in their sad bereavement, intensified by the fact that another son, Pte. Frank Baldock, has been missing for several months, no tidings have been heard of him since he took park in one of the early engagements in the Dardanelles.
Soldier's Died In The Great War
Pension Records
Effects Left Too
Medals
The British Medal
The Victory Medal
The Star
Memorials
UK:
Bourne, Roll of Honour in Bourne Abbey Church
Bourne War Memorial in the Memorial Gardens
Commonwealth War Graves Commission:
In memory of Boy 1st Class Harold Baldock, J/36917, H.M.S. "Natal", Royal Navy who died on 30 December 1915 Age 17
Son of Frederick and Annie Baldock of 21 South St, Bourne, Lincs
Remembered with honour, Chatham Naval Memorial.
Panel 10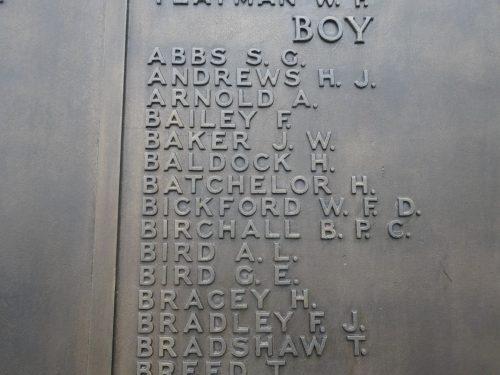 © Picture taken by South Lincolnshire War Memorials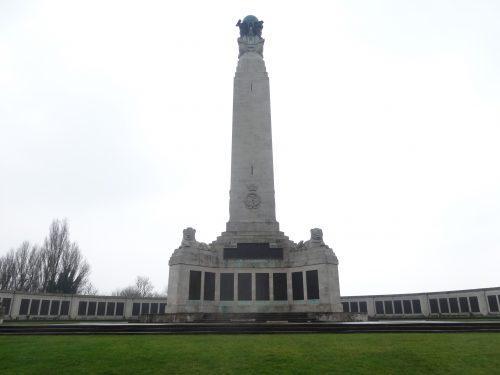 © Picture taken by South Lincolnshire War Memorials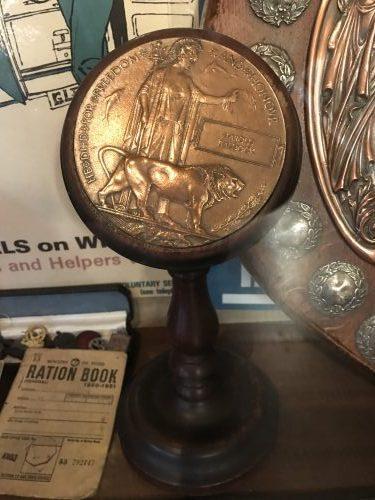 © Picture taken by South Lincolnshire War Memorials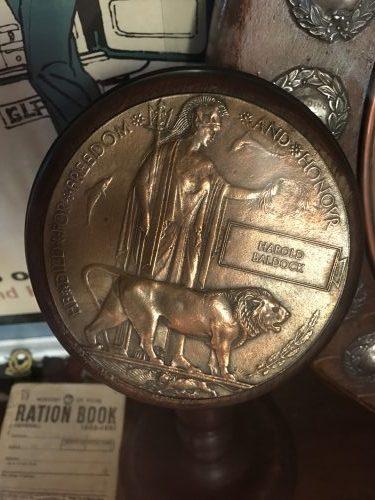 © Picture taken by South Lincolnshire War Memorials
Military Service Timeline
Harold was born on the 24th April 1898 in Bourne, to Fred Baldock, a carpenter and miller and his wife Annie Hipkin. Annie was Born in Frithville and Fred in Old Bollingbroke and were married in the Spilsby area in 1888.
The couple lived in Stickford and West Keal before moving to Bourne in the late 1890s and had 11 children in all, although sadly three had passed away before 1911.
Fred originally worked at the mill on South Street, Bourne, but the couple were later listed as having lived at 21 South Street, the cottage attached to the mill later know as Baldock's Mill and now the site of the Bourne Heritage Centre.
Frank Baldock, 1889, b. Stickford
Ivy Baldock, 1890, b. West Keal
Elsie Baldock, 1892, b. West Keal
John Thomas Baldock, b. 1894, West Keal
Harold Baldock, 1898, b. Bourne
Gordon Baldock, 1900, b. Bourne
Doris Baldock, 1904, b. Bourne
Cyril Baldock, 1906, b. Bourne
Three other children had died before 1911.
In 1901 Harold can be found living with his parents in Bourne, Fred working as a miller and carpenter but 10 years later in 1911 Fred is now listed as an employer.
Harold was working as a gardener when he joined the Navy his records describe him as 5'2 1/2″ tall with light brown hair, blue eyes and a fresh complexion.
Harold's first entry on Naval records show that he was a Boy 2nd Class on 11 February 1915.
He was first posted to H.M.S. Ganges, a name given to one of the off-shore ships which was part of the Royal Naval Training Establishment, at Shotley near Ipswich, Suffolk. The ship now known as Ganges was originally designated as H.M.S. Caroline and moved to Shotley when no longer useful as a fighting vessel. Shotley had gone through expansion around 1910 and they had installed three radio masts as part of the newly formed Signal School.
On 2nd May 1915 Harold became a Boy 1st Class. To classify as a boy 1st Class Harold would have needed to have served as a Boy 2nd Class for 9-18 months, shown sufficient proficiency in seamanship and accumulated at least one good conduct badge. The requirements varied between training ships and his rate of pay would have been increased. This was a rating for boys ages 16-18.
Harold remained at HMS Ganges for only another 8 days before getting his first posting at Sea.
Harold Baldock, Boy 1st Class, was posted to HMS Campania on 30th May 1915 and he remained with the ship until the 9th December 1915.
Originally built as a passenger liner for Cunard, RMS Campania was previously the holder of the Blue Riband speed award for the Atlantic crossing and that was its regular route from Liverpool to New York. She was sold to a ship-breakers in October 1914 but was subsequently bought by the Royal Navy.
By mid 1915, now designated HMS Campania, she was converted initially to an armed merchant cruiser equipped with eight quick firing 4.7-inch (120 mm) guns.
The ship was further converted by Cammell Laird to an aircraft carrier instead and the two forward 4.7-inch guns were removed in favour of a 160-foot flight take off deck. Two derricks were fitted on each side to transfer seaplanes between the water and her two holds. The amidships hold had the capacity for seven large seaplanes. The forward hold, underneath the flight deck, could fit four small seaplanes, but the flight deck had to be lifted off the hold to access the airplanes.
HMS Campania was commissioned on 17 April 1915 only one month before Harold joined her.
The first seaplane flight from her took place on the 6th August 1915, this being a Sopwith Schneider floatplane mounted on a wheeled trolly. Although this took off it was only due to the ship sailing into a 17 knot wind, this proved that heavier aircraft could not be launched.
By October 1915 Harold and Campania had exercised with the Grand fleet seven times, but only on three occasions had aircraft taken off from her decks as the North Sea was too rough for her to use seaplanes. Her Captain recommended that the Flying-off deck be lengthened and steepened and in November 1915 she sailed back to Cammell Laird for a further refit.
Harold left the ship on the 9th December 1915 and following a short leave when he visited his parents in Bourne, joined his new ship HMS Natal.
HMS Natal was a Duke of Edinburgh class cruiser that was used for patrolling the North Sea during the war.
She had a refit during 1915 in Birkenhead and re-joined her Squadron at Scapa Flow. In December the Squadron sailed south for Cromarty Firth for the Festive Season.
Harold would have joined the ship immediately after his leave probably somewhere around the third week of December.
As part of the festivities, on the afternoon of 30th December, the Natal's skipper, Eric Black, hosted a Christmas film show on board the warship.
Invited along to join the ship's company were wives and children of his officers, one civilian friend plus his family, and nurses from the nearby hospital ship Drina.
Not many were able to accept the invitation; nevertheless a total of seven women, one civilian male, and three children came on board.
Just as the party was getting under way a series of massive explosions tore the ship apart.
Within 5 minutes the ship was on its side and was officially noted as sunk within 20 minutes of the explosion.
Less crew were on board than normal as a lot of the crew were either on leave or on shore playing football and enjoying the festive period.
The explosion caused the death of 421 from a compliment of 704 listed crew, the death toll included some visitors. Roughly 170 men survived the sinking.
The enquiry which followed concluded that faulty ammunition was the cause.
However in the late 1920's Able Seaman James McDade was recounting the story to his family – on that fateful day he was off duty being short of money could not afford to go ashore.
Bored he wandered along to the aft magazine to have a chat with his friend who was on duty, approaching the magazine saw that his friend was working and smoking realising that should he be found with his friend smoking by the orderly officer both would be in trouble – he decided not to enter the magazine but went up on deck as he wandered along to the forward end the ship blew up he was thrown into the water but apart from slight hypothermia he survived.
His family remonstrated with him as to why he had not come forward at the enquiry he replied simply "well I was not asked anyway he was my mate"!
Harold Baldock was one of the 421 men, including the civilians that were killed in the explosion and the subsequent sinking of HMS Natal. He is commemorated on the Chatham Memorial.
CWGC memorial index for Chatham –
Baldock, Boy 1st Cl. Harold J/36917, R.N. HMS Natal, killed by internal explosion of vessel in Cromarty Firth 30th December 1915, Aged 17, Son of Frederick and Annie Baldock, of 21 South Street, Bourne, Lincs.
Further reading about the disaster can be found on the Western Front Association's web site.
https://www.westernfrontassociation.com/world-war-i-articles/a-christmas-party-then-tragedy-30-december-1915/
Sources
WW1 Soldier's Records (www.ancestry.co.uk)
British Newspaper Archive.
Fold 3
Find My Past
Genealogist
Forces War Records
British Army Service Numbers
War Gratuity Calculator
Commonwealth War Graves Commission
National Archives – Battalion War Diaries
General Registry Office