Biography of Serjeant Charles Herbert Cooper (1076)
10th Battalion Lincolnshire Regiment
Died 22nd March 1918
Soldier
Name: Charles Herbert Cooper
Date of birth: 1892
Place of Birth: Edenham, Lincolnshire, England
Date of Birth Registration: October – December 1892
Place of Birth Registration: Bourne, Lincolnshire, England
Father
Name: James William Cooper
DOB: 1857
Place of Birth: Edenham, Lincolnshire, England
Occupation: Woodman in Woods
Mother
Name: Elizabeth Eleanor Crowson
DOB: 1865
Place Of Birth: Blatherwycke, Northamptonshire, England
Marriage: 17th June 1886 St Marylebone Westminster, England
Siblings: (Name), (DOB), (POB)
Elsie Mary Cooper, 1888, Edenham
William Sydney Cooper, 1891, Edenham
Charles Herbert Cooper, 1892, Edenham
Margaret Alice Cooper, 1898, Edenham
Eleanor Marion Cooper, 1904, Edenham
George Ronald Cooper, 1907, Edenham
Frederick Gordon Cooper, 1910, Edenham
Census
1901: Charles is living with his parents in the Main Road, Edenham, Lincolnshire
1911: Charles is living with his parents in Edenham, Lincolnshire. The census gives him an age of 18 and listed as a gamekeeper.
Wife
Name: Frances Mildred Reed
Date of birth: 6th December 1892
Place of Birth: Towcester, Northamptonshire, England
Marriage
Date of Marriage: 20 October 1917
Place of Marriage: Edenham Church, Edenham, Lincolnshire
Wife's parents
Father: Montague Reed
Mother: Ellen Matilda Bliss
Soldier's Died In The Great War
These records show that Serjeant Charles Herbert Cooper, 1076, 10th Bn Lincolnshire Regiment was killed in action on 22nd March 1918 in the Western European Theatre in France and Flanders.
Medals
The British Medal
The Victory Medal
Memorials
Commonwealth War Graves Commission:
In memory of Serjeant Charles Herbert Cooper, 1076, 10th Battalion, Lincolnshire Regiment who died on 22nd March 1918 age 25.
Son of William and Eleanor Cooper; husband of Frances Mildred Cooper, of Edenham, Bourne
.Remembered with honour, Arras Memorial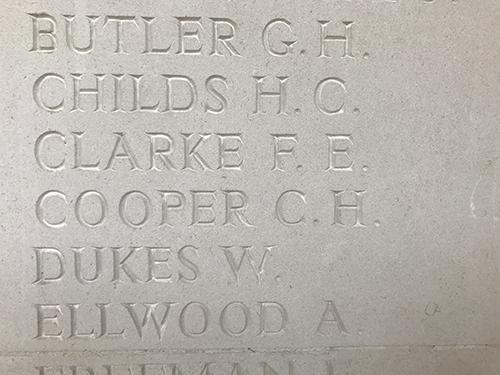 © Picture taken by South Lincolnshire War Memorials

© Picture taken by South Lincolnshire War Memorials
Military Service Timeline
Today we remember Edenham man, Serjeant Charles Herbert Cooper who died on this day 22 March 1918, aged 25 whilst serving with the 10th Battalion, Lincolnshire Regiment.
Born in Edenham in 1892, between the months of October and December, Charles was the son of James William Cooper, a Woodman from Edenham, and Elizabeth Eleanor (nee Crowson) from Blatherwycke, Northamptonshire. James and Elizabeth were married in 1886 at St Marylebone, Westminster, London. They went on to have seven children all born in Edenham:
Charles joined the war early on, enlisting on October 27th 1914 at Grimsby. Charles was committed to the war effort, resulting in him rising through the ranks. He was appointed Lance Corporal May 1917, to soon become a Lance Serjeant in July 1917. Just one month before his death, he was awarded the rank of Sergeant.
Charles was to enter the war a single man, to then marry Frances Mildred Reed who also lived in the village but was originally from Paulerspury, Northamptonshire. They were married on October 20th 1917 at Edenham Parish Church.
A number of Charles' medical records exist, which inform us that he worked as a game keeper before joining the war. However, the documents that are accessible remain in a bad state, making it challenging to understand his entire war experience. Nevertheless, we are still able to piece some information together.
It appears that he had a quiet first few years of the war. The first date entered was 10.08.16 which simply stated he was wounded. Five days later, an entry claims he was shell shocked and concussed. Throughout the latter end of the year, he received another of other injuries which are unclear to decipher.
In September 1917, he returned to England for medical reasons that are unclear, yet both the words ''face'' and ''leg'' are written on the form. He stayed at 2nd Western General Hospital, Manchester from 6.9.17- 14.10.17. A week later (25.10.17) he was recorded to have admitted to Ripon Hospital. He stayed there for 43 days until 7.12.17. It is likely that his injuries were so severe that he had to transfer hospitals for treatment.
During the week between moving hospitals, 16.10.17-25.10.17, Charles was awarded ''furlough''- a term for extended leave. This may have been the last time Charles visited home and his wife Frances.
On February 9th 1918, Charles re-joined his battalion.
The 10th Battalion that Charles joined was in fact better known as the Grimsby Chums, one of the most well-known Pals battalion of Kitchener's Army.
A general history of the Battalion, found on The Long Long Trail website, is as follows:
– 9th September 1914: founded at Grimsby.
– June 1915: came under command of 101st Brigade, 34th Division.
– 3 February 1918: transferred to 103rd Brigade in same Division.
– 18 May 1918: reduced to cadre strength after suffering heavy casualties.
– 17th June 1918: transferred to 116th Brigade, 39th Division.
– 16th August 1918: transferred to 197th Brigade, 66th (2nd East Lancashire) Division.
Although Charles' precise whereabouts are unknown following his return to the frontline, it is probable that he was involved in pushing the enemy back from their final attempt to break the Western Front, better known as the Spring Offensive of 1918.
On his records, he was only declared missing on April 2nd 1918. At an unknown date, he was later declared to have been killed on the day of his disappearance, March 22nd 1918.
Charles' pension and war medals were given to his wife Frances, who was still living in Edenham in 1919.
Charles is commemorated on the Arras Memorial at Faubourg d'Amiens Cemetery, Arras. As he is commemorated by name on the walls of the Memorial rather than with an identified headstone it is either that his body was not recovered from No Man's Land, or that he was buried but could not be named so therefore lies under an unidentified headstone.
Faubourg d'Amiens Cemetery was created in March 1916, and was used to bury those who had died from wounds from local medical and dressing points behind Allied lines. The cemetery was used until November 1918, but was enlarged after the Armistice when smaller cemeteries were merged with this larger one. Faubourg d'Amiens Cemetery is the resting place for over 2,650 Commonwealth soldiers, 10 of which are unidentified.
Surrounding the cemetery is the Arras Memorial, which commemorates almost 35,000 servicemen from the United Kingdom, South Africa and New Zealand. These men died in the Arras area between Spring 1916 to 7 August 1918 and who have no known grave, just like that of Charles Herbert Cooper. Both the cemetery and memorial were designed by Sir Edwin Lutyens, a key architect involved in the work of the Commonwealth War Graves Commission.
Lutyens also designed the Arras Flying Services Memorial at this site, with the assistance of Sit William Reid Dick. This Memorial commemorates nearly 1,000 airmen of the Royal Naval Air Service, the Royal Flying Corps, and the Royal Air Force who were killed on the entire Western Front and who have no known grave. The memorial was unveiled by Lord Trenchard, Marshal of the Royal Air Force on 31 July 1932.
Charles' name can be found on Bay 3.
Sources
WW1 Soldier's Records (www.ancestry.co.uk)
Commonwealth War Graves Commission