Biography of Private John Tom Haines, (29977)
7th Yorkshire Regiment
Formerly 39944 – Notts and Derby Regiment
Died 8th February 1917
Soldier
Name: John Tom Haines
Date of birth: 1883
Place of Birth: Spalding, Lincolnshire, England
Date of Birth Registration: July – September 1883
Place of Birth Registration: Spalding, Lincolnshire, England
Father
Name: John William Haines
DOB: 1858
Place of Birth: Holbeach, Lincolnshire, England
Occupation: Farm Labourer
Mother
Name: Unknown
Step-Mother Susannah Jane Blood
DOB: 1856
Place Of Birth: Crowland, Lincolnshire, England
Marriage: 31 March 1890 Peterborough District
Siblings: (Name), (DOB), (POB)
John Tom Haines, 1883, Spalding
George William Haines, 1884, Spalding
Dorothy Mary Haines, 1896, Crowland
Census
1891: John is living with his father and step-mother in Holbeach, Lincolnshire
1901: John is living with the Tiplar family in Bourne, Lincolnshire
1911: John is living with his father and step-mother in Dyke, Lincolnshire.
Marriage
No marriage for John has been found and because of his age we can assume that he never had the opportunity to marry.
Soldier's Died In The Great War
These records show that John Thomas Haines, 29977, 7th Battalion Yorkshire Regiment (Alexandra, Princes of Wales' Own)was killed in action on 8th February 1917 in the Western European Theatre in France and Flanders.
Medals
The British Medal
The Victory Medal
Memorials
UK:
Bourne, Roll of Honour in Bourne Abbey Church
Bourne War Memorial in the Memorial Gardens
Commonwealth War Graves Commission:
In memory of Private John Thomas Haines, 29977, 7th Battalion, Yorkshire Regiment who died on 8 February 1917 Age 34
Son of Mr T W Haines of Dyke, Bourne, Lincs
Remembered with honour, Thiepval Memorial.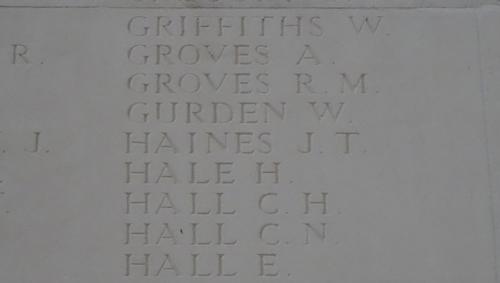 © Picture taken by South Lincolnshire War Memorials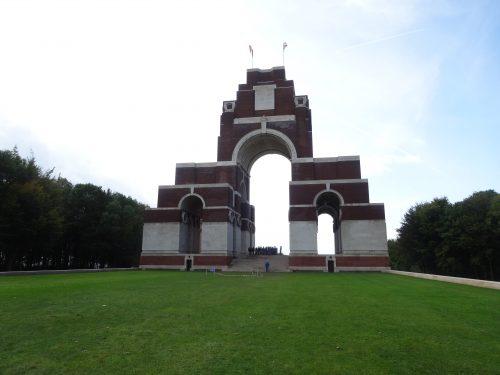 © Picture taken by South Lincolnshire War Memorials
Military Service Timeline

John Tom Haines was born in the late summer of 1883 in Spalding to John William Haines and his then wife. On 31st March 1890 John William Haines was remarried to Susannah Jane Blood and the pair brought up John's two children along with their own child, at first in Holbeach and then eventually in Dyke.
John Tom Haines, 1883, Spalding
George William Haines, 1884, Spalding
Dorothy Mary Haines, 1896, Crowland
John's early life can be discovered in the census returns that show that he lived with his Father and Step Mother in Boston Road Holbeach. Thomas Haines is working as an Ostler at the time.
By 1901 John has left the family home and is living with the Tipler Family in Eastgate Bourne. William Tipler is a cottager and is listed as an employer and this employee could possibly be John Haines who at the time was working as an agricultural labourer and living in their home, being also the Tipler's farm.
Ten years later and John Haines is now living back with his father and Step-Mother but now they are living in Dyke. Thomas is working as a farm labourer which is also John's occupation, his sister Dorothy is living with them and at aged 15 she is working as a milliner's assistant.
Unfortunately no official records for John Haines survive, most likely being destroyed in the warehouse fire in the London blitz. The following has been pieced together from surviving medal rolls and a newspaper article published as an obituary in the Lincolnshire free Press.
John Haines enlisted in Bourne in March of 1916, the Military Act conscription rules came into force on the 2nd March 1916 and John's age meant that he would have been conscripted.
Initially he was enlisted into the Sherwood Foresters (Notts and Derby Regiment) with a service number of 39944, although all John's medal rolls make no reference to this. We do know that the 18th Sherwood Foresters was absorbed into the 13th Yorkshire regiment and it is with the 13th that we first see John on the medal rolls with a service number of 29977.
In June 1916 the 13th battalion were mobilised for war and after landing in Le Harvre were engaged in various actions during the summer of 1916 in the Somme.
It is also known from the medal rolls that John also saw action in the 7th Battalion of The Yorkshire Regiment, and the Lincs Free Press clipping also says that John was attached to the Yorkshire regiment at the time of his death. The 7th had been in France and Flanders since 1915.
There are several possible reasons for a movement between the 13th and the 7th.
It could have been possible that on arriving at the base camp John was immediately transferred to the 7th as they may have been in need of replacements. This is seen a lot in men that arrive on their first posting as a reinforcement after training, although as John arrived with his full Battalion on their first overseas posting, this is unlikely.
Another reason for a transfer could have been if a man had been wounded and then hospitalised. On returning to base camp after convalescence it was very likely that you would be posted to a Battalion that was again in need of reinforcements and this for most men is the most likely result.
The final one would be that of attachment, where a company or a platoon of one Battalion was attached to another Battalion for a specific operation.
Which of the above is true in John's case or the date of that posting is not recorded and therefore we cannot truthfully trace his steps through the war.
The only thing we can say for certain is that John was serving with the 7th Battalion when he was killed. We can turn to the Battalion Diary for February 1917 to show where and how John was serving leading up to his death.
1st February 1917 – Trenches Sailly-Sailliser
Battalion relieved by 12th Manchester Reginment, relief completed at 8.45pm. Battalion went back by train from GUILLEMONT to BRONFRAY FARM CAMP.
Casualties during the 48 hours in the trenches 4 Other ranks killed and 4 Other ranks wounded.
2nd February 1917 – Bronfray Camp
Colonel Fife CMG having returned from commanding officer's conference resumed command of the Battalion.
3nd & 4th February 1917 – Bronfray Camp
Practice attack from trenches in contemplation of operations to take place on 8th
5th February 1917 – Bronfray Camp
Captain H K C Hare re-joined the Battalion. Then Battalion moved to COMBLES. HQ and 2 companies in COMBLES, 1 company HAIEWOOD, 1 Company CEMETERY. (2.45pm)
6th February 1917 – Combles
Preparations for going into the trenches, fitting equipment, practice with rifle grenades etc.
7th February 1917 – Combles
Battalion marched to the trenches and took over the same sector huts as on the 1st February. Relieved 12th Battalion Manchester Regt, Relief completed by 9.30pm
In accordance with 52nd Brigade operation orders and Battalion Operation orders dated 5th+6th respectively. The battalion during the night took up their positions as specified in these orders and made all final arrangements. The line on the right of the Battalion was held by the 7th East Yorkshire regiment and on the left by the 9th Battalion Northumberland Fusiliers. 2 companies of 12th Battalion Manchester regiment were attached to the Battalion. One Company in BEAN Support and 1 company in strong points CUSHY, CHATEAU and SOUTH COPSE.
8th February 1917 – Trenches Sailly-Saillisel
7.30am – At Zero hour A & B Companies assaulted the German position on a front of 2 platoons each in 2 lines. A company on the right commanded by Captain W J Wilkinson, B Company on left commanded by Captain T Huffington. The attack was a complete success. The artillery barrage was very effective but many casualties were caused by some of the 18 pounders falling short and caused losses in C Company that was carrying bombs, S A A and consolidating material. The stops on the Right and Left were made within a few minutes of the assaulting Companies reaching their objectives in the German trench. The enemy were taken comfortably by surprise and between 70 and 80 prisoners were taken including 2 officers. The officers and men behaved with great gallantry and in spite of a temporary loss of some 40 yards of trench on the extreme right owing to a shortage of bombs caused by the casualties to C company, the whole of the objective was occupied and consolidation within a few hours.
The enemy delivered two counter attacks on the left and 3 on the right. They were all repulsed with heavy losses.
The hostile artillery barrage was put down on the support line within a few minutes of the assault and maintained throughout the day. It increased in intensity during the evening and was responsible for a considerable number of casualties. The 1st Aid post at the CHATEAU containing many wounded was completely wrecked by one 4.2 shell.
2 companies of 12th Manchester Regt came up after dark. One occupied our old front line of posts and the other SOUTH COPSE and CHATEAU strong point. A party from the 93rd Field Company Royal Engineers with a sapping platoon of East Yorkshire Regiment wired the whole of the front of the trenches during the night.
Private Cummings, Private Sowerby, Lance Corporal Stephenson, awarded Military Medals for bravery in the field.
9th February 1917 – Trenches
The enemy made no further counter attacks and the Battalion was relieved by 10th Battalion West Yorkshire Regiment. Relief completed by 11pm and returned to BONFRAY.
Killed, Captain T Huffington, 68 NCOs and men.
Wounded, 2/Lt Collett, 2/Lt Jolly, 2/Lt Purcell, 2/Lt Griffith (since died of wounds), 2/Lt Black. NCOs and men 118.
Private John Thomas Haines, was killed as part of the actions during this operation. Although he has no known grave he is commemorated on the Thiepval Memorial to the missing of the Somme.
Sources
WW1 Soldier's Records (www.ancestry.co.uk)
Commonwealth War Graves Commission