Biography of Private George Albert Woodward (17416)
3rd Battalion Coldstream Guards
Died 13th April 1918
Soldier
Name: George Albert Woodward
Date of birth: 1884
Place of Birth: Holme, Huntingdonshire, England
Date of Birth Registration: July – September 1884
Place of Birth Registration: Peterborough, Northamptonshire, England
Father
Name: John Culpin Woodward
DOB: 1862
Place of Birth: Easton, Rutland, England
Occupation: Farm foreman
Mother
Name: Elizabeth Barr
DOB: 1864
Place Of Birth: Deeping, Lincolnshire, England
Marriage: 1883 Bourne District
Siblings: (Name), (DOB), (POB)
George Albert Woodward, 1884, Holme
Census
1891: George is living with his parents in Thorney, Cambridgeshire.
1901: George is living with the Hague family in Mansfield, Yorkshire.
1911: George is living with the Bewers family at 2 Cross Green Grove, Leeds, Yorkshire. The census gives him an age of 26 and he is listed as a goods porter.
Wife
Name: Frances Medd
Date of birth: 1885
Place of Birth: Kirkby Moorside, Yorkshire, England
Marriage
Date of Marriage: 1911
Place of Marriage: Helmsley District
Children
John Woodward, 1914, Leeds
Wife's parents
Father: William Medd
Mother: Mary Peacock
Soldier's Died In The Great War
These records show that Private George Albert Woodward, 17416, Coldstream Guards was killed in action on 13th April 1918 in the Western European Theatre in France and Flanders.
Pension Records
Effects Left To
Mary Mead Guardian for his son John Woodward
Medals
The British Medal
The Victory Medal
Memorials
UK:
Bourne, Roll of Honour in Bourne Abbey Church
Bourne War Memorial in the Memorial Gardens
Commonwealth War Graves Commission:
In memory of Private George Albert Woodward, 17416, 3rd Bn., Coldstream Guards who died on 3 April 1918
Remembered with honour, Ploegsteert Memorial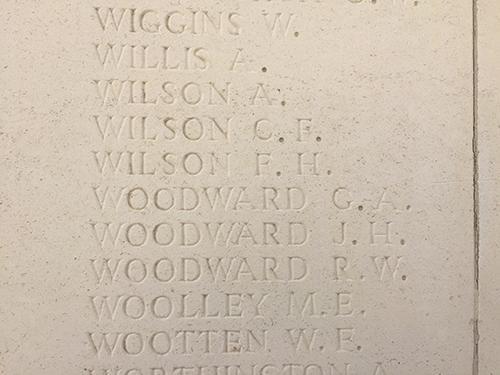 © Picture taken by South Lincolnshire War Memorials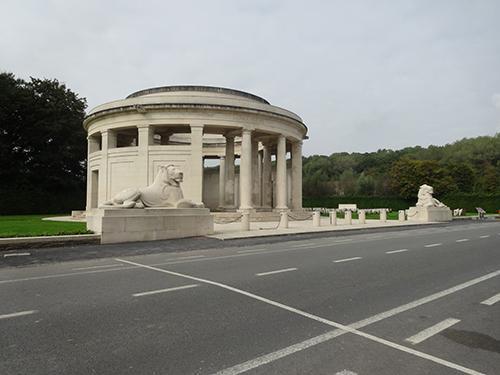 © Picture taken by South Lincolnshire War Memorials
Military Service Timeline
We have no current records as to when George joined the Army as his records probably jo longer exist. The soldier's died in the Great War lists George as being enlisted in Leeds and a resident of Bourne.

As we cannot trace his military service the only thing we can say for certain is that he was with his battalion on the day of his death. The medal rolls only list the single battalion for George, the 3rd Battalion Coldstream Guards.

The Battalion had spent January and February in trenches around Arras before being moved to the Bailleul area and then spending nearly 3 weeks in Tinques, training. Following training they went back into trenches around the Gommiecourt sector of the Somme. After this tour they were back at Tinques for reorganisation for a further week and then moved up to the area around Vierhouck and in trenches on the 12th.
This day the Battalion had 3 officers wounded, and for the other ranks, 14 killled, 77 wounded and 9 missing.

The Battalion Diary entry for April the 13th, the day when George went missing presumed dead is as follows:-

13th April 1918 – Trenches
During the night readjustment of the line ordered but not completed by dawn owing to difficulties in communication. Heavy fog at day break. Enemy armoured car gave trouble by driving up to K.10.d.R.3 and using machine gun fire on our posts.

6.30am
enemy attack developed on centre left company – successfully repulsed on the right but by aid of the fog he penetrated between left company and centre companies and gained L'Epinette Farm. Left company fell back on G G at K.5.d gap of 400 yds at this moment between left company and Duke of Cornwall's Light Infantry just S.E. of Arrewage which No 1 coy (30 m3n all told) attempted to fill. No 2 + 3 companies left with flanks exposed and enemy working round them. These companies held on until surrounded on three sides then attempted to fight their way back. Very few succeeded. Meanwhile left company heavily attacked by enemy at Le Cornet Perdu. This attack however was heavily repulsed.

2.00pm
Brigade front reported to be broken 12th Kings Own Yorkshire Light Infantry having been forced to retire and enemy having penetrated our line to the left of 4th G G (grenadier guards ?) the later were thus completely cut off. Our No 4 company being in the same trench as 4th G G were completely cut off. Battalion Headquarters now moved to farm at Caudescure and this line was then reestablished to run parallel with and E of the farm Beaulieu – Arrewage Road. At dusk remnants of Battalion (about 40 men) collected and held E (rs?) fences of orchards at extreme S.E of Arrenage. Quiet night rations and ammunition being brought up.

Casualties for day :-
Missing Capt Whitaker, Lt Rawswell (sic), Capt Cloes (sic), 2/Lt Barr, 2/Lt Leadbetter, 2/Lt Abrahams, 2/Lt Ashby,
Other ranks, Killed 17, Wounded 84, Missing 259.

14th April 1918 – Borre
At daylight Battalion 40 withdrew to Borre the 40 men remaining under command of Officer Commanding Irish Guards until withdrawn at night.
Casualties 14th:- Other Ranks, Killed 1, wounded 11, missing 1.

It was in the action of the 13th April 1918 that Private George Woodward was reported missing later to be presumed dead.
This is ongoing research and will be posted when completed
Sources
WW1 Soldier's Records (www.ancestry.co.uk)
Commonwealth War Graves Commission