Biography of Private Arthur Kent (34934)
2nd Battalion East Yorkshire Regiment
Formerly R/29491 K.R.R.C.
Died 13th July 1917
Soldier
Name: Arthur Musson
Date of birth: 1888
Place of Birth: London, Engand
Date of Birth Registration: Unknown
Place of Birth Registration: Unknown
Adopted Father
Name: Charles Kent
DOB: 1848
Place of Birth: Grimstone, Norfolk, England
Occupation: Builders carter and labourer
Adopted Mother
Name: Harriett Missin
DOB: 1852
Place Of Birth: Leverington, Cambridgeshire, England
Marriage: 16th October 1882 Spittlegate, Lincolnshire, England
Siblings: (Name), (DOB), (POB)
Rose Emma Ward, 1880, Grantham (adopted sister)
Charles Arthur Kent, 1883, Grantham (adopted brother)
Agnes Kent, 1884, Grantham (adopted sister) Died 1885
Eliza Kent, 1885, Grantham (adopted sister) Died 1885
Lily Kent, 1887, Grantham (adopted sister) Died 1888
Arthur Musson, 1888, London
George Henry Kent, 1889, Grantham, (adopted brother) Died 1889
Lawrence Kent, 1892, Grantham (adopted brother) Died 1892
Census
1891: Unable to find Arthur at this point.
1901: Arthur is living with his adopted parents at 4 Green Hill, Little Gonerby, Lincolnshire.
1911: Arthur is living with an Annie Burton at 7 Orchard Crescent, Abbey Road, Bourne, Lincolnshire. The census gives him an age of 22 and he is listed as a manager of boot shop.
Wife
Name: Frances Nellie Belton
Date of birth: 8th September 1891
Place of Birth: Bourne, Lincolnshire, England
Marriage
Date of Marriage: 10th October 1915
Place of Marriage: Congregational Church, Victoria Road, Chesteron, Cambridgeshire, England
Wife's parents
Father: Edmund Smith Belton
Mother: Ellen Hilda Beaumont
Newspaper Mentions
Grantham Journal Saturday 28th July 1917
A SOLDIER'S DEATH – News was recieved on Friday week that Pte. Arthur Kent had died in Salonika from an attack of malarial fever.  Deceased was a recruit under the Derby scheme, and at the time of his enlistment was manager of Messrs. Hilton's boot business in North street, a positionhe had held for some three or four years.  Deceased had been married about nine months when he enlisted and had been in the Army just on twelve months.  The deepest sympathy is expressed for the young widow.
WAR OFFICE WEEKLY CASULTY LIST, August 7th 1917
EAST YORKSHIRE REGIMENT – Kent 34934 A. (Bourne)
Grantham Journal Saturday 11th August 1917
Other Regiments
Died – East Yorks, Kent, 34934 A., Bourne
Soldier's Died In The Great War
These records show that Private Arthur Kent, 34934, 2nd Bn East Yorkshire Regiment was killed in action on 13th July 1917 in the Balkan Theatre.
Pension Records
Effects Left To
Medals
The British Medal
The Victory Medal
Memorials
UK:
Bourne, Bourne War Memorial in the Memorial Gardens
Commonwealth War Graves Commission:
In memory of Private A Kent, 34934, 2nd Bn., East Yorkshire Regiment who died on 13 July 1917 Age 28
Son of Charles and Harriet Kent, of Park Rd., Grantham, Lincs,; husband of Frances Nellie Kent, of 99, High Street., Ramsey, Huntingdon.
Remembered with honour, Lahana Military Cemetery
Personal Inscription: HE RESTS IN GOD'S KEEPING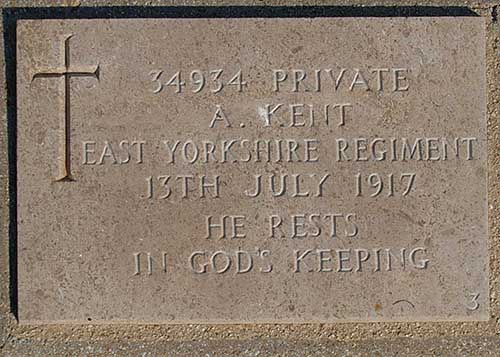 © The War Graves Photographic Project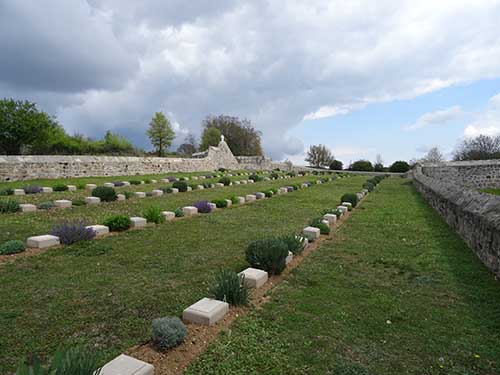 © The War Graves Photographic Project
Military Service Timeline
This is ongoing research and will be posted when completed
Sources
WW1 Soldier's Records (www.ancestry.co.uk)
Commonwealth War Graves Commission
British Newspaper Archive.