Biography of Private William Bray, (18214)
2nd battalion Lincolnshire Regiment
Died 23rd October 1916
Soldier
Name: William Bray
Date of birth: 1880
Place of Birth: Friskney, Lincolnshire, England
Date of Birth Registration: July – September 1896
Place of Birth Registration: Spilsby, Lincolnshire, England
Father
Name: Colbert Bray
DOB: 1848
Place of Birth: Friskney, Lincolnshire, England
Occupation: Fishmonger
Mother
Name: Elizabeth Ruth Maxons
DOB: 1856
Place Of Birth: Bourne, Lincolnshire, England
Marriage: 12 May 1874 Friskney
Siblings: (Name), (DOB), (POB)
Herbert William Bray, 1875, Friskney (Died 1875 age 0)
Eliza Ann Bray, 1876, Friskney
Fred Bray, 1877, Friskney
William Bray, 1880, Bourne
Walter Bray, 1884, Bourne
Ernest Bray, 1887, Bourne (Twin)
James Herbert Bray, 1887, Bourne (Died 1887 age 0) (Twin)
Alice Dora Bray, 1888, Bourne
Wilfred Bray, 1890, Bourne
Elsie Bray, 1891, Bourne
Fracis Leonard Bray, 1892, Bourne (Died 1893 age 0)
Edna Blanch Bray, 1894, Bourne
Muriel Grace Bray, 1896, Bourne
Violet Lilian Bray, 1898, Bourne
Cyril Bray, 1901, Bourne
Plus 2 more wh0s names are unknown taken from the 1911 census.
Census
1881: William is living with his parents in Friskney, Lincolnshire
1891: William is living with his parents in Bourne, Lincolnshire
1901: William is living with his parents in Bourne, Lincolnshire
1911: William is living with his mother in North Street, Bourne, Lincolnshire. The census gives him an age of 30 and he is listed as a fishmonger.
Marriage
No marriage for William has been found and we can assume that he never had the opportunity to marry.
Newspaper Mentions
Grantham Journal Saturday 25th November 1916
OFFICIAL NOTIFICATION has been received that Pte. Wm. Bray has been killed in action. News was received nearly a fortnight ago from a private source, and this week it has been officially confirmed. Deceased was the son of Mrs. Bray, of North Street, Bourne, and was well known in the district, where he visited in the course of his business.
Lincolnshire Echo Monday 27th November 1916
SUNDAY'S LIST.
KILLED.
LINCOLNSHIRE REGIMENT.
Bray, 18214 Pte. W (Bourne).
Sheffield Daily Telegraph Monday 27th November 1916
KILLED.
LINCOLNS.
Bray (18214), W. (Bourne)
Grimsby News Friday 1st December 1916
CASUALTIES IN THE LINCOLNS.
Reported under various dates.
The town shown against each soldier's name is the home of his next-of-kin, excect when followed by the abbreviation "Enlt.," when it is his
place of enlistment. All are privates except where otherwise shown :-KILLED
Lincolnshire Regiment.
Bray, W. (Bourne)
Grantham Journal Saturday 30th December 1916
On the Somme.
Pte. F. Hinson (son of Mr. Jabez Hinson, Wood View, Bourne), who has been through the campaign in Flanders, the Egyptian Desert, Gallipoli, and is now on the Western Front, writing on Dec. 9th to Mr. J. J. Davies, says:- " Just par I am in hospital, enjoying alittle rest from the trenches. We get a good night's rest here. It is a change from looking up over the parapet watching the star-lights go up and looking for Fritz coming to have a look at us. But when he does come he mostly gets a shock.  We are always ready to give hime a heartly welcome with our machine guns and a few rounds rapid from our bondhurk.  I am looking forward to the time when I get to Bourne again to see all at home, and all old friends.  Really, it seem more like sixteen years than sixteen months since I left England for the Peninsula.  So you had the Somme battle on the 'Pictures' at Bourne.  It would give the public a good idea of what it was like, But it would not make them realise anything like what it is being in it.  I shall never forget Sept 25th, at mid-day, when we were given the order for going 'over the top.'  It was the sight of a lifetime.  Anyone would have thought it impossible for a living soul to go where we went.  What with shells and ballets,one could not hear one's voice.  I am sorry to say my platoon officer was killed.  I was next to him. He had only got about 50 yards when he was shot through the chest. It was a day of all days.  That was the day that young Stevenson (of Wood View) was wounded. I was talking to his sergeant, who spoke very highly of him, and said he ought to have been recommanded for his good work. I did not get a chance to see him after he was hot.  But I am pleased to hear he is in England, and going on well. The weather has not been what it might have been.  We have had a lot of rain and dull weather lately.  I was surprised to hear P. P. was in England.  The last time I saw him was in Egypt.  It is a bit warmer there than here.  I am sorry to hear of your son Oliver being in hospital in England, and I hope will be soon be all right.  I suppose father told you about the bullet going through my helmet.  I had one through my puttee the same day.  I was not even scratched, so you see I was not to be hit that day, But there is only the One above all Who knows when our time has come, and while we have Him watching us we need not fear, even if we were meeting the whole German army.  It makes one think when he is in a tight corner, and it is One above you must ask to help you.  And I don't think we ever ask in vain.  I have been in a few tight borners, and always come out unharmed.  Can any one who thinks at all or knows doubt for a moment that He is very closely and without ceasing watching this terrible butchering, and when His appointed time comes for it to stop it will cease, and not before.  It is all for some good purpose, though we fail to see it.  And may Lord speed the end!  We shall soon have Christmas here.  It will make the third one I have had away from home.  I expect it will be spent rather quirtly, but we must make the best of it.. There is the silver lining somewhere had we but the power to see it. I shall tell the rest of the Bourne boys I have had a letter from you.  We often get talking about our School days and our old Board School.  We litte thought then we should ever be in such a great struggle as this.  I am sorry to see that another of our Bourne boys has paid the full price of victory – William Bray.  It will come very hard for his mother.  Bourne must seem quiet not, not at all like the old Bourne we know so well.  But it will make all the difference when the war is over and the boys come marching home.  Your letters cheer us up.. They remind us of the happy School days."
Soldier's Died In The Great War
These records show that William Bray, 18214, 2nd Battalion Lincolnshire Regiment was killed in action on 23rd October 1916 in the Western European Theatre in France and Flanders.
Pension Records
Effects Left To
Brothers Fred, Cyril and Ernest
Sisters Elizabeth Ann, Edna Blanch, Elsie, Muriel Grace, Violet Lilian and Dora
Medals
The British Medal
The Victory Medal
The 15 Star
Memorials
UK:
Bourne, Roll of Honour in Bourne Abbey Church
Bourne War Memorial in the Memorial Gardens
Commonwealth War Graves Commission:
In memory of William Bray, 18214, 2nd Bn, Lincolnshire Regiment, who died on 23 October 1916
Brother of Miss E. A. Bray of North St, Bourne, Lincs.
Remembered with honour, Bancourt British Cemetery.
Grave IV. L. 17.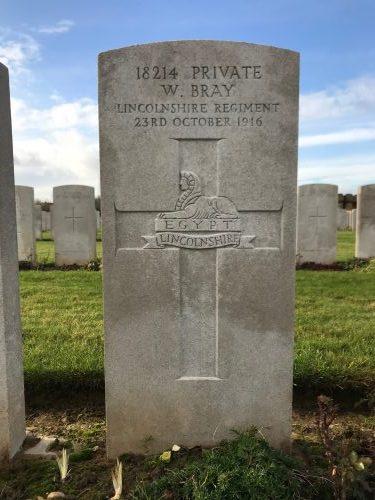 © Picture taken by South Lincolnshire War Memorials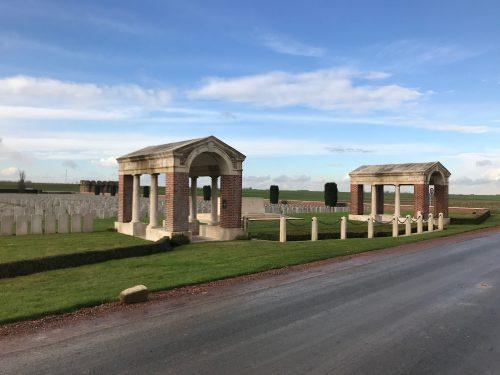 © Picture taken by South Lincolnshire War Memorials
Military Service Timeline
This is ongoing research and will be posted when completed
Sources
WW1 Soldier's Records (www.ancestry.co.uk)
British Newspaper Archive.
Fold 3
Find My Past
Genealogist
Forces War Records
British Army Service Numbers
War Gratuity Calculator
Commonwealth War Graves Commission
National Archives – Battalion War Diaries
General Registry Office