Biography of Corporal Arthur Thornton, (59)
Household Battalion, Household Cavalry and Cavalry of the Line
Formerly 4074 1st Life Guards
Died 7th October 1917
Soldier
Name: Arthur Thornton
Date of birth: 1894
Place of Birth: Bourne, Lincolnshire, England
Date of Birth Registration: April – June 1894
Place of Birth Registration: Bourne, Lincolnshire, England
Father
Name: Willie Thornton
DOB: 21st July 1866
Place of Birth: Friday Bridge Elm, Cambridgeshire, England
Occupation: Horseman on farm
Mother
Name: Elizabeth Smith
DOB: 1869
Place Of Birth: Wisbech, Cambridgeshire, England
Marriage: Unknown
Siblings: (Name), (DOB), (POB)
George Thornton, 1888, Bourne
Rebecca Thornton, 1889, Bourne (Died 1890)
Rebecca Thornton, 1891, Bourne (Died 1892)
Arthur Thornton, 1894, Bourne
Lydia Thornton, 1896, Bourne
Florence May Thornton, 1901, Bourne (Died 1901)
Eva Thornton, 1903, Bourne
William Thornton, 1905, Bourne
Census
1901: Arthur is living with his parents in Bedehouse Bank, Bourne, Lincolnshire.
1911: Arthur is living with his parents at Eastgate, Bourne, Lincolnshire. The census gives him an age of 17 and he is listed as a labourer fellmonger.
Marriage
No marriage for Arthur has been found and because of his age we can assume that he never had the opportunity to marry.
Newspaper Mentions
The Times Monday February 19th 1917
WOUNDED
HOUSEHOLD BN
Thornton, 59, A. (Bourne)
Grantham Journal Saturday 27th October 1917




WAR NOTES – Official notification has been received during the week of the death of three Bourne "boys". Pte John Albert Victor Bosley, of the Australian Imperial Forces, was killed on October 4th. He was in Australia at the time of outbreak of war and joined the forces in the Colonies in March 1916 after having been twice rejected. He was in training in Australia for six weeks, afterwards being transferred to Salisbury Plain, where, after four months further training, he was drafted abroad. Another notification was in respect of Pte. Arthur Thornton, who was formerly in the employ of Messrs. T.W. Mays and Sons. Ltd. and was of such fine physique as to be acceptable for the Life Guards. The third notification was that of Sergt. Major Stephen Kettle, who was quite recently home on leave. Deceased was well known at Bourne and was in the Amy prior to the outbreak of war. Official notification has also been received that Pte. William Michelson, of Bourne, is missing. The news was received on Friday, the information being forwarded to his wife.
Sheffield Daily Telegraph Wednesday 7th November 1917
N.C.O.'S AND MEN.
KILLED
HOUSEHOLD BATTN. – Thornton (59) Lce.-Cpl. A. (Bourne)
Grantham Journal Saturday 10th November 1917
Other Regiments.
Killed – Household Battalion, Thornton 59 Lce.-Corpl. A. (Bourne)
Soldier's Died In The Great War
These records show that A Corporal Arthur Thornton, 59, Household Bn HouseholdCavalry and Cavalry of the Line was killed in action on 7th October 1917 in the Western European Theatre in France and Flanders.
Pension Records
Effects Left To
Medals
The British Medal
The Victory Medal
Memorials
UK:
Bourne, Roll of Honour in Bourne Abbey Church

Bourne War Memorial in the Memorial Gardens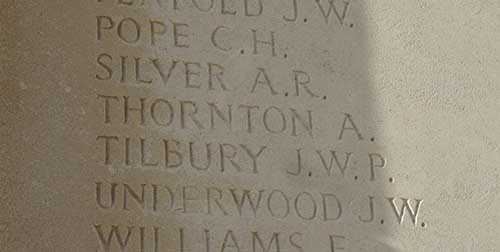 © Picture taken by South Lincolnshire War Memorials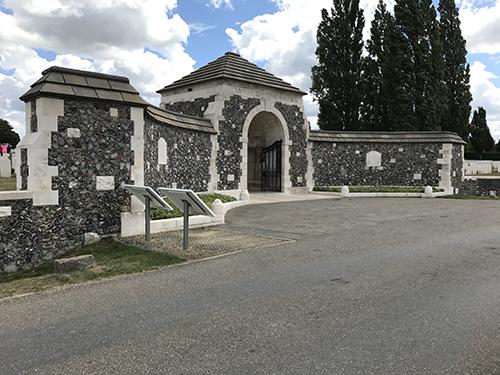 © Picture taken by South Lincolnshire War Memorials
Military Service Timeline
This is ongoing research and will be posted when completed
Sources
WW1 Soldier's Records (www.ancestry.co.uk)
British Newspaper Archive.
Fold 3
Find My Past
Genealogist
Forces War Records
British Army Service Numbers
War Gratuity Calculator
Commonwealth War Graves Commission
National Archives – Battalion War Diaries
General Registry Office