Biography of Private Thomas Chambers (241919)
2nd/5th Battalion Lincolnshire Regiment
Died 29th April 1918
Soldier
Name: Thomas Chambers
Date of birth: 1881
Place of Birth: Levenshulme, Lancashire, England
Date of Birth Registration: July – September 1881
Place of Birth Registration: Chorlton, Lancashire, England
Father
Name: Thomas Chambers
DOB: 1846
Place of Birth: Castle Bytham, Lincolnshire, England
Occupation: House decorator
Mother
Name: Sarah Harriet Barrow
DOB: 1857
Place Of Birth: Northwich, Cheshire, England
Marriage: 24th June 1878 Heaton Chapel, St Thomas, Lancashire
Siblings: (Name), (DOB), (POB)
Maggie Chambers, 1879, Rusholme
Thomas Chambers, 1881, Levenshulme
David Chambers, 1883, Levenshulme
Maud Chambers, 1885, Levenshulme
Nellie Chambers, 1887, Levenshulme
Beatrice May Chambers, 1890, Levenshulme
Charles Chambers, 1895, Castle Bytham
Census
1891: Thomas is living with his mother at 8 Maiden Lane, Stamford, Lincolnshire.
1901: Thomas is living with his parents in Castle Bytham, Lincolnshire. The census gives him an age of 19 and he is listed as a painter.
1911: Thomas is living with his wife in Little Bytham, Lincolnshire. The census gives him an age of 29 and he is listed as a house painter.
Wife
Name: Dorothy Elizabeth Sharpe
Date of birth: 13th April 1886
Place of Birth: Little Bytham , Lincolnshire, England
Marriage
Date of Marriage: 1907
Place of Marriage: Grantham District
Wife's parents
Father: Walter Henry Sharpe
Mother: Elizabeth Garfit Lyon
Newspaper Mentions
Grantham Journal Saturday 18th May 1918
CHAMBERS- In loving memory of Pte, T. Chambers, of the Lincolnshire Regiment, the beloved husband of D. M. Chambers, who died of wounds, in France, on April 29th, 1918.

The best of husbands, kind and true,
Until the day breaks.

Mrs. Chambers and Family, Little Bytham, thank their numerous friends for kind letters and messages of sympathy.
CHAMBERS – In everloving memory of our dear son and brother, Pte. Thomas Chambers, who died in france, of wounds received in action, April 29th, 1918, aged 36 years.

If we could have seen him at the last,
And heard his last farewell.
The blow would not have been so hard,
To us who loved him well.

From his sorrowing MOTHER and FATHER, and BROTHERS (DAVID and CHARLES).
Soldier's Died In The Great War
These records show that Private Thomas Chambers, 241919, 5th Bn Lincolnshire Regiment was killed in action on 29th April 1918 in the Western European Theatre in France and Flanders.
Pension Records
Effects Left To
Medals
The British Medal
The Victory Medal
Memorials
UK:
Bourne,

Bourne War Memorial in the Memorial Gardens
Commonwealth War Graves Commission:
In memory of Private T Chambers, 241919, 2nd/5th Bn., Lincolnshire Regiment who died on 29 April 1918
Remembered with honour, Lijssenthoek Military Cemetery
Grave XXVIII. E. 1.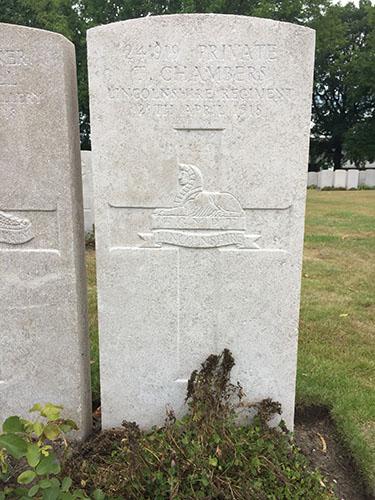 © Picture taken by South Lincolnshire War Memorials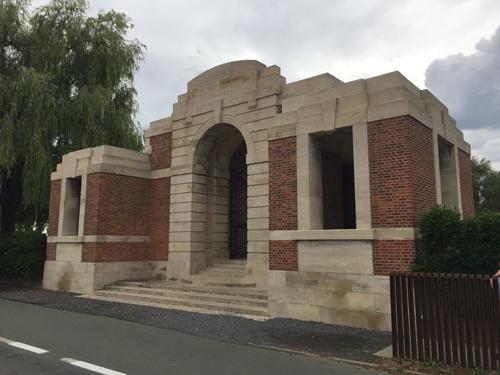 © Picture taken by South Lincolnshire War Memorials
Military Service Timeline
Enlisted in Bourne
Died of wounds
This is ongoing research and will be posted when completed
Sources
WW1 Soldier's Records (www.ancestry.co.uk)
British Newspaper Archive.
Fold 3
Find My Past
Genealogist
Forces War Records
British Army Service Numbers
War Gratuity Calculator
Commonwealth War Graves Commission
National Archives – Battalion War Diaries
General Registry Office