Biography of Lance Corporal Fred Lloyd (8464)
8th Battalion Lincolnshire Regiment
Formerly 8464 1st and 7th Lincolnshire Regiment
Died 24th April 1917
Soldier
Name: Fred Lloyd
Date of birth: 1879
Place of Birth: Bourne, Lincolnshire, England
Date of Birth Registration: January – March 1879
Place of Birth Registration: Bourne, Lincolnshire, England
Father
Name: George Lloyd
DOB: 1835
Place of Birth: Edenahm, Lincolnshire, England
Occupation: Farm labourer
Mother
Name: Hannah Currell
DOB: 1843
Place Of Birth: Watton, Hertfordshire, England
Marriage: 1871 Bourne District
Siblings: (Name), (DOB), (POB)
Louis Lloyd, 1872, Edenham
Emma Currell Lloyd, 1873, Edenham
Charles Lloyd, 1874, Edenham
Sarah Ann Lloyd, 1876, Edenham
Fred Lloyd, 1879, Bourne
Elizabeth Lloyd, 1882, Bourne (Died 1884)
Census
1881: Fred is living with his parents at 4 Spring Cottage, South Fen, Bourne, Lincolnshire
1891: Fred is living with his parents at West Fields, Bourne, Lincolnshire
1901: Fred may be living in South Africa. Taken from his Attestation papers
1911: Fred is living with his parents in Burghley Street, Bourne, Lincolnshire. The census gives him an age of 32 and he is listed as a bricklayer's labourer.
Marriage
No marriage for Fred has been found and we can assume that he never had the opportunity to marry.
Newspaper Mentions
Grantham Journal Saturday 5th May 1917
LOCAL CASUALTIES:- Lieut Arthur Wherry was wounded in action last week and on Thursday reached Dover. He is now in Hospital at Wanstead, suffering from a fresh wound in the thigh caused by shrapnel. The wound is not of a serious character  and Lieut Wherry is favourably progressing towards recovery. News was received last week that Pte Parker had been killed in action. Pte Parker, up to the time he joined up was employed by Messrs. Foley and Butler and was closely associated with the Wesleyan Church and School being an energetic worker. On Monday, an intimation was received at Bourne that Pre Fred Lloyd of Burghley Street has been killed in action. Pte Lloyd had spent several years in the Army and on the outbreak of war was called up as one of the reserve men. He had been home several times during the intervening period and had not long been out on active service after his last leave. On Wednesday the death in action of another Bourne boy was notified, Pte George Marvin, son of Mr and Mrs Hy Marvin, Bedehouse Bank. He went out with his regiment early in the New Year and leaves a young widow and one child.
Soldier's Died In The Great War
These records show that Lance Corporal Fred Lloyd, 8464, 8th Battalion Lincolnshire Regiment was killed in action on 24th April 1917 in the Western European Theatre in France and Flanders.
Pension Records
Effects Left To
Mother Hannah
Sister Sarah A
Sister Emma C
Medals
The British Medal
The Victory Medal
The 14 Star
Memorials
UK:
Bourne, Roll of Honour in Bourne Abbey Church
Bourne War Memorial in the Memorial Gardens
Commonwealth War Graves Commission:
In memory of Lance Corporal F Lloyd, 8464, 8th Battalion, Lincolnshire Regiment who died on 24 April 1917
Remembered with honour, Aubigny Communal Cemetery Extension.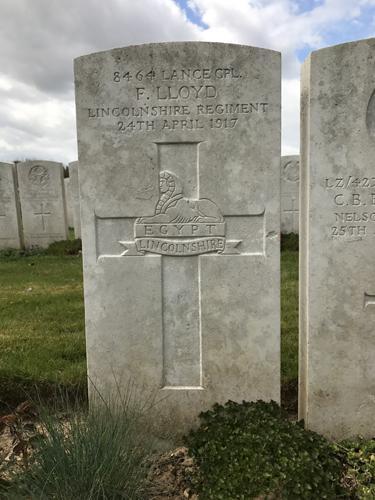 © Picture taken by South Lincolnshire War Memorials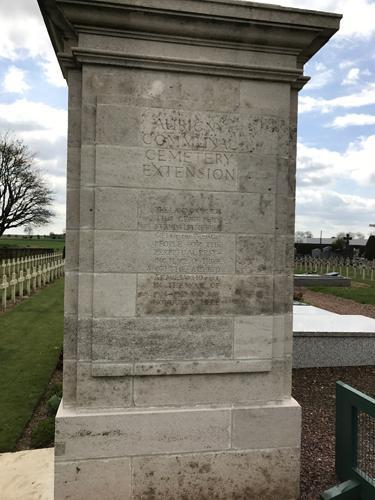 © Picture taken by South Lincolnshire War Memorials
Military Service Timeline
In 1881 Fred, being only 3 years of age was living with his parents at 4 Spring Cottage, South Fen, Bourne. 10 years later the family were living in West Fields Bourne.

By 1901 Fred was with the Army and most likely in India.

Fred first attested to the army in November 1896 at the age of 18, joining the 3rd Battalion South Wales Borderers. He declared that he had previously been serving in the militia and that he had a mutlilated little finger on his right hand.

Fred had a colourful career once being imprisoned for striking a superior officer during his home service and then after being posted to India he was imprisoned once for striking a superior officer and twice for using insubordinate language.

in 1904 whilst in India he signed up to extend his service to a total of 8 years.

He eventually was posted home in 1905, 4 years after his final imprisonment and then served another 3 years with the regiment at home even after being put on Army reserve in January 1905. His first period of service ended on 22nd November 1908.

At the time of the Census in 1911, Fred is living with his parents again but this time in Burghley Street, Bourne and he is working as a Bricklayer's Labourer at the age of 32.

Fred enlisted in Bourne and re-joined the army in 1914 and was sent abroad, as an old contemptible in 1914 earning him the 1914 star, which was later added to with the award of a clasp.

Fred's medal rolls suggest that he served in the war with firstly the 1st Battalion, Lincolnshire Regiment, secondly the 7th Battalion and lastly the 8th battalion.

As a reservist we would expect Fred to re-join a regular Battalion at the outbreak of war and he joined the 1st Battalion, Lincolnshire Regiment as a Private disembarking in France on the 22nd October 1914.

In his first year in France with the BEF we gained promotion to a Lance Corporal.

The Battalion were engaged in the Battle for Bellewarde Farm in June 1915 and then the attack on the Chateau at Hooge.
By the 15th July the 1st Battalion had moved into dug-outs in Ridge Wood and supplied working parties making fire and communications trenches on the redoubt and generally reinforcing the defences.

On the 22nd July Fred is reported as wounded and we find him on the 7th/8th August 1915 wounded list.
 At this point he already has his promotion and is still with the 1st Battalion.

We assume that on recovering from his wound he would join a Battalion that most needed men and that this was most likely to be the 7th Battalion as per the information on the medal rolls.

This wound meant that from the 6th August 1916 he is entitled to wear a "wound stripe" on his uniform.

The 8th Lincolnshire Regiment were not sent abroad until September 1915 and therefore the exact movements of Fred or the date of him joining his final battalion the 8th Lincs is unknown.

We can only say for certain that he was with The Battalion in the last month of his life.

Taken from the 8th Battalion Diaries:-

The Battalion entered the Battle of Arras at Battery Valley on the 9th April 1917 at 4pm digging in until 8pm.

The Battalion moved east and halted around midnight. At daybreak considerable enemy activity was observed round Monchy-le-Preux, also enemy troops and transport moving north east from Roeux. Artillery was asked for in both cases but there was no response.

At 9am the Battalion prepared to advance to its original objective as soon as the 111th brigade advanced on Monchy.

At 10:30 am Major Greatwood was informed that the 8th Somerset Light Infantry were in Monchy and that he must support them. They advanced to teh valley but in this advance they suffered heavy casualties as they had no artillery support.

At 4pm Major Greatwood issued orders to attack Monchy with the 8th Somerset on the right, Lincolns on the left. Again with no artillery support they had to dig in on high ground receiving orders to attack at dusk.

When they had already opened out for the attack, orders arrived from Brigade cancelling the attack and consolidate the position and patrols were posted in front.

By the end of the 10th April the Battalion had 9 officers wounded, 30 other ranks killed, 187 other ranks wounded and 8 missing.

battalion withdrawn from the line and moved to Arras

13th April 1917 – Duisans

Battalion moved to Duisans and billeted there for one night.

14th April 1917 – Beaufort

Battalion moved to billets in Beaufort.

16th April 1917 – Beaufort

17th April 1917 – Beaufort

Battalion in billets, training carried out

18th April 1917 – Beaufort

Battalion in billets, training being carried out.

19th April 1917 – Beaufort

Battalion moved to billets in Montenescourt.

20th April 1917 – Beaufort

Battalion moved by buses to Arras – Battalion in support.

Battalion in attack. Middlesex right front battalion. York and Lancaster regiment left front Battalion. Somerset Light Infantry Right support Battalion, Lincolnshire Regiment left support Battalion.

Casualties, 20 officers killed, 2nd Lieut W.S.Dickinson, D.J.B Busher. Other Ranks killed 20., Wounded 102, missing 14.

Lance Corporal Fred LLoyd was reported as being killed in action on 24th April 1917.
Sources
WW1 Soldier's Records (www.ancestry.co.uk)
Commonwealth War Graves Commission
British Newspaper Archive.