Biography of Private Ernest Wyles (136409)
25th Battalion Machine Gun Corps (Infantry) Regiment
Formerly 25075, S. Staffordshire Regiment
Died 27th May 1918
Soldier
Name: Ernest Wyles
Date of birth: 1890
Place of Birth: Market Deeping, Lincolnshire, England
Date of Birth Registration: April – June 1890
Place of Birth Registration: Bourne, Lincolnshire, England
Father
Name: Edward Wyles
DOB: 1848
Place of Birth: Market Deeping, Lincolnshire England
Occupation: Country Council roadmen
Mother
Name: Emily Bellairs
DOB: 1849
Place Of Birth: Market Deeping, Lincolnshire, England
Marriage: 8th January 1866, Market Deeping, Lincolnshire, England
Siblings: (Name), (DOB), (POB)
Arthur Wyles, 1866, Market Deeping (Died 1866 Age 0)
Edward Wyles, 1867, Market Deeping
John William Wyles, 1868, Market Deeping (Died 1887 Age 18)
Walter Wyles, 1870, Market Deeping (Died 1880 Age 10)
Annie Wyles, 1872, Market Deeping (Died 1874 Age 1)
Frederick Wyles, 1875, Market Deeping
Emily Wyles, 1878, Market Deeping (Died 1905 Age 27)
Albert Wyles, 1880, Market Deeping
Levinia Wyles, 1882, Market Deeping (Died 1884 Age 1)
George Wyles, 1884, Market Deeping (Died 1884 Age 0)
Walter Wyles, 1885, Market Deeping (Died 1886 Age 0)
Harvey Wyles, 1887, Market Deeping  (Died 1887 Age 0)
Percy Charles Wyles, 1888, Market Deeping
Ernest Wyles, 1890, Market Deeping
Plus 1 more which name are unknown taken from the 1911 census
Census
1891: Ernest is living with his parents at Towngate, Market Deeping, Lincolnshire.
1901: Ernest is living with his parents at Towngate, Market Deeping, Lincolnshire.
1911: Ernest is living with his parents in Uffington, Lincolnshire. The census gives him an age of 21 and he is listed as a brickyard carter.
Wife
Name: Ivy Ophelia Parker
Date of birth: 1894
Place of Birth: Bourne, Lincolnshire, England
Marriage
Date of Marriage: 1915
Place of Marriage: Bourne District
Children
Wife's parents
Father: George Henry Parker
Mother: Mary Jane Phillips
Newspaper Mentions
The People Sunday 14th July 1918
LAST NIGHT'S ROLL OF HONOUR
CASUALTIES IN RECENT FIGHTING
MACHINE GUN CORPS
Wyles 136409 E. (Bourne)
Sheffield Daily Telegraph Monday 15th July 1918
ROLL OF HONOUR
N.C.O.'S AND MEN
KILLED
M.G.C. – Wyles (136409), E. (Bourne)
Soldier's Died In The Great War
These records show thatPrivate Ernest Wyles, 136409, Infantry Bn, Machine Gun Corps was killed in action on 27th May 1918 in the Western European Theatre in France and Flanders.
Pension Records
Effects Left To
Medals
The British Medal
The Victory Medal
Memorials
UK:
Bourne, Roll of Honour in Bourne Abbey Church
Bourne War Memorial in the Memorial Gardens
Commonwealth War Graves Commission:
In memory of Private Ernest Wyles, 136409, 25th Bn., Machine Gun Corps (Infantry) who died on 27 May 1918 Age 23
Husband of Ivy Opthelia Wyles, of 15, Mason Arms, South St., Bourne, Lincs.
Remembered with honour, Soissons Memorial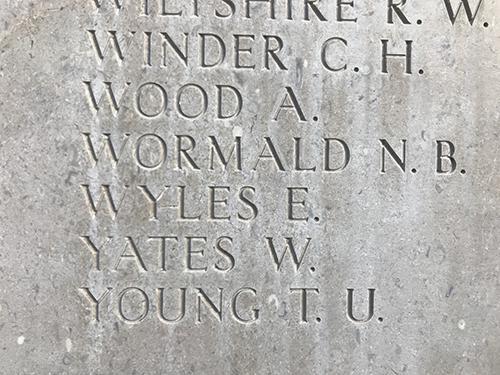 © Picture taken by South Lincolnshire War Memorials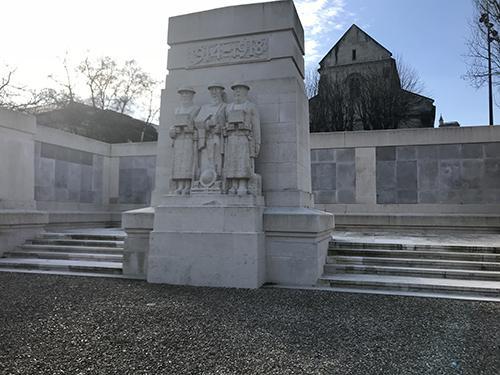 © Picture taken by South Lincolnshire War Memorials
Military Service Timeline
Around July 1916 Ernest enlisted in the army in Bourne. Conscription had come in in January 1916 for all single men of age 18 to 40 to serve their country. This had changed in  May 1916 to include Married men thus making Ernest eligible for conscription.
 Ernest's service records, like 60% of all WW1 soldiers were subject to a fire in the storage warehouse in London during the Blitz. That leaves us trying to piece together his story of the war from various remaining records and therefore exact dates are largely not known.
 Ernest on enlistment and training had been posted to the 7th Battalion South Staffordshire Regiment with a regimental number of 25075. After training he would have joined his Battalion in France. They had been out in Gallipoli in 1915 followed by Egypt defending the Suez Canal before being posted to France in July 1916.
 We would expect Ernest to join his regiment around November of 1916. As we do not know the exact date we cannot really tell when and where he fought.
The Battalion had been involved in the Battle of Thiepval Ridge at the end of September and then had been moved into the Ancre sector of the Somme by January 1917.
 1917 had the Battalion in the Somme initially and then moved out to Belgium in readiness for the battle of Messines Ridge.
 On the war office daily list of the 27th August 1917 Private Ernest Wyles 25075 of the South Staffordshire Regiment was listed as wounded. These lists could be 4 to 6 weeks behind the actual dates and therefor there is no actual date or location that he was wounded in the records. At the end of July and the beginning of August the Battalion were in trenches around Hulluch, to the North of Loos.
After leaving the trenches around Merthyr Sap and Bacon Sap on 6th August the Battalion went into Divisional Reserve for one week of training. During August the Battalion lost few men as casualties and the Diary even lists any Privates that were wounded and so we have to assume that as Ernest was not mentioned he was wounded during their last tour in the trenches around Essex Trench at the end of July.
 Ernest Wyles was posted to the Machine Gun Corps, the date cannot be seen from any records but in many cases once a wounded soldier had convalesced and then was posted medically fit for action they would be posted to a battalion that was in need of replacements.
 We are not sure of the details of his wound, convalescent period, if he re-joined the South Staffs or when he was posted to the Machine Gun Corp, then we have to look at the Diaries for the Machine Gun Corps in Ernest's last days in May 1918 and their action around the 27th Just south of The Aisne. 
9th May 1918 – Herzeele
Battalion entrained at Heidebeke for move to IX Corps (6th French spring? Area), HQ and A+B Companies left at 7.45pm, C+D Companies at 10.45pm. At 10.40pm just prior to the departure o the train, enemy aeroplane dropped 6 small bombs on the metals close to the train. No damage was done.
 10th May 1918
On Train
 11th May 1918 – Fismes
Arrived Fismes in the morning. Marched to Cohan to billets.
 12th May 1918 – Cohan
Cleaning up. Services held in the morning. Weather fine and hot.
 13th May 1918 to 22nd May 1918
Training – Training programme was attached to the diary (Appendix no 4). Hot and sunny weather.
52 other ranks reported for duty on 20th May.
 23rd May 1918 – Hourges
Lt Col W.T.Raikes to Paris for 4 days leave. Battalion marched to billets at Hourges.
 24th to 26th May
Training – Training program was attached to the diary (Appendix no 5).
27th  to 31st May 1918
Operations, see attached story.
 "Story of operations from May 27th 1918 to June 1st 1918, 25th battalion Machine Gun Corps.
 On the night of the 26th of May 1918 the battalion was ordered to proceed to the forward area from billets in Hourges. Companies as under were allotted to brigades and proceeded from camp independently to the following areas:-
A company under Major S.L.Courtauld M.C. to 7 Brigade Guyencourt (Right)
B Company under Major D Campbell to 74th Brigade, Muscourt (Left)
C Company under Capt T.C.B. Udall to 75th Brigade, Ventelay (Centre)
D Company under Major G McCree to reserve in Romain 
The companies arrived after the preliminary bombardment had commenced and the 3 first arrived reconnoitred positions in their respective areas, the 2nd positions (Line of the Maizy Cormicy Road).
The enemy was engaged at about 8.30am by Bouffinereux-Roucy-Concevreux + Maizy. 4 Guns of B company under 2nd Lieutenant W.L. Johnstone did great execution at the bridges at this later place, but were forced to give way and fall back on Muscourt about noon.
Two sections of the Reserve Company were ordered to reinforce 75 and 74 Brigades respectively, and later the remaining two sections were sent to the 74 Brigade where situation on the left flank appeared to be serious.
In the late afternoon of 27th a strong enemy attack was completely wiped out at point blank range on the Muscourt – Romain road by the concentrated fire of 7 machine guns. On the night however the enemy working well through the woods E & W of Guyencourt cut off or destroyed by close range sniping a number of A + C Companies guns. Good work appears to have been done in the attacks, but owing to the infantry retirement, the guns were left entirely isolated and unsupported and the enemy were thus enabled to attack from all sides. Capt T.C.B. Udall who had made his HQ in Roucy, was surrounded and possibly a prisoner.
About midnight 27th the enemy were reported in Courlandon and Ventelay and it was considered unpracticable to hold the salient north of Romain. A retirement was therefore ordered to the high ground N of Montigny. In all 11 Guns were still working under orders of the Battalion H.Q, though it is kown that several others had attached themselves to infantry units in the neighbourhood of Bouvancourt.
By the end of the report on the 31st May the line had been pushed back daily and the Battalion reported the following casualties.
Killed, 5 officers and 10 other ranks
Wounded, 10 officers  and 120 other ranks
Missing, 5 officers and 108 other ranks. 
Private Ernest Wyles was reported to have died and was most likely one of the missing men killed in the action of the 27th May 1918 described in the Battalion diary.
On the 19th December Ivy Wyles was awarded Ernest's pension and war gratuity and one year later his War Gratuity payment. Ernest's medal card suggests that as of the 6th March 1923 his British War Medal and Victory Medal were still "Undisposed of" which meant never sent or claimed up to this date.
Sources
WW1 Soldier's Records (www.ancestry.co.uk)
Commonwealth War Graves Commission