Biography of Private Frank Larkinson (14747)
8th Battalion Lincolnshire Regiment
Died 26th September 1915
Soldier
Name: Frank Larkinson
Date of birth: 1896
Place of Birth: Hubbard's Bridge, Lincolnshire, England
Date of Birth Registration: October – December 1896
Place of Birth Registration: Boston, Lincolnshire, England
Father
Name: Albert Larkinson
DOB: 28th August 1868
Place of Birth: Biggleswade, Bedfordshire, Englamd
Occupation: Signalman
Mother
Name: Mary A Frisby
DOB: 3rd April 1869
Place Of Birth: Bourne, Lincolnshire, England
Marriage: 11th June 1893 Ossett With Gawthorpe, Yorkshire, England
Siblings: (Name), (DOB), (POB)
Elsie Mary Larkinson, 1894, Bradford
William Herbert Larkinson, 1895, Boston (Died 1895)
Frank Larkinson, 1896, Hubbard's Bridge
Percy Larkinson, 1897, Hubbard's Bridge
William Robert Larkinson, 1901, Bourne
Kate Annie Larkinson, 1906, Bourne
Albert Edmund Larkinson, 1909, Bourne
Census
1901: Frank is living with his parents in Coggles Causeway, Bourne, Lincolnshire.
1911: Frank is living with his parents in Coggles Causeway, Bourne, Lincolnshire. The census gives him an age of 14 and he is listed as a errand boy.
Relatives in services
Brother Percy served with the Lincolnshire Regiment but returned.
Marriage
No marriage for Frank has been found and because of his age we can assume that he never had the opportunity to marry.
Newspaper Mentions
Grantham Journal Saturday 16th October 1915
BOURNE SCHOOL BOYS AT THE FRONT. – Pte. Ernest W. Bull, in a letter to Mr. J. J. Davies, dated October 10th, says:- I am in the best of condition, and I am pleased to say that most of the Bourne and district boys are still alive.  The two young Larkinsons and two of the Gramsthorpe boys are reported missing; they may be prisoners of war, but we do not know, and we all hope they are still alive.  Well, Mr. Davies, I met one of our boys, Sam Frisby, the other night, and he asked me if I had written to you.  I said I had not, but I would do so.  He wished me to ask if you would ask _____ and ____ and ____, and a few more of them if they are not ashamed of themselves walking about the streets with their hands in their pockets, when there are a few of these healthy Germans want dealing with.  You may tell them the help is needed, as I think it will take us all our time to settle them.  You can show them this letter, and have it put in the paper, as I think they are able to come, and have a go as well as all of us.  It wants a little bit of pluck.  Please write back in answer to this, as all our boys of Bourne wish to be remembered to him.  I should also like to be remembered to Mr. Harrison.  With the best of wishes from the boys to you, and to the people of Bourne, whom we all hope to see again.  From School Boys at the Front.  (Signed), Ernest W. Bull.
Grantham Journal Saturday 23rd October 1915
PRISONER IN GERMANY. – During the week, Mr. Larkinson has received a communication from his son, Pte. Percy Larkinson, station that he is a prisoner in Germany.  It will be remembered that Pte. Larkinson and his brother, Pte. Frank Larkinson, were reported missing after one of the heavy engagements.  Rumours of all kinds have been current since that date as to the two brothers, and fears were entertained last week-end that one of the reports that both were killed was too true.  Thw welcome news that one of the lads is safe has come at a most opportune time, and has been gladly received by the many friends of the boy.  Nothing has so far been heard of the other brother; nor of Pte. Frank Baldock, who was reported wounded some months ago, that being the only intimation yet received.
Sheffield Daily Telegraph Monday 6th December 1915
MISSING
8th LINCOLNS.- Larkinson (14747), F.
The Standard Monday December 6th 1915
MISSING
115 – LINCOLNS REGT., 8th BN, – Larkinson, 14747 F.
Soldier's Died In The Great War
These records show that Private Frank Larkinson, 14747, 8th Bn -Lincolnshire Regiment was killed in action on 26th September 1915 in the Western European Theatre in France and Flanders.
Pension Records
Effects Left To
Medals
The British Medal
The Victory Medal
The 15 Star
Memorials
UK:
Bourne, Roll of Honour in Bourne Abbey Church

Bourne War Memorial in the Memorial Gardens
Commonwealth War Graves Commission:
In memory of Private Frank Larkinson, 14747, 8th Bn., Lincolnshire Regiment who died on 26 September 1915
Remembered with honour, Loos Memorial
Panel 31 to 34.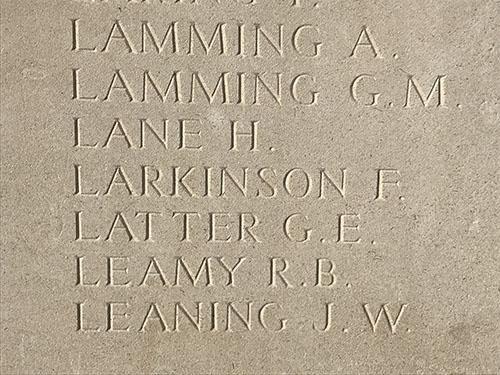 © Picture taken by South Lincolnshire War Memorials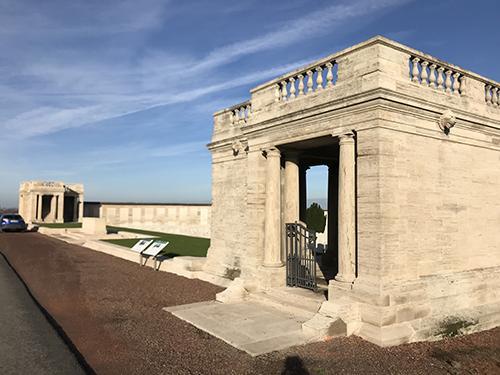 © Picture taken by South Lincolnshire War Memorials
Military Service Timeline
This is ongoing research and will be posted when completed
Sources
WW1 Soldier's Records (www.ancestry.co.uk)
British Newspaper Archive.
Fold 3
Find My Past
Genealogist
Forces War Records
British Army Service Numbers
War Gratuity Calculator
Commonwealth War Graves Commission
National Archives – Battalion War Diaries
General Registry Office