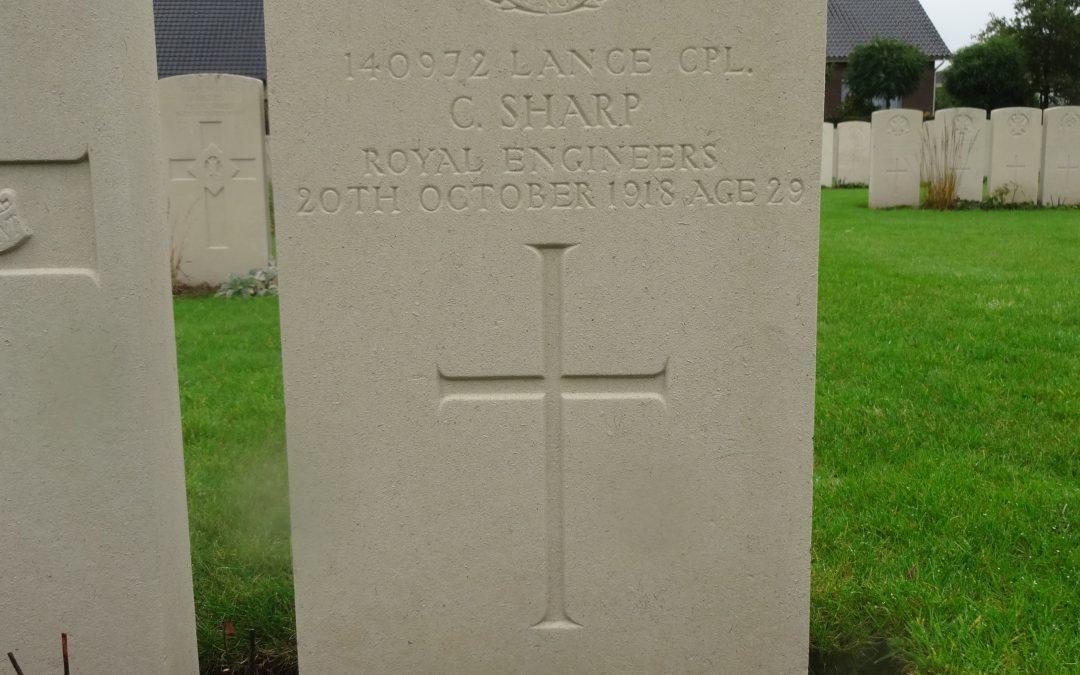 Today we remember Charlie Sharp of Rippingale who was killed in action 100 years ago this day in 1918.
Charles Sulman Sharp was born on 17th January 1889 in Witcham, Cambridgeshire, England to Sarah Maria Sharp also born in Witcham.
Charlie originally lived with his grandparents in Witcham but by 1911 had moved to Waverley near Stamford. At this time he was working as a wheelwright and living with the Dalton family as a boarder.
On 17th October 1917 Charlie married Rippingale woman, Maud Hill in Spalding.
Although his army records have not been found, Charles made the rank of Lance Corporal indicating that he may have served for a long period before his death in 1918.
Charlie Sharpe died during the final month of the Great War and the location of his grave would indicate that we would have been wounded somewhere in the Ypres Salient and then taken back to Duhallows Advanced dressing station on the outskirts of Ypres.
His wife Maud lost not only her Husband but also her two brothers, Arthur and George Hill during the war. She later remarked.
The Commonwealth War Graves Commission remember Charlie Sharp with the following entry;
In Memory of Lance Corporal Charlie Sharp, 140972, 63rd Field Company, Royal Engineers who died on 20 October 1918 Age 29
Husband of M Cunnington (formerly Sharp) of 89 Station Road, Langley Mill, Derbyshire. Born Rippingale, Lincs.
Remembered with Honour, Duhallow A.D.S. Cemetery.
Charlie is also remembered on the Rippingale memorial.