Biography of Lance Corporal Frederick Daff Pollard (40432)
9th Battalion West Yorkshire Regiment (Prince of Wale's Own)
Formerly 4395, 4th Lincolnshire Regiment
Died 24th September 1917
Soldier
Name: Frederick Daff Pollard
Date of birth: 1891
Place of Birth: Rippingale, Lincolnshire, England
Date of Birth Registration: January – March 1891
Place of Birth Registration: Bourne, Lincolnshire, England
Father
Name: George Daff
DOB: 2nd November 1867
Place of Birth: Little Bytham, Lincolnshire, England
Occupation: Farm labourer
Mother
Name: Sarah Jane Pollard
DOB: 17 August 1871
Place Of Birth: Rippingale, Lincolnshire, England
Marriage: 24th December 1896 Rippingale, Lincolnshire, England
Siblings: (Name), (DOB), (POB)
Frederick Daff Pollard, 1891, Rippingale
Annie Lizzie Daff, 1897, Rippingale (Died 1897) Twin
Arthur Daff, 1897, Rippingale, (Died 1897) Twin
Dorothy Daff, 1907, Rippingale
Census
1891: Fred is living with his grandparents in Rippingale, Lincolnshire
1901: Fred is living with his grandparents in Rippingale, Lincolnshire
1911: Fred is living with his grandparents in Rippingale, Lincolnshire
Marriage
No marriage for Fred has been found and because of his age we can assume that he never had the opportunity to marry.
Newspaper Mentions
Grantham Journal Saturday 15th July 1916
RIPPINGALERIPPINGALE LADS WOUNDED – During the big advance, two Rippingale lads, Private Fred Daff Pollard and George Kime, of the Lincolns,were wounded – the former in the arm and hand and teh latter by shrapnel in the shoulder. These lads enlisted together, were trained together, went on service together, fought side by side, and were wounded at the same time. They were both treated at the Canadian Hospital in France, and from there sent home to England. Pte Pollard to Exeter and Pte G Kime to Leeds. In a letter from the latter to his mother, he states that the German machine-gunners in front of them were found chained to their guns. We are glad to know the lads are progressing favourably and will soon be welcomed home. They will probably be the first two in Rippingale to gain the gold stripe for men wounded in battle.
Grantham Journal 17th March 1917
RIPPINGALE
A meeting of the clergy of the Aveland Deanery was held at the Rectory on Friday week, when it was decided not to hold the Rural-deanery Conference this spring.
WAR NOTES- Baker Broughton R.N. eldest son of Mr and Mrs R Broughton has been home on leave for three weeks. He had been on active service without a break from the commencement of the war. Major Green son of the Late Mr F Green, Moosejaw, Canada, and an old inhabitant of Rippingale, has been visiting his relatives (Mr and Mrs Broughton), prior to active service. He belongs to the Moosejaw Battalion of Canadians. Fred Pollard is wounded for the second time, and is progressing favourably. He was one of the first in Rippingale to receive a gold stripe.
Grantham Journal Saturday 14th July 1917
RIPPINGALE
WAR NOTES- Fred Pollard, who has been wounded for a second time, is now on leave looking fit and well. Bert Wells arrived unexpectedly on Tuesday morning for 10 days leave. He had been in France for eighteen months.
Grantham Journal Saturday 20th October 1917
RIPPINGALE
WAR NOTES – Last week, the parents of Lance Corporal Fred Pollard (West Yorks. Regiment) received official information that he had been killed in action on Sept. 24th.. He had previously been twice wounded and was 27 yaers of age. The greatest Sympathy is felt for Mr and Mrs Daff and other relatives. A memorial service will be held in the Church on Sunday afternoon.
War Office Weekly Casualty List October 30th 1917
WARRANT OFFICERS, NON-COMMISSIONED OFFICERS, AND MEN.
KILLED
WEST YORKSHIRE REGIMENT
Pollard 40432 L.-Cpl. F. D. (Bourne)
Grantham Journal Saturday 3rd November 1917
RIPPINGALE
WESLYN CHAPEL – Foreign missionary services were held on Sunday week. In the evening, special reference was made to fallen hero, Corpl. Fred Pollard. On Wednesday, at the missionary meeting, excellent addresses were given by the Rev. Bateman and Mr Ringrose, of Bourne. Collections amounted £3 6s 9d
Lincolnshire Echo Friday 12th September 1919
At Rippingale it is proposed to make a house to house collection for the War Memorial Cross, to be erected at the estimated cost of £250, to the honoured memory of those who served in the great war, especially the fallen, those whp made the supteme sacrifice from here being: Arthur Hill, George Hill, Frank Kime, George Daff Pollard, John William Sandall, Walter Sandall, Charles Sharpe, Walter Scarborough, and Arthur Thompson.
Soldier's Died In The Great War
These records show that Lance Corporal Fred Daff Pollard, 40432, 9th West Yorkshire Regiment (Prince of Wale's Own) was killed in action on 24th September 1917 in the Western European Theatre in France and Flanders.
Pension Records
Effects Left To
Medals
The British Medal
The Victory Medal
The 15 Star
Memorials
UK:
Rippingale, outside memorial at St Andrew's Church
Commonwealth War Graves Commission:
In Memory of Lance Corporal Fred Daff Pollard, 40432, 9th Battalion West Yorkshire Regiment (Prince of Wale's Own) who died on 24 September 1917.
Remembered with Honour Tyne Cot Memorial
Panel Ref: 42 to 47 and 162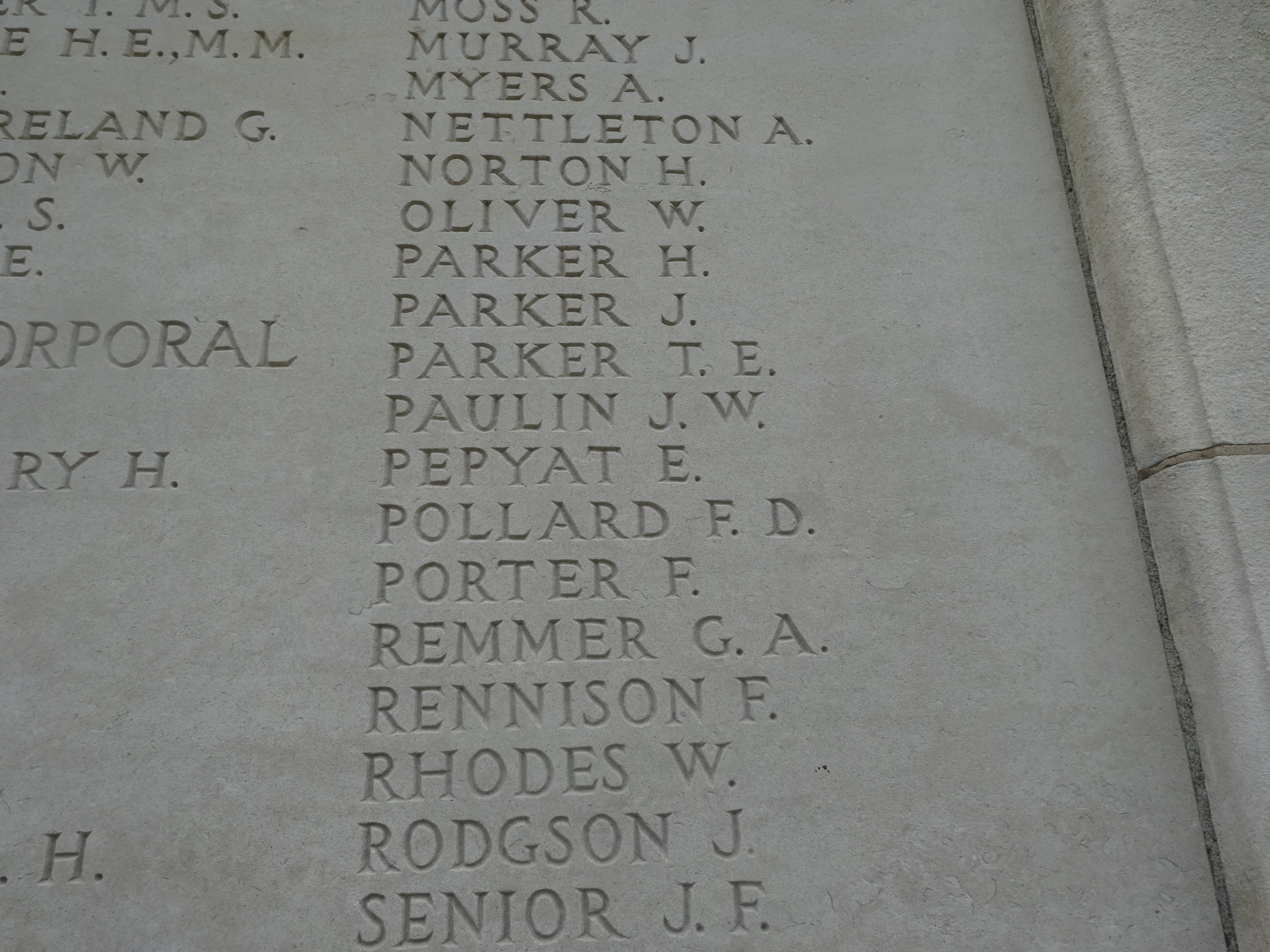 © Picture taken by South Lincolnshire War Memorials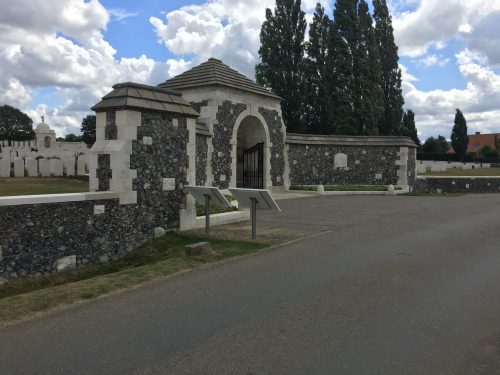 © Picture taken by South Lincolnshire War Memorials
Military Service Timeline:
This is ongoing research and will be posted when completed
Sources
WW1 Soldier's Records (www.ancestry.co.uk)
British Newspaper Archive.
Fold 3
Find My Past
Genealogist
Forces War Records
British Army Service Numbers
War Gratuity Calculator
Commonwealth War Graves Commission
National Archives – Battalion War Diaries
General Registry Office