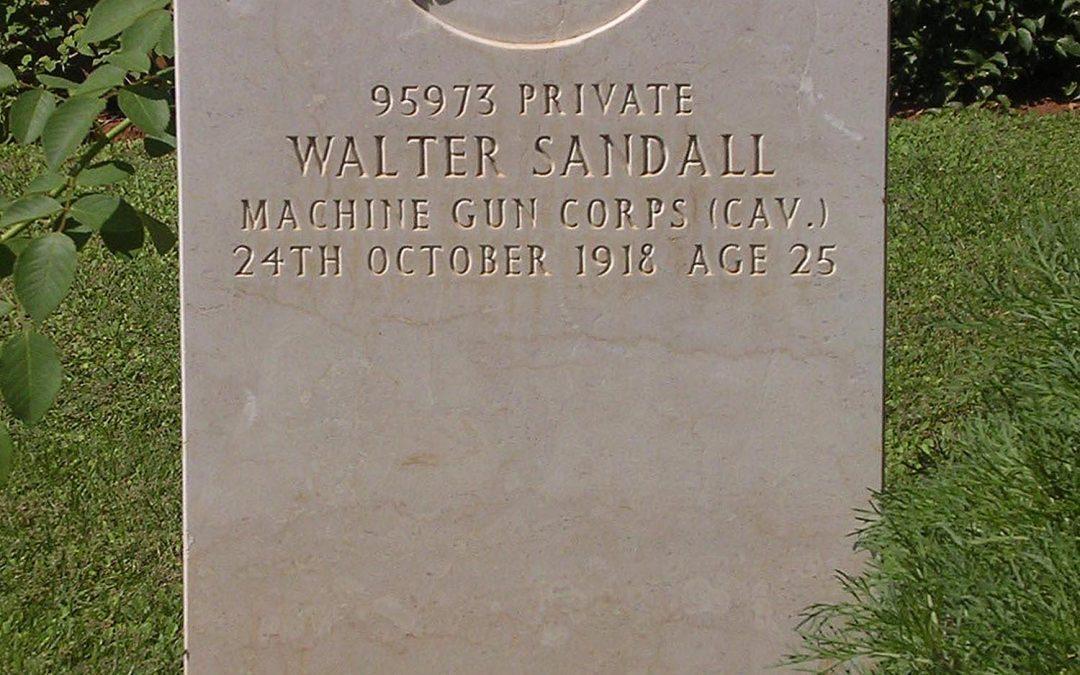 Today we remember Walter Sandall of Rippingale who died 100 years ago this day.
Born in 1893, Walter was one of nine children born to Edward John Sandall and his wife Mary Pridmore.
In 1911 Walter was working as a horseman on a farm in Scredington and was living with The Whotton family.
Before the war Walter had served with the 1st Battalion Lincolnshire Regiment and had bought himself out of service.
He was living back in Rippingale when in October 1914 he re-joined the Army, this time with the Lincolnshire Yeomanry.
The Yeomanry were a cavalry unit who were based at the barracks at Lincoln and were essentially a forerunner of the Territorial Force before the war. The four squadrons of the Yeomanry were based in the Grimsby, Brigg, Lincoln and Stamford/Bourne and Men were recruited locally In the Bourne Area their patron was the Earl of Ancestor.
Several other local farmers joined the Lincolnshire Yeomanry including Leonard Miller, Everitt Cook, Edward Franks and George Jessop. In most cases the soldiers took their own horse from civilian life into service with them.
Walter carried out his training and home service, first at Oakley Barracks and then at Lowestoft and Sprowston. His training was not without incidents which had landed him in trouble with his seniors.
The 1st Lincolnshire Yeomanry Embarked in Southampton on 27th October 1915 for Salonika and war in the Dardanelles. During the voyage the destination was changed due to a threat by the Turks on the Suez Canal. After leaving Gibraltar the Mercian was attacked by U38 who out of torpedoes attacked with its guns. In the ensuing battle the Mercian returned fire with what little it had and U38 dived. Following putting into port at Oran, Algeria, to bury the dead and transfer the wounded to a military hospital, the Mercian went to Malta where it was fitted with a 3″ quick firing gun. From Malta the Mercian and the Yeomanry eventually disembarked in Alexandria on 21st November 1915
The Lincolnshire Yeomanry saw action across the middle east for the whole of the war, including Egypt, Palestine and also the battle of Gaza.
In February 1917 the Yeomanry was disbanded with most of the men becoming part of the Machine Gun Corps and Walter was transferred to the 18th Squadron of the Corps on 27th February 1917.
Walter Died on Pneumonia on 24th October 1918 and is buried in Beirut Military Cemetery.
In Memory of Private Walter Sandall, 95973, 18th Squadron Machine Gun Corps (Cavalry) who died on 24 October 1918.
Remembered with Honour Beirut War Cemetery
Grave Ref: Bay 3 and 4
Walter was one of seven cousins from our villages who did not return home at the end of the war, a generation missing for their family.
Walter is also remembered on the Rippingale war memorial.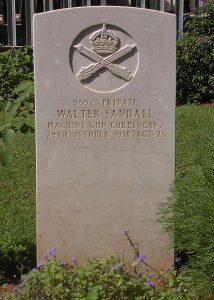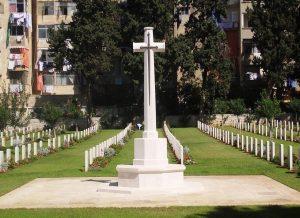 Photographs © War Graves Photographic Project and CWGC