Biography of Private Walter Sandall (95973)
18th Squadron Machine Gun Corps (Cavalry)
Formerly 1st/1st Lincolnshire Yeomanry (1878)
Died 24th October 1918
Soldier
Name: Walter Sandall
Date of birth: 1893
Place of Birth: Rippingale, Lincolnshire, England
Date of Birth Registration: April – June 1893
Place of Birth Registration: Bourne, Lincolnshire, England
Father
Name: Edward John Sandall
DOB: 1859
Place of Birth: Kirkby Underwood, Lincolnshire, England
Occupation: Farm labourer
Mother
Name: Mary Pridmore
DOB: 1861
Place Of Birth: Dowsby, Lincolnshire, England
Marriage: 1881 Bourne District
Siblings: (Name), (DOB), (POB)
John William Sandall, 1882, Kirkby Underwood
Emily Sandall, 1885, Kirkby Underwood
Harriet Annie Sandall, 1886, Kirkby Underwood
Sarah Elizabeth Sandall, 1887, Kirkby Underwood
Herbert Sandall, 1889, Kirkby Underwood
Albert Sandall, 1890, Rippingale
Walter Sandall, 1893, Rippingale
Mabel Sandall, 1895, Rippingale
Norris Sandall, 1901, Rippingale
Census
1901: Walter is living with his parents in Rippingale, Lincolnshire
1911: Walter is living with the Whatton family in Scredington. The census gives him an age of 18 and he is listed as a Horseman on farm.
Marriage
No marriage for Walter has been found and because of his age we can assume that he never had the opportunity to marry.
Newspaper Mentions
Grantham Journal Saturday 23rd November 1918
RIPPINGALE
SPECIAL THANKSGIVING SERVICE were held in the Parish Church on Sunday, also a memorial service in the afternoon for W. Sandall and C. Sharp
Lincolnshire Echo Friday 12th September 1919
At Rippingale it is proposed to make a house to house collection for the War Memorial Cross, to be erected at the estimated cost of £250, to the honoured memory of those who served in the great war, especially the fallen, those whp made the supteme sacrifice from here being: Arthur Hill, George Hill, Frank Kime, George Daff Pollard, John William Sandall, Walter Sandall, Charles Sharpe, Walter Scarborough, and Arthur Thompson.
Soldier's Died In The Great War
These records show that Private Walter Sandall, 95973, Machine Gun Corps (Cavalry) was killed in action on 24th October 1918 in the Asiatic Theatre.
Pension Records
Effects Left To
Medals
The British Medal
The Victory Medal
The 15 Star
Memorials
UK:
Rippingale, outside memorial at St Andrew's Church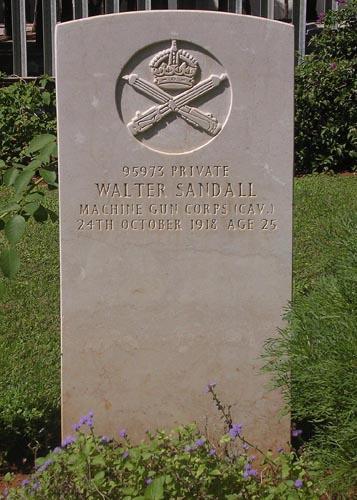 © The War Graves Photographic Project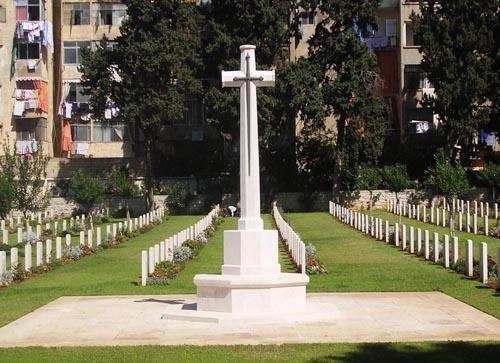 © The War Graves Photographic Project
Military Service Timeline:
This is ongoing research and will be posted when completed
Sources
WW1 Soldier's Records (www.ancestry.co.uk)
British Newspaper Archive.
Fold 3
Find My Past
Genealogist
Forces War Records
British Army Service Numbers
War Gratuity Calculator
Commonwealth War Graves Commission
National Archives – Battalion War Diaries
General Registry Office