Biography of Private Edmund Wyer (10912)
8th Battalion Lincolnshire Regiment
Died 4th October 1917
Soldier
Name: Edmund Wyer
Date of birth: 1887
Place of Birth: Haconby, Lincolnshire, England
Date of Birth registration: April = June 1887
Place of Birth Registration: Bourne, Lincolnshire, England
Father
Name: William Wyer
DOB: 1847
Place of Birth: Kirkby Underwood, Lincolnshire, England
Occupation: Farm labourer
Mother
Name: Sarah Elizabeth Wilson
DOB: 1858
Place Of Birth: Haconby, Lincolnshire, England
Marriage: 1882 Bourne District
Siblings: (Name), (DOB), (POB)
Annie Lizzie Wyer, 1883, Haconby
Robert Wilson Wyer, 1885, Haconby
Edmund Wyer, 1887, Haconby
Ethel Jane Wyer, 1889, Haconby
Emily Wyer, 1891, Haconby
Sarah Elizabeth Wyer, 1892, Haconby
William Wyer, 1894, Haconby
John George Wyer, 1896, Haconby
Kathleen Wyer, 1900, Haconby
Hilda Mary Wyer, 1902, Haconby
Census
1891: Edmund is living with his parents in his grandmothers house in Haconby, Lincolnshire.
1901: Edmund is living with his parents in Haconby, Lincolnshire.
1911: Edmund is living with his parents in Haconby, Lincolnshire.
Marriage
No marriage for Edmund has been found and because of his age we can assume that he never had the opportunity to marry.
Newspaper Mentions
Grantham Journal Saturday 3rd October 1914
MORTON
KITCHENER'S ARMY – Nine men have volunteered from these parishes, viz., Hacconby, Robert Wand, Robert Wilson Wyer, Edmund Wyer, William Wyer, Jack Healey; Morton, Fisher Handford, William Holmes, George Smith, John Ashton. We trust that others will be actuated by their splendid examples and follow suit.
Lincolnshire Echo Saturday 19th May 1917
LOCAL CASUALTIES
WOUNDED
LINCOLNSHIRE REGIMENT
Wyer, 10912 Pte. E. (Bourne)
Lincolnshire Echo Wedmesday 21st November 1917
WOUNDED AND MISSING
LINCOLNSHIRE REGIMENT
Wyer, 10912 Pte. E. (Lincoln)
War Office Weekly Casualty List, November 27th 1917
MISSING
LINCOLNSHIRE REGIMENT
Wyer 10912 E. (Lincoln)
Soldier's Died In The Great War
These records show that Private Edmund Wyer, 10912, 8th Battalion Lincolnshire Regiment was killed in action on 4th October 1917 in the Western European Theatre in France and Flanders.
Pension Records
Effects Left To
Father William
Mother Sarah E
Medals
The British Medal
The Victory Medal
The 15 Star
Memorials
UK:
Haconby, plaque in St Andrew's Church
Commonwealth War Graves Commission:
In Memory of Private Edmund Wyer, 10912, 8th Battalion Lincolnshire Regiment who died on 4 October 1917.
Remembered with Honour Tyne Cot Memorial
Panel 35 to 37 and 162 to 162A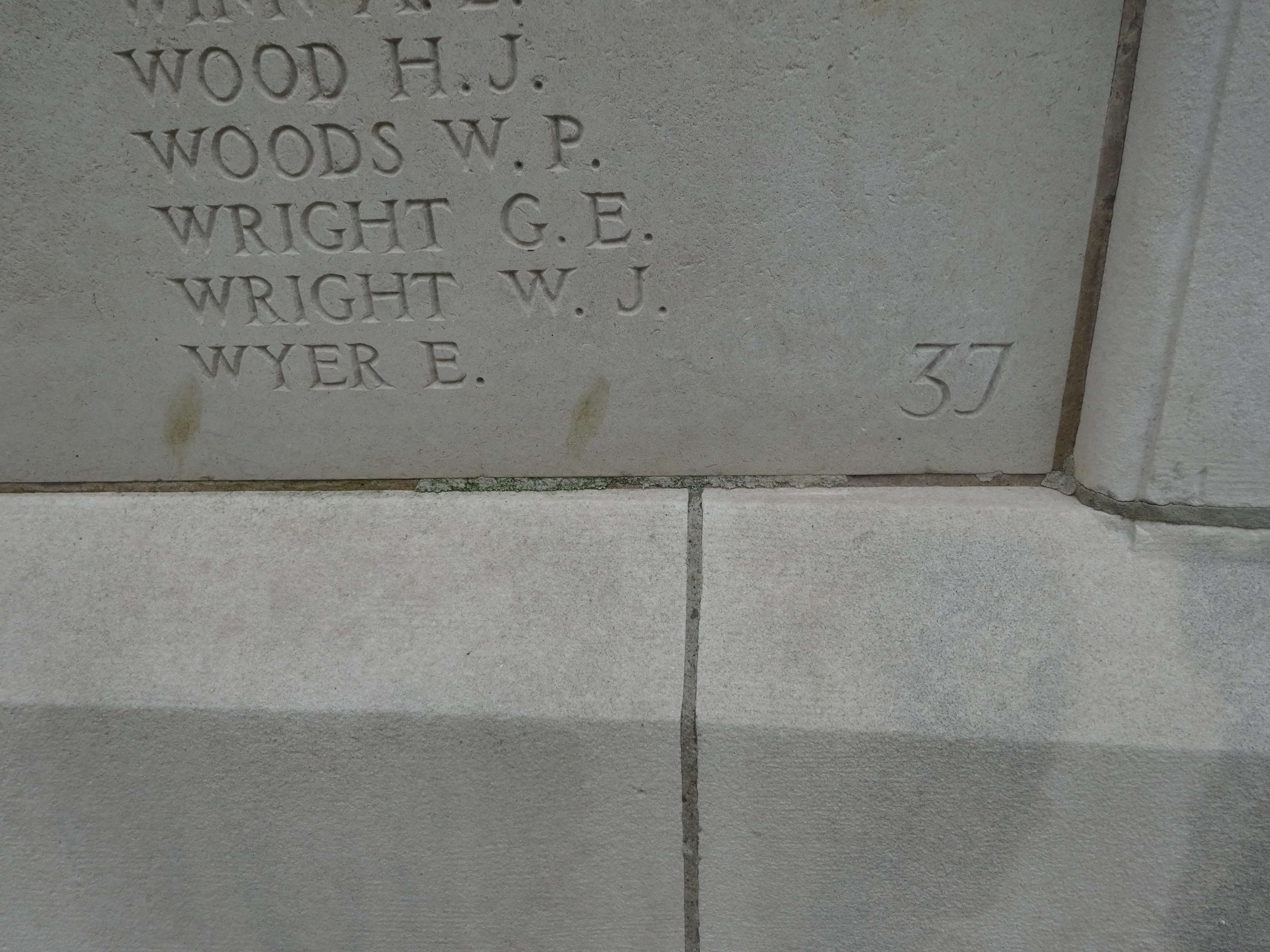 © Picture taken by South Lincolnshire War Memorials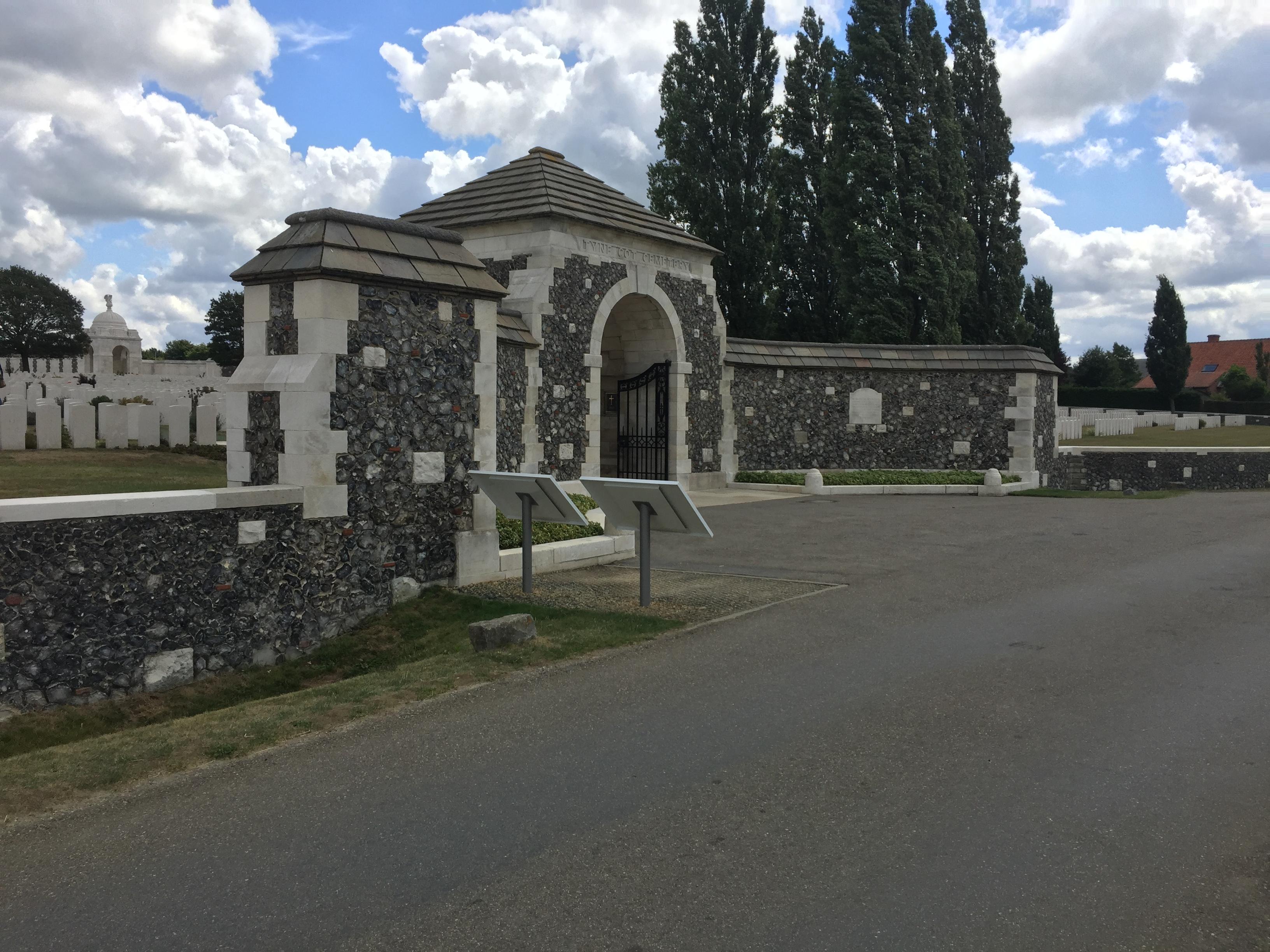 © Picture taken by South Lincolnshire War Memorials
Military Service Timeline:
Before signing up for the Army Edmund was working as a labourer and most likely went to the recruiting officer in Bourne with his fellow brothers and villagers. He signed up for the new 6th Battalion of the Lincolnshire Regiment on the 3rd of September 1914, one month after the outbreak of war.

On the 4th September 1914 Edmund undertook his Army Medical  examination in Lincoln which reported him to be 5'7 inches weighing 139 lbs with a 36 inch chest, fresh complexion, brown eyes and dark brown hair. He was declared medically fit to serve.

Initially Edmund was posted to the Regiment's deport on the 5th September and one day later he received a further posting to the newly formed 8th Battalion of the Lincolnshire Regiment. In all likelihood the rate of recruiting would mean that the 6th Battalion already had a full compliment of trainees and therefore when reaching the depot he would have been reposted to a Battalion that was being formed.

On the outbreak of the war there was a need to recruit new armies and we can see from a newspaper report that Haconby and neighbouring Morton were doing their bit.
 

Grantham Journal Saturday 3rd October 1914

KITCHENER'S ARMY – Nine men have volunteered from these parishes, viz., Hacconby, Robert Wand, Robert Wilson Wyer, Edmund Wyer, William Wyer, Jack Healey;

Morton, Fisher Handford, William Holmes, George Smith, John Ashton. We trust that others will be actuated by their splendid examples and follow suit.

After enlisting in September 1914 Edmund along with his brother Robert would have been posted to the newly formed 8th Battalion. The Battalion was formed in Lincoln in September 1914 as part of the Third New Army (K3) and then moved to Halton Park near Tring for training as part of the 21st Brigade of the 21st Division and then moved to Leighton Buzzard.

In the April  of 1915 the Battalion moved back to to Halton Park Camp, Wendover and miniature rifle practice commenced. After completing the musketry course and a Review by Lord Kitchener, the Battalion moved to Witley Camp North, marching past His Majesty the King and Lord Kitchener, 12 August 1915.

All the Battalion commanders had been in retirement at the outbreak of war. Of the 21st Division in which the 8th Lincolnshire were attached only 14 officers had any previous experience in the Regular army.

We take up Edmund and of course his brother Robert's story from the reports of the Battalion Diary of leaving England to their first tour of the trenches.

10-09-1915 – Whitley Camp

7.10pm Battalion under the command of Lt Col H E Walter left camp at 6pm and entrained at Milford Station. Journeyed via Folkestone to Boulogne; in rest camp for 1 day; Officers 28 + 2 personnel, 923 other ranks.

Entrained at Pont des Bargues St for Watten; Billeted at Bayenghem Les Eperlecques.

Captains Preston. Harrison + Lieuts Parker, Brown + Rowcroft spend 24 hours in the trenches of the 2nd Corps. The first two machine gun sections under Lieut R G Cordiner were attached to 63rd Brigade Headquarters M G Detachment.

2nd Lieut Cragg and Sgts Cummins + Wood attended a 4 day course of instruction at M.G. School at Wisques. (a point of interest is that 2nd Lt Cragg was from Threekingham and is also commemorated on our web site)

During stay at Bayenghem the Battalion Participated in Brigade and Divisional exercises and were also practiced in bombing and the use of the new pattern respirator.

7pm Battalion left Bayenghem and bivouacked one night at Racquinghem.

8.45pm Battalion left Racquinghem and billeted at Norrent

22-9-15 – Cauchy-a-la-Tour

6.30pm Battalion left Norrent and billeted at Cauchy-a-la-tour. Battalion addressed by Brigadier General N Nickalls comanding 63rd Brigade.

7.30pm Battalion left Casauchy-a-la-Tour and bivouacked at Fours-a-Chaux 1 1/2 miles from Noeux-Les-Mines.

10.30am Battalion with 8th Bn Somerset L I was warned for the firing line.

2.30-pm Verrmelles reached; under artillery fire.

7.10pm Battalion moved into position forming part of relieving force to the 15th Division: 24th Division was on our left and the 8th Somerset Light Infantry on our right.

8.15pm Owing to casualties in officers Capt H Pattinson became acting commander of the Battalion; acting 2nd in command Capt J T Preston; acting adjutant Lieut Brown.

Battalion left Vermelles and proceeded by road and rail to Linghem.

9am Strength 6 officers + 3 personnel, Other Ranks 522.

As can be seen from the two at strength reports the Battalion lost 22 officers and 401 other ranks during their first engagements of the 25th – 27th September 1915  during the Battle of Loos.

A report submitted as appendix 1 in the battalion diary explains those days.

On the night of the 25th September our Battalion left the road leading to Loos and formed lines of platoons in fours. After a short advance we halted for three hours. We then advanced in echelon formation over the trenches. After advancing for about three hours, in short stages, we halted for a short time and then moved in the direction of Hill 70.

We dug ourselves in during the night. It was now daybreak.

Major storer came to us and said "All is well'. The advance will commence at 11am. In the meantime we were under heavy shell and rifle fire. We then advanced meeting great numbers of the enemy. A short retirement took place the Battalion making a new line of men composed of various units about 400 x in rear of of pour first position.

We again advanced under the comm and of the nearest officer. By this time a great number of our officers had become casualties.

The men continued to fight with the units to which they had become attached.

On the 27th The Regiment was relieved by a unit of guards.

Robert Wyer appears in a casualty list posted by the Army on the 14th October. These lists could be many weeks behind time. We do not know exactly when Robert was injured or what happened to him during and following treatment, convalescence etc. We van see from the Battalion Diary that with their reduced fighting strength they did not go back into the front line in October it is therefore safe to assume that Robert was one of the 401 other rank casualties that the Battalion sustained during their first action on the Western Front.

A battle that thank fully Edmund came through unscathed.

In 1916 The battalion also saw action in the Battle of the Somme and were present at the battles of Albert, Bazentin Ridge, Flers-Courcelette, Morval, The Capture of Gueudecourt, Transloy Ridge, and then onto the Battle of the Ancre.

The next time we see any record relating to Edmund  is on the 8th December 1916 where in his army record appointments promotions and injuries card we see "app to 63rd Brigade the next word looks like "Thatcher" The 63rd Brigade included the 8th Lincolns and so he hardly moved far with this appointment.

Whatever this was there is no clues in the Battalion Diary as during the week leading up to this date the Battalion had been in Sarton undergoing training. They also had a large influx of new men (132 Privates) but there was a report that no new NCOs and considering they had lost 34 the week previously then this meant that training the new men was slightly handicapped.

On the 13th December 1916 Edmund's records showed he joined the Battalion and as no other records show a change of Battalion then we assume this is rejoining the 8th Lincolns.

It would only be a few weeks before Edmund was granted leave and returned to England between the 2nd January and 12th January 1917.

On returning to the Battalion the 8th were on a tour of the trenches in the Neuve Chappelle Section that would last until the 15th January.

The Battalion would continue their tours of the trenches for most of the early part of 1917 when out being billeted at Bethune, Mazingarbe and Neuville au Cornet.

The next entry we see in Edmund's service records is that he was 'app to 37th Division Burial Company' again no other information is available other than that move came on the 27th March 1917. The 8th Lincolns and the 63rd Brigade were part of the 21st Division but in July 1916 they were exchanged for the 110th Brigade and therefore became part of the 37th Division. As a burial company was a divisional unit and not a brigade unit, It would serve all the brigades / Battalions of the division. In effect Edmund had not moved that far physically.

In April 1917 the Battalion and hence the Brigade and Division were involved in the Battle for Arras and the first Battle of The Scarpe.

On 16th April 1917, Edmund Wyer was admitted to 47th F.A (47th Field Ambulance) with a gun shot wound to his right arm. The Field Ambulance would be a field station rather than a physical ambulance. Men would receive front line treatment at a Field Ambulance station and if the wound could be treated put back into the line with their own Battalion. Wounds needing batter treatment would then see the man transferred to an ambulance train and then back to a general hospital well behind the lines.

This is exactly what happened to Edmund and two days later he arrived in Etaples and was admitted to the 7th Canadian General Hospital. The entry stares he was 8th Lincolnshire but we know that on then day of the wounding the 8th Battalion were in billets training and no mention of an accident is in the diary. We have to assume that this wound was gained whilst working with the Burial Company of the 37th Division.

The very next entry in his war records is pretty much unreadable, It would look like possibly on the 11th possibly of May(could be 5 or 7 or 8th month) 1917, that he joined, but the rest is to feint to read. If it is re-joining his Battalion that would make sense. It was not always the case that you re-joined your old Battalion as after some convalescent time you were more likely to be posted to any Battalion that would be in dire need of trained reinforcements.

As Edmund's medal rolls only indicate the one Battalion then we have to assume he re-joined his Battalion, or could it be re-joining the Burial Company again. One tell tale may be that the Battalion Diary of the 8th Lincolns does report a reinforcement of a 2nd Lt and 2 other ranks on the 15th May.

As we are unsure of the exact facts and dates we have to look at Edmunds Battalion immediately before his final sacrifice to see what was happening next.

The 8th had been in the Ypres sector in 1917 leading up to the start of the Battle of 3rd Ypres (Passchendaele), they were present at  The Battle of Pilkem Ridge, The Battle of the Menin Road Ridge, The Battle of Polygon Wood. As we rejoin the Battalion and Edmund's story they ar about to undertake The Battle of Broodseinde,

Battalion relieved 4th Middlesex in front line. HQ near Het Papotte Fm with 8th SLI

Battalion in trenches. Work undertaken:- Establishment of dumps and Company HQ

Continuous shelling. 2 Companies 4th Middlesex sent up to front line and occupied support trenches with C Company.

Battalion attacked at 6am. Attack unsuccessful. Casualties heavy. Capt RG Cordiner, W Forge, 2nd Lt Farrar Hoestoby Killed; 2nd Lt Robillard + Gilson missing.  2 Companies 4th Middlesex occupied front line with remnants of A, B & D Companies.

Dispositions in the attack were as follows: D Company on left, B centre, D right. Somersets on right, 111th Brigade (KRRs) on left. Attack on the left carried out by 7th RFs. Results: D company reached apparently closed road on left, but had to retire. A company did not reach road. Enemy in great force in Jute Cotts, Berry Cotts & Hamp Farm met attack with heavy machine gun fire and bombs. Our barrage very poor. In the queuing 2 companies 10th York and Lancs Regt went up to re-enforce front line. Orders issued for attack and capture of junction in Tower Trench. Re-enforcements 2 Other Ranks.

Attack on Tower Trench not being possible, posts were advanced north of Jute Cotts to within 50 yards of German Line.

Battalion relieved by 6th Bedford Regt and returned to rest camp at Little Kemmel.

Total Casualties for the tour; 184 Other Ranks

killed; Captain Cordiner MC, Lt A F Forge

Missing believed killed; 2nd Lt R H Westoby, 2nd Lt W R Gibson

Missing; 2nd Lt FHJ Robilliard

Wounded: Lt E H Dukes, 2nd Lt HEKNEEN

Private Edmund Wyer was one of the Other Ranks listed as casualties. He was posted as missing and presumed dead.

For the family the story does not end with the death, and for some time during their grief they still had to go through reminders of the loss of three sons.

In October 1918 Army records entered in their ledger that Edmund Wyer  effects of £25/11/1 should go to his father William Wyer, this was then authorised on the 3rd December 1918

3rd December 1918, a letter was received by OC infantry Records noting that any person items belonging to Edmund Wyer should be Despatched to Mr William Wyer of Haconby. This should include and medals that later arrive.

William  Wyer passed away in 1919 and his death was registered between the April and June.

On the 16th September 1919, Mrs Sarah Wyer signed for the receipt of the 1914-15 Star that had been awarded to Edmund being a serving soldier abroad before the end of 1915.

In October 1919 the army records office wrote to William Wyer, who by now was deceased and his wife Sarah completed the Army form giving the Details of Edmund's family of her ten children only five were still living.

Sarah was living in Haconby along her son John George Wyer aged 23 and daughter Emily aged 28.

Ethel Wyer, 20, was living at Hazelmere, 89 Queens Road, Oldham

Kathleen Wyer, 19 was living at Fernhurst, Windsor Road, Wermerth, Oldham

 Hilda Mary Wyer, 17, St Annes Happisburgh, Norfolk

She had the form witnessed by J W Atkinson of Greatford, Justice of the Peace for Kesteven. On the 20th October 1919and duly returned the form to the Army.

On the 25th March 1920 a note received by OC Army Records to the effect that any belongings of Edmund Wyer should be despatched to Mrs Sarah Elizabeth Wyer including and medal that shall subsequently arrive.

On this same day the soldiers effects register was authorised to make a payment of 13/10/- for the new War Gratuity payment that would be received, a payment reflecting the time served of the soldier..

On the 17th July 1920 Sarah would receive the death scroll (and penny) issued on behalf of the king in respect of Edmund's service to King and Country.

As Edmund was missing presumed dead, he has no known grave and is commemorated on the Tyne Cott memorial near Passchendaele on the Ypres Sector of the Western Front.
Sources
WW1 Soldier's Records (www.ancestry.co.uk)
British Newspaper Archive.
Fold 3
Find My Past
Genealogist
Forces War Records
British Army Service Numbers
War Gratuity Calculator
Commonwealth War Graves Commission
National Archives – Battalion War Diaries
General Registry Office