Today we commemorate the 100th Anniversary of the death of Stoker, 1st Class, Joseph Henry Stennett of Bilingborough, who was lost at sea on the 3rd January 1918, when the H.M. Submarine G8 went missing.
Joseph was born on the 12th August 1895 to William Stennett, a journeyman butcher, from Billingborough and his wife Alice Doughty from Kirton, Lincolnshire.
The couple were married in 1888 and made their home in Billingborough where in 1890 their first child, Alice Maud was born. They later moved to Horbling where Joseph was born in 1895 and then Urania Fanny was born in 1905. The young family also sadly lost two other children before 1911.
By 1911 Joseph was working as a baker's assistant in Donnington and living with the Pattern family.
Joseph joined the Navy in July 1914 and signed up for a period of 12 years, this was one month before the war was declared. On the 21st July Joseph was posted to HMS Victory II, a shore station based at Crystal Palace and Sydenham, for initial training and remained here until the 27th December 1914 listed as a stoker. Following this initial training period he was posted to HMS Inconstant, as stoker 2nd class. HMS Inconstant was an Arethusa-class cruiser and was designed to lead destroyers into battle, launched on the 6th July 1914. HMS Inconstant joined the 1st Light Cruiser Squadron at Rosyth in February 1915. Joseph was promoted to stoker 1st class on the 2nd August 1915, staying with the ship until 7th December 1916. H.M.S. Inconstant and Joseph saw action during the Battle of Jutland.
On the 8th December 1916 Joseph was posted to HMS Dolphin a shore station near Gosport that was a submarine base and used as a training facility, he remained here only for a short period and on the 3rd January 1917 was posted to HMS Lucia.
H.M.S. Lucia was a german ship captured in September 1914 and then refitted as a submarine supply ship on the Clyde in 1916. During his period with the Lucia she was stationed on the Tees, at the South Bank, Middlesborough and the Lucia was working as a supply vessel for the 10th Submarine Flotilla. Joseph was posted onto H.M. Submarine G8, a G class submarine launched in 1917 for long range work with a crew of 31, she was attached to the 10th (Tees) Flotilla as a submarine hunter in the North Sea but Jospeh, for Naval accounting purposes was still attached to HMS Lucia.
Although working as part of the 10th Flotilla, G8 spent most of 1917 working out of Scapa Flow, her patrols were North of Shetland to Norway, Skagerrak, Kattegat and Horns Reef.
Jospeh Stennett left the Tees on G8, from the Lucia, on 27 December 1917, leaving with the submarine G12 and the destroyer HMS Medea, bound for Kattegat and then ordered to start her return to base on the 3rd of January, their mission was to hunt for two armed German steamboats.
G8 never returned from her patrol and was officially declared missing on the 14th January 1918. The cause of her demise remains unknown officially but it is believed she hit a mine, going down with all hands just off the coast of Denmark near Jutland.
The position of a wreck that was found in 2011 was on part of Route Blue, a narrow gap in the German defensive minefield that guard the entrance to the Baltic. This is believed to be the G8 and the dive team confirmed that the diesel engines were not running and the electric engine was on slow with the periscope raised indicating that she was hunting for her pray, below the surface when she hit a mine. Although the conning tower was raised the rest of the wreck has been untouched and left as a war grave.
Commonwealth War Graves Commission:
In memory of Stoker 1st Class Joseph Henry Stennett K/22930, H.M. S/M. "G8.", Royal Navy who died on 3rd January 1918 Age 22.
Son of William and Alice Stennett, of Horbling, Billingborough, Lincs.
Remembered with honour, Portsmouth Naval Memorial
Joseph Stennett is also remembered on the War memorial in the Church in his native village of Horbling, Lincolnshire.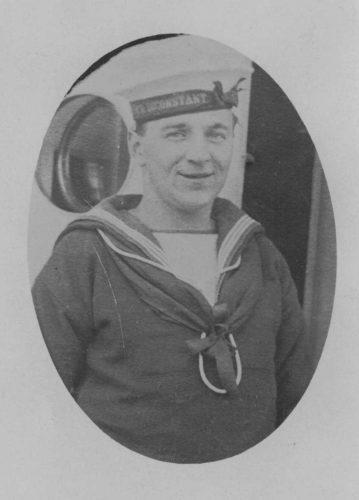 Photo courtesy Eric Gray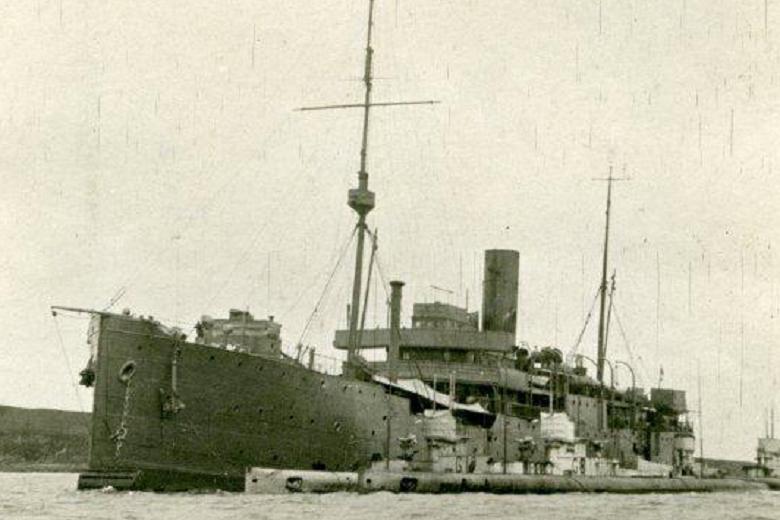 H.M.S. Lucia and H.M. Submarine G8 in the Tees.