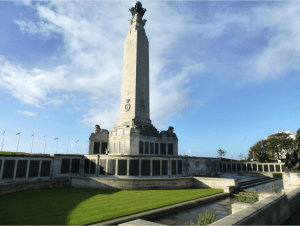 Today we remembered Bourne man, Cecil Armstrong Hornsey who accidently died on this day, 13th may 1915, serving on H. M. Destroyer Brisk with the Royal Navy in Scapa Flow.
Cecil was born on 6th February 1893 in Hastings, Sussex to John Hornsey, a druggist and chemist born in Portobello Scotland in 1866 and his wife Agnes Sophia Smith born in Bury St Edmunds Suffolk in 1872.
The couple were married on the 22nd August 1891 in Great Dunmow Essex, at the church of St Mary the Virgin. Afterwards they moved to Hastings where the first of their three children, Cecil was born 18 months later.
– Cecil Armstrong Hornsey, 1893, Hastings
– Winifred Mary Hornsey, 1895, Bourne
– Dorothy Lillian Hornsey, 1899, Bourne
By 1895 the family were living in Bourne and the 1901 census shows that they were living at 59 Woodview. John was working as a chemist (Drug) on his own account and Agnes as a school teacher.
10 years later in 1901, Agnes has yet be found on the census and the family are living in various places.
John Hornsey is living with his sisters at 47 St Mary's Terrace in Hastings and working as a chemist. The two girls are living as boarders with William Dingley and his family in Meadowgate Bourne, Winifred working as a dressmaker's apprentice and Dorothy is still at school. William Dingley was a postman and by 1918 Winifred is listed in appointments to the British Postal Service and working for the service in London.
At the age of 16 Cecil joined the Royal Navy on 24th September 1909. His occupation at the time was given as a Chemist's apprentice. He Joined as a Boy 2nd Class – "a boy aged 15 to 17 rated as such on entry to a training ship of the Royal Navy. Such entry was conditional on a boy's adequate physical height, weight and medical fitness and evidence of being of 'good character'".
His enlistment paper tells us that he was 5'6″ tall with auburn hair, blue eyes and fair complexion.
He was first posted to H.M.S. Ganges, a name given to one of the off-shore ships which was part of the Royal Naval Training Establishment, at Shotley near Ipswich, Suffolk. The ship now known as Ganges was originally designated as H.M.S. Caroline and moved to Shotley when no longer useful as a fighting vessel. Shotley at the time was going through expansion and they had just installed three radio masts as part of the newly formed Signal School.
On 5th May 1910 Cecil became a Boy 1st Class. To classify as a boy 1st Class Cecil would have needed to have served as 2nd Class for 9-18 months, shown sufficient proficiency in seamanship and accumulated at least one good conduct badge. The requirements varied between training ships and his rate of pay would have been increased. This was a rating for boys ages 16-18.
Cecil remained at HMS Ganges for only another 9 days before getting his first posting at Sea.
The first sea posting for Cecil Hornsey was on the 17th May 1910 to H.M.S. Levithan, a Drake Class armoured cruiser. H.M.S. Levithan had previously been placed on reserve but was recommissioned in 1909 for service with the 4th Cruiser Squadron which was in service with the British 1st Fleet. Cecil served for 4 months getting his first taste of the sea.
After his 4 months had elapsed he was next posted to HMS Vivid I, which was a designator of one of the buildings of the shore based training school at Devonport. Here young men were trained in Seamanship, Signalling and Telegraphy and Cecil spent 2 weeks here getting extra training before his next posting.
That next posting was H.M.S. Defence on the 1st October 1910.
H.M.S. Defence was a Minotaur-class armoured cruiser built for the Royal Navy in 1907, the last armoured cruiser built for the Royal Navy. Following naval reorganisation in 1909 HMS Defence was reassigned to the 1st Cruiser Squadron part of the 1st Division of the Home Fleet.
Cecil served on H.M.S. Defence as a Boy 1st Class until on his 18th Birthday, a Boy no longer, he was promoted to an Ordinary Seaman – "a seaman with between one and two years' experience at sea, who showed enough seamanship to be so rated by their captain".
Cecil Hornsey was officially engaged by the Navy on 6th February 1911, his 18th Birthday, for a period of 12 years. One week after gaining his promotion he was posted back to H.M.S. Vivid at Devonport for further training.
By the time of the 1911 Census, 2nd April, Cecil can be found as one of the 1265 men and petty officers living at the naval barracks in Devonport, Plymouth. At that time Devonport had 5 men's blocks and was capable of accommodating 4465 men. The barracks was under the command of Commodore Rosslyn Erskine Wemyss.
After 11 weeks training at H.M.S. Vivid, Cecil was then ready for his next sea based posting, his next ship being H.M.S. Fox.
H.M.S Fox was a second class protected cruiser of the Astraea-class of the Royal Navy. Commissioned in 1896, H.M.S. Fox represented an improvement on previous types in this class, 1,000 tons displacement larger with better seaworthiness due to improved hull design. It also had somewhat increased firepower and superior arrangement of guns. H.M.S. Fox had been assigned to the East India Fleet from 1908. Cecil was with the ship for 2 months before moving on to another East India based ship, H.M.S. Highflyer.
HMS Highflyer was the lead ship of the Highflyer-class protected cruisers built for the Royal Navy in the 1890s. She spent her early career as flagship for the East Indies and North America and West Indies Stations. She was reduced to reserve in 1908 before again becoming the flagship in the East Indies in 1911.
Cecil was posted to H.M.S Highflyer for 18 months starting on 20th July 1911 although during his time with the ship he spent 10 days in he cells between the 29th May and the 9th June 1912 which did not count as military service days.
The next posting Cecil Hornsey had was with H.M.S. Philomel again serving with the East India Station. This posting started on the 14th September 1912 and within 3 month Cecil received his next promotion to Able Seaman – "a seaman with more than two years' experience at sea and considered "well acquainted with his duty".
H.M.S. Philomel was a 1890s commissioned Pearl-class cruiser and Cecil's time with her was her final time in the Royal Navy. Cecil's posting ended on the 22nd October 1913 and he ended back on the records of H.M.S. Vivid. H.M.S. Philomel was taken to Singapore where she was recommissioned before being loaned to the Royal New Zealand Navy .
Cecil Hornsey was then listed as being posted to H.M.S. Vivid I between 23rd October 1913 and 4th May 1914 and then posted to H.M.S. Brisk on 5th May 1914 which was to be his last posting.
H.M.S. Brisk was a 'H' Class destroyer launched in 1910. She had two 4″ Guns, Two 12 pounders and two 21″ torpedo tubes and was attached to the 2nd Destroyer Flotilla. In July 1914 the 2nd Destroyer Flotilla were part of the first fleet serving under H.M.S Active as the Flotilla Cruiser and H.M.S. Blake as the Depot ship.
The flotilla was variously attached to the 1st Fleet, Home and Atlantic Fleets, Home Fleet before finally in April 1915 becoming directly in command of the Grand Fleet.
The flotilla in May 1915 was:
Flotilla Cruiser: H.M.S. Active
Flotilla Leader: H.M.S Broke
Depot Ship: H.M.S Blake
Destroyers: H.M.S. Acorn, Alarm, Brisk, Cameleon, Comet, Fury, Hope, Larne, Lyra, Martin, Minstrel, Nemesis, Nereide, Nymphe, Redpole, Rifleman, Ruby, Sheldrake and Staunch.
On the 13th may 1915 Able Seaman Cecil Armstrong Hornsey died from accidental drowning.
The ledger from H.M.S. Blake reads for 1915:
6185, Hornsey, C A, Age 21, Able Seamen, "Brisk", May 13th, Location Scapa Flow, Drowning – Knocked overboard by recoil of gun.
It would appear that during a firing of one of H.M.S Brisk's 4″ guns Cecil Hornsey was knocked overboard and drowned. The body was never recovered.
The Royal Navy noted that they had notified Cecil's Aunt Lily, St Margaret's Terrace, West Hill, Hastings of his death.
• Commonwealth War Graves Commission:
• In memory of Able Seaman Cecil Armstrong Hornsey, J/6554, H.M.S "Brisk", Royal Navy who died on 13 May 1915 Age 22
• Son of John and Agnes Sophia Hornsey, of 56, St. Mary's Terrace, West Hill, Hastings. Awarded Naval General Service Medal (Persian Gulf)
• Remembered with honour, Plymouth Naval Memorial
John and Agnes were listed living at 56 St Mary's Terrace, West Hill, Hastings by the CWGC, although on Cecil's pension record his father John's address is given as Carrington Military Hospital, Nottinghamshire.
Rest in Peace.
Pictures, Plymouth Naval Memorial, HMS Ganges (Shotley) c1910, HMS Leviathan, HMS Brisk
https://www.southlincolnshirewarmemorials.org.uk/…/cecil-h…/