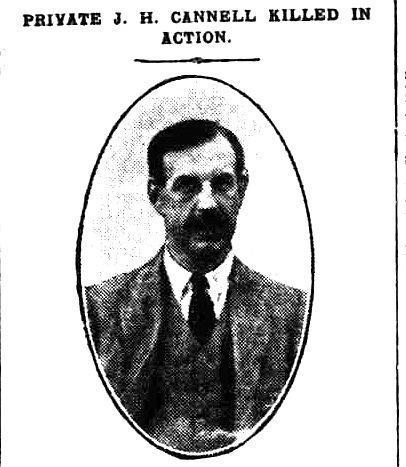 Our second remembrance today is for John Henry Cannell who was killed on this day 100 years ago on the 14th September 1914.
John Cannell was born in Norfolk and after earlier military service returned to civilian life although remained an Army Reservist. He was called back to his regiment, The Duke of Cornwall's Light Infantry at the outbreak of the war.
John had been working as a chauffeur for Alderman Dean of Dowsby Hall when he was recalled for service.
He was killed in action trying to stop the invading enemy forces from reaching Paris, an action which helped to hold then at the Marne river thus starting the trench warfare phase of the war.
Grantham Journal :
Our Dowsby correspondant writes :- Ours is the sorrowful duty this week to chronicle the death of one of our most esteemed and loyal inhabitants. We refer to Private J H Cannell, who was killed in action at the front on the 14th September; the exact place is at present unknown. He belonged to the Duke of Cornwall's Light infantry, his number was 7583. The notification of his decease was only received here on Friday evening week, when it came from headquarters, and when the news became known it caused quite a gloom to be spread, not only in this village, but in all who knew him, for he possessed a most amiable disposition, and had a kind word for everyone.
Steady, upright and fearless in dealing with mankind, he will be much missed by all his acquaintances. He was among the foremost to leave this district in the early stages of the present war, and now his name is numbered with other heroes in the roll of honour who have sacrificed all for their country and the freedom of Europe. Who could wish for a better epitaph?
It is hard for us to realize that we have lost him, but it is not for us to murmur, we shall remember him as a patriotic Britisher, and one who set an example which ought to shame all able-bodied single young men, for he was willing at the call of duty to leave his wife and child, a happy home, and all who loved him dearly, to find his rest in a grave of honour within a foreign land. A fine type of soldier he was, always ready to fulfill his duties faithfully, and when he received the "call to advance" to a far more glorious life, we fell he sure he did not falter. His age was 31 years, and he leaves a young widow and a daughter just over a year old to mourn their loss, and all hearts will extend them their sympathy in the hour of their deep sorrow. The poignancy of it all is that in a few months his time would have expired in the Army, for he joined twelve years ago. He had been in the employ of Alderman A.W. Dean J.P., of Dowsby Hall, as chauffeur, and his services in that capacity were valued, his parents reside at Careby, near Stamford. He was an attendant at our Parish Church and on Sunday, at both services the Rev. Gordon MacMorran, Rector, made feeling references to the deceased. In the morning, he preached from the text, St. Luke xii, 34, "For where your treasure is there will your heart be also," and at evensong he delivered a most eloquent sermon from St. John xi, part of the 28th verse, "The master is come, and calleth for thee."
There was scarcely a dry eye in the congregation. Special hymns were sung, and the services throughout were of the most impressive and reverent character.
John Cannell is remembered on the Dowsby Memorial and on the memorial at Le Ferte-Sous-Jouarre, France.