Biography of Private George Gregory (33620)
8th bn, Yorkshire Regiment
Formerly 37936 9th or 10th T.R. Battalion
Died 28th September 1917
Soldier
Name: George Gregory
Date of birth: 1898
Place of Birth: Horbling, Lincolnshire, England
Date of Birth registration: July – September 1898
Place of Birth Registration: Bourne, Lincolnshire, England
Father
Name: John Gregory
DOB: 15th October 1865
Place of Birth: Retford, Nottinghamshire, England
Occupation: Wheelwright
Mother
Name: Mary Elizabeth Cooper
DOB: 28th December 1874
Place Of Birth: Billingborough, Lincolnshire, England
Marriage: 25th December 1896 Horbling, Lincolnshire, England
Siblings: (Name), (DOB), (POB)
George Gregory, 1898, Horbling
Nellie Gregory, 1903, Horbling (died 1903)
Fred Gregory, 1907, Horbling
Stanley Gregory, 1915, Horbling
Census
1901: George is living with his mother in Horbling, Lincolnshire
1911: George is living with his parents in Horbling, Lincolnshire. The census gives him an age of 12 and he is listed as bring at school.
Marriage
No marriage for George has been found and because of his age we can assume that he never had the opportunity to marry.
Newspaper Mentions
Grantham Journal Saturday 13th October 1917
HORBLING
KILLED IN ACTION – Another local family has been plunged into grief by news, which reached them on Sunday, that their son had been killed in action. Pte. George Gregory (Yorkshire Regt.) eldest son of Mr and Mrs Gregory. Deceased, bright promising lad, who was only about nineteen, was a butcher's assistant with Mr. J. E. Holland, Billingborough and joined up last February. The deepest sympathy is extended to the parents in their sorrow.
War Office Weekly Casualty List, October 30th 1917
DIED OF WOUNDS
YORKSHIRE REGIMENT
Gregory 33620 G. (Folkingham)
Soldier's Died In The Great War
These records show that Private George Gregory, 8th Battalion Yorkshire Regiment was killed in action on 28th September 1917 in the Western European Theatre in France and Flanders..
Pension Records
Effects Left To
Medals
The British Medal
The Victory Medal
Memorials
UK:UK:
Horbling, Roll of Honour in Horbling St Andrews Church
Commonwealth War Graves Commission:
In memory of Private G gregory, 33620, 8th Battalion, Yorkshire Regiment who died on 28 September 1917 Age 19
Son of J and M Gregory, of Horbling, Billingborough, Lincs.
Remembered with honour, Lijssenthoek Military Cemetery.
Grave XXV. B. 4.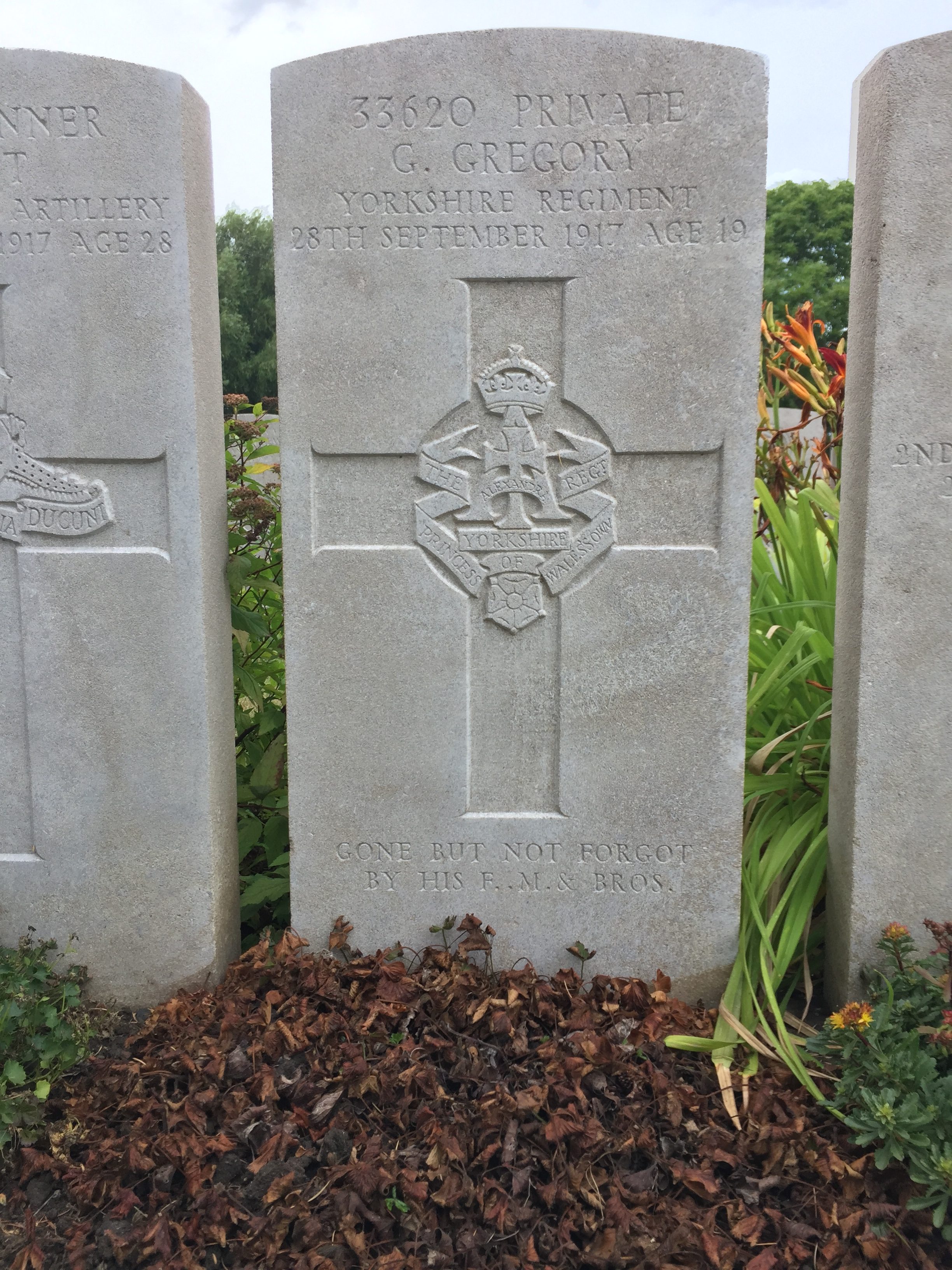 © Picture taken by South Lincolnshire War Memorials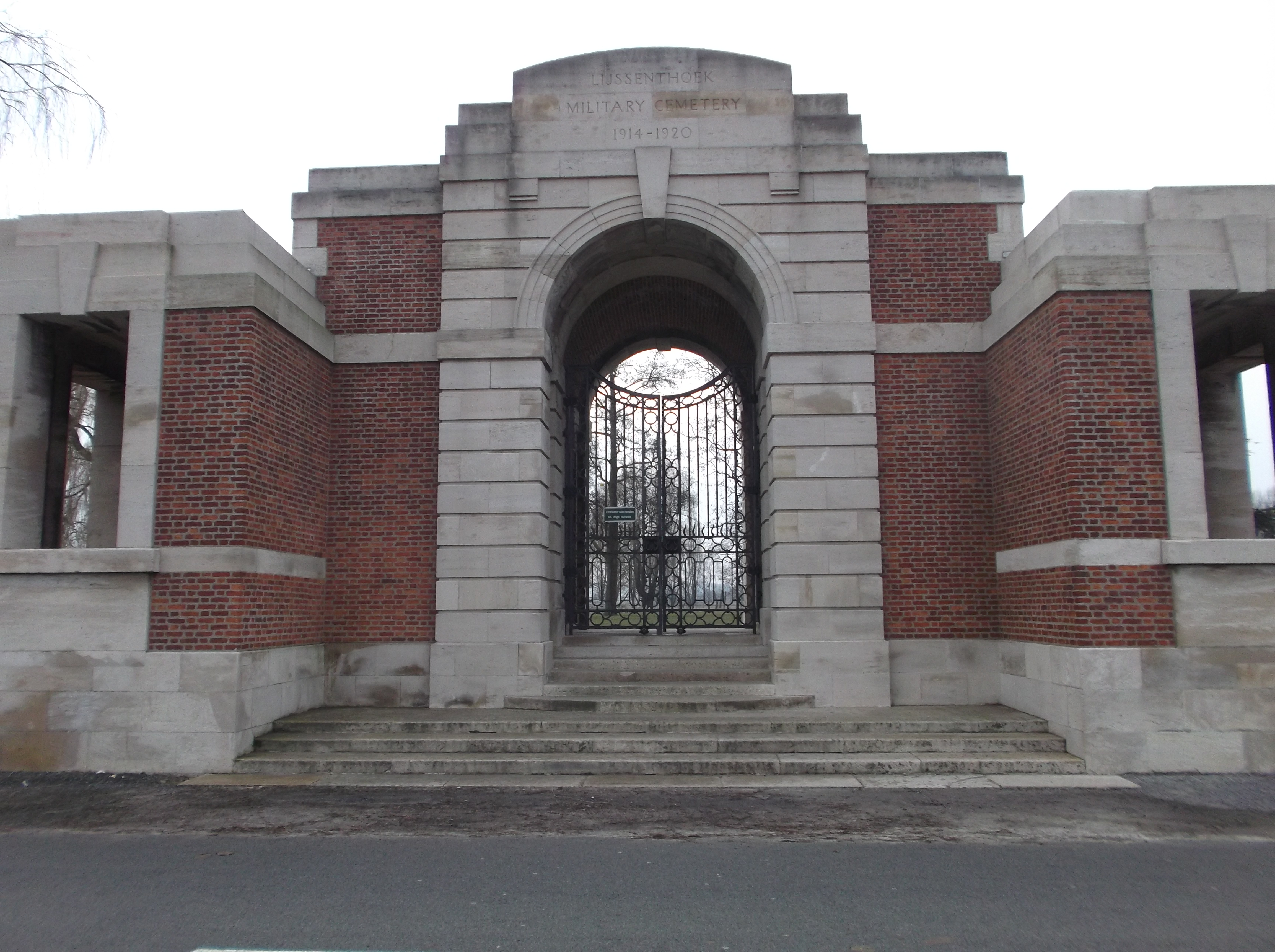 © Picture taken by South Lincolnshire War Memorials
Military Service Timeline:
Enlisted in Grantham in February
Sources
WW1 Soldier's Records (www.ancestry.co.uk)
British Newspaper Archive.
Fold 3
Find My Past
Genealogist
Forces War Records
British Army Service Numbers
War Gratuity Calculator
Commonwealth War Graves Commission
National Archives – Battalion War Diaries
General Registry Office