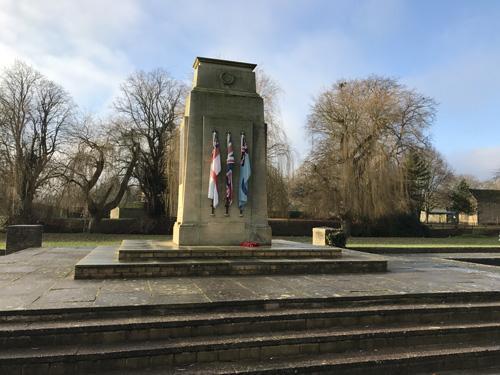 This week we remember Bourne man Private Bertie Kettle who died in Leicester Royal Infirmary on 26th May 1919 of Septic Pneumonia. He was a recently ex serviceman who had been serving with the 11th Battalion Leicestershire Regiment.
Bertie Kettle was born between January and March 1894 in Bourne to John Kettle a Fellmonger's Labourer born in Morton Lincolnshire in 1855 and his wife Elizabeth Holmes, born in 1863 also in Morton.
John was first marred to Rachel Pocock in 1974 and they had lived in Eastgate Bourne but unfortunately Rachel died in 1883 leaving the widow John with four children to bring up.
John and Elizabeth were married in 1884 and this was registered in the Sleaford District. They lived in Bourne where all of their 9 children were born.
• John Robert Kettle, 1875, Bourne (Half brother)
• Emma Kettle, 1877, Gosberton (Half sister)
• Rose Alice Kettle, 1879, Bourne (Half sister)
• Jessie Kettle, 1881, Bourne (Half sister)
• Sarah Elizabeth Kettle, 1885, Bourne
• Mabel Kettle, 1887, Bourne
• John Kettle, 1888, Bourne
• Gertrude Kettle, 1890, Bourne
• Bertie Kettle, 1894, Bourne
• Florence Evelyn Kettle, 1896, Bourne
• Lily Kettle, 1897, Bourne
• Harry Sidney Kettle, 1900, Bourne
• Emily Kettle, 1902, Bourne
In 1901 Bertie was living with his parents in Victoria Place in Bourne. John was working as a fellmonger's labourer (most likely working in the Tannery for T.W. Mays). Elizabeth and six of their children were in the four room house.
Moving on 10 years and the family are to be found on the 1911 census now in a five room house just around the corner in Eastgate. John is still working as a fellmonger and also now eldest son John and also Bertie are doing the same work., sister Gertie was working at a Pea factory. In 1911 the Eastgate area of Bourne was a hive of activity.
Bertie's war records have not been found and you would have to assume, like 60% of the WW1 service records, were destroyed in a London warehouse fire in the Blitz.
Unfortunately this leaves us with trying to tell his story through other available records. The fact that he died in 1919 immediately means that records like Soldier's Died in the Great War do not list Bertie.
On enlistment he was posted to the 11th Battalion Leicestershire Regiment and given the regimental number of 22575. The exact date of enlistment is unknown and as his medal rolls show that he never served with any other battalion, we can say that he would not have most likely joined around the end of October or the beginning of November 1915. This conclusion is made by comparing the enlistment dates of men of the Leicestershire Regiment that had a similar regimental number.
The 11th Battalion were a service battalion of the Leicestershire Regiment. The Battalion was Formed at Leicester in October 1915 by the Mayor and a local committee.
In March 1916 they landed in France and less than one month later, 1st April, came under orders of 6th Division as a Pioneer Battalion. A pioneer battalion could be involved in building or repairing bridges, roads and other similar projects but were a fighting infantry unit and although not normally in the first wave when the Army went over the top would sometimes be called upon to be in the following waves.
As Bertie was awarded the Victory Medal, this meant that he must have served in a theatre of war and so this would suggest that he was mobilised for war and served in France with the Battalion, again the exact dates are unknown. If Bertie had joined around November 1915, it would be most likely that he was one of the men that embarked for France with the 11th Battalion in March 1916. By March he would have a few months basic training before embarking.
The Battalion saw action in the war on the Somme at Fleurs-Courcelette at what was the first use of Tanks in action by the British Army.
In 1917 the 11th Leicesters were in action at Hill 70 in Lens during April and then in November at the Battle of Cambrai and Bourlon Wood.
1918 had them starting on the Somme during March at St Quentin and then in the Lys sector around Bailleul and Kemmel holding off the German Spring offensive. For the 100 days offensive they served in September in St Quentin followed by Cambrai and finally the Battle of the Selle on the 20th October.
They ended the war in divisional reserve at Bohain-en-Vermandois on the 11th November.
After the armistice the Battalion were involved in the march to the Rhine and the occupation of the Rhineland. They had Christmas dinner 1918 on the Rhine and shortly afterwards in 1919 they received orders that in March 1919 the 6th Division will cease to exist. Divisional units such as the Pioneers were posted into the new Midland Division.
Records of other 11th Battalion men would indicate that some of the men and quite possibly Bertie were demobilised in April 1918 at Catterick.
How much of this Battalion's story is shared with Bertie is unknown. There are no wounded records, mentions in the Times' Casualty Lists or Silver War Badge records to suggest that his war ended any earlier than March 1919.
Bertie was living with his sister, Rose Neale, at 9 Scott Street, Leicester and was unemployed in May 1919 when he was taken ill and admitted to Leicester Royal Infirmary. He was diagnosed with Quinsy (abscess near the tonsils) which 5 days later developed into Septicaemia and then after another 2 days he died of Septic Pneumonia, aged 25 years.
Bertie's death certificate states that he was unemployed and an ex soldier with the 11th Battalion, Leicestershire Regiment.
Bertie Kettle is buried in Welford Road Cemetery in Leicester and is commemorated on the War Memorial in Bourne, Lincolnshire and also on he memorial in St Michael's Church, Scott Street, Leicester.