Biography of Private Gilbert Ringham Tyler (42330)
2nd/5th Battalion West Yorkshire Regiment (Prince of Wales's Own)
Died 31st July 1918
Soldier
Name: Gilbert Ringham Tyler
Date of birth: 1897
Place of Birth: Thurlby, Lincolnshire, England
Date of Birth Registration: April – June 1897
Place of Birth Registration: Bourne, Lincolnshire, England
Father
Name: Thomas Tyler
DOB: 1865
Place of Birth: Helpston, Northamptonshire, England
Occupation: Farmer and coal agent
Mother
Name: Harriet Edith Ringham
DOB: 1868
Place Of Birth: Thurlby, Lincolnshire, England
Marriage: 1896 Bourne District
Siblings: (Name), (DOB), (POB)
Gilbert Ringham Tyler, 1897, Thurlby
Frederick Tyler, 1903, Thurlby
Frank Tyler, 1905, Thurlby
Ernest Tyler, 1907, Thurlby
Census
1901: Gilbert is living with his parents in Station Road, Thurlby, Lincolnshire.
1911: Gilbert is living with his parents at Northorpe, Lincolnshire. The census gives him an age of 14 and he is listed as a farmer's son on farm.
Relatives in services
Gilbert's cousin's Ernest Turner and Sidney Muggleston Turner also fought and was killed in WW1. Ernest and Sidney can be found on our page dedicated to the Baston War Memorial.
Marriage
No marriage for Gilbert has been found and because of his age we can assume that he never had the opportunity to marry.
Soldier's Died In The Great War
These records show that Private Gilbert Ringham Tyler, 42330, 2nd/5th Bn, Prince of Wales's Own (West Yorkshire) Regiment was killed in action on 31st July 1918 in the Western European Theatre in France and Flanders.
Pension Records
Effects Left To
Memorials
UK:
Thurlby, Roll of Honour in St Firmins Church
Commonwealth War Graves Commission:

In memory of PrivateGilbert Ringham Tyler, 42330, 2nd/5th Bn., West Yorkshire Regiment (Prince of Wales's Own) who died on 31 July 1918 Age 21

Son of Thomas and Harriet E. Tyler, of Northorpe, Bourne, Lincs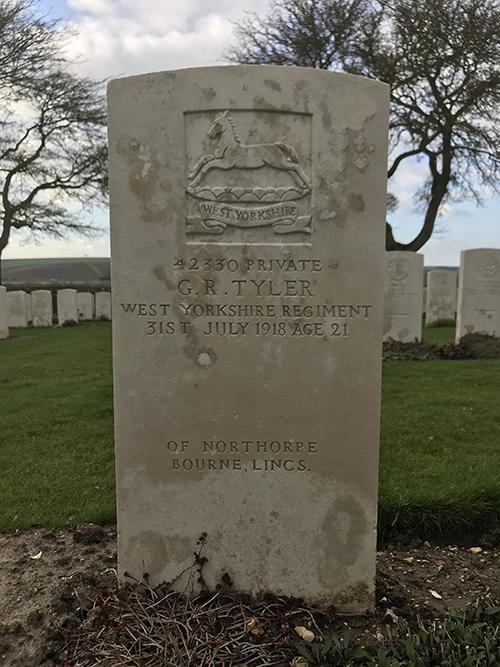 © Picture taken by South Lincolnshire War Memorials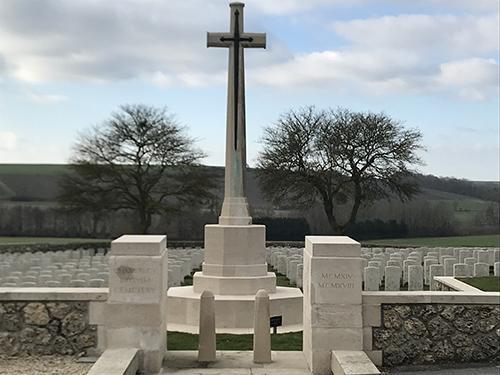 © Picture taken by South Lincolnshire War Memorials
Military Service Timeline
This is ongoing research and will be posted when completed
Sources
WW1 Soldier's Records (www.ancestry.co.uk)
Commonwealth War Graves Commission