Biography of Private Lionel Arthur Rippin (66411)
1st/6th Battalion Northumberland Fusiliers
Died 11th April 1918
Soldier
Name: Lionel Arthur Rippin
Date of birth: 1899
Place of Birth: Burton Penwardine, Lincolnshire, England
Date of Birth Registration: April – June 1899
Place of Birth Registration: Sleaford, Lincolnshire England
Father
Name: Toby Rippin
DOB: 1872
Place of Birth: Colsterworth, Lincolnshire, England
Occupation: Gardener
Mother
Name: Mary Ann Bailey
DOB: 1868
Place Of Birth: Scredington, Lincolnshire, England
Marriage: 1892 Sleaford District
Siblings: (Name), (DOB), (POB)
Joseph Rippin, 1896, Burton Penwardine
Lionel Arthur Rippin, 1899, Burton Penwardine
Walter Rippin, 1900, Ancaster
Census
1901: Lionel is living with his parents in South Rauceby, Lincolnshire.
1911: Lionel is living with his father and step mother at Aunsby, Lincolnshire. The census gives him an age of 12 and he is listed as still at school.
Marriage
No marriage for Lionel has been found and because of his age we can assume that he never had the opportunity to marry.
Newspaper Mentions
Grantham Journal Saturday 25th May 1918
SEMPRINGHAM
WAR NOTES – Mr T Rippin has received notification that his son, Pte. L Rippin, Northumberland Fusiliers, has been missing since April 11th. He was in France. Miss Pell, Neslam Farm, has also received official news that Pte. H. Dolby, Lancs. Fusiliers, of whom nothing had been heard for many weeks, is wounded and a prisoner of was in Germany.
Soldier's Died In The Great War
These records show that Private Lionel Arthur Rippin, 66411, 1st/6th Bn (Territorial) Northumberland Fusiliers was killed in action on 11th April 1918 in the Western European Theatre in France and Flanders.
Pension Records
Effect Left To
Medals
The British Medal
The Victory Medal
Memorials
Commonwealth War Graves Commission:
In memory of Private Lionel Arthur Rippin, 66411,1st/6th Bn., Northumberland Fusiliers who died on 11 April 1918
Remembered with honour, Ploegsteert Memorial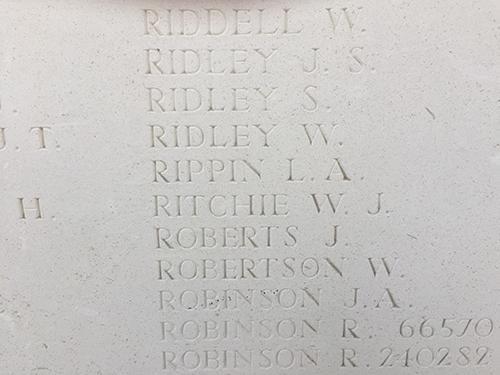 © Picture taken by South Lincolnshire War Memorials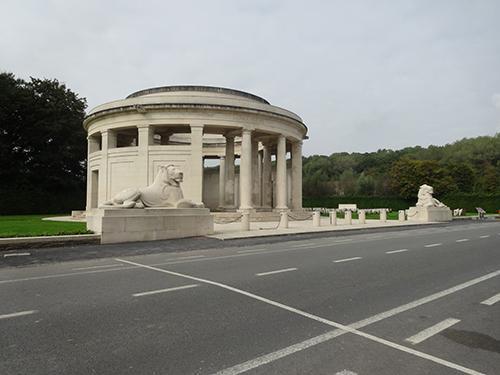 © Picture taken by South Lincolnshire War Memorials
Military Service Timeline
The military papers for Lionel cannot be found and we assume were part fo the records destroyed in the blitz. The medal roll shows that Private Lionel Rippin 66411 served with the 1/6th Northumberland Fusiliers.

The only other records we can find are the pension records giving Lionel's pension of 5/- per week to his father Toby, living on Pointon Road Sempringham. Unfortunately these records are limited and do not show a time in service or any other clues to piece together his time in service.

As we do not know any dates when he joined we can only look at the Battalion Diary for information about his last days.

The 1/6th Battalion Northumberland Fusiliers had spend March in the Somme near Villiers Brettoneaux and this period included 14 straight days in battle.

The War diary for April 1918 has a hand written letter as a preface that will set the scene for what the Battalion had been through during the German Spring offensive.

-Herewith war diaries of 149th Infantry brigade for Month of April 1918, less 6th N.F (Northumberland Fusiliers). The war diary of the 6th bn N.F will be forwarded as soon as possible. the following has been received from the OC that Battalion.
"owing to the exceptional nature of the heavy casualties suffered by this Battalion lately – which include the C.O. Adjutant and intelligence officer, great difficulty is being experienced in obtaining authentic data for the continuous history of the operations in which this unit has taken part during the period covered by the war diary in question. Major J.G.Leathart – at present at Le Touquet is the only surviving officer who can supply certain necessary facts and as he will not be returning to the Battalion until the end of the present week, I fear that it will not be possible to submit the war diary for April at the stipulated time. It will be forwarded at the earliest possible moment.
H.w Jackson, Capt
Bm for Brig-gen Commanding 149 Inf Bge."

From what we can piece together on the 1st April the 149th brigade (roughly 3000 men at full strength) were reduced to 400 men and they were moved to Lillers and each Battalion in the Brigade received men drafted from home and then moved to Merville.

An article on the Western front association website was written about another 6th Nothumberland man and the following is a précis of that article. For more details as to the battalions movements please see the following link.

https://www.westernfrontassociation.com/…/11-april-1918-pt…/

9th April – Merville
The Battalion were ordered to move at short notice. At 7.30am the Battalion moved up to Le Trou Bayard, east of Estaires. After several small moves no contact was made with the enemy even though they had reports of enemy advances.

10th April – Estaires
Ordered to form a defensive flank facing the line of the enemy breakthrough. 7.15 am ordered to attack and retake Estaires which had fallen to the enemy. The Battalion made some of their objectives regaining a large proportion of the town.
The remainder of the day the Battalion position were shelled and heavy casualties were received. By the evening the battalion was forced to withdraw from part of the town.

11th April –
Battalion was placed on Brigade reserve.
7.00am received a report that the enemy had occupied Le Trou Bayard and the battalion received orders to move.
1.50pm The Battalion had advanced but was now being forced back. After a confusing afternoon and evening, the enemy had taken Neuf Berquin on the Battalion's left flank.
11.00pm the 149th Brigade fell back to Vierhoek.

Like most of the line in that sector over the next days they were forced into a series of withdrawals.

Private Lionel Rippin was officially declared as having been killed in action on the 11th April 1918. This was only after a period of being classed as missing.
This is ongoing research and will be posted when completed
Sources
WW1 Soldier's Records (www.ancestry.co.uk)
Commonwealth War Graves Commission
British Newspaper Archive.