Biography of Private Alfred James Chessum (9959)
6th Battalion Lincolnshire Regiment
Died 9th August 1915
Soldier
Name: Alfred James Chessum
Date of birth: 1887
Place of Birth: Biggleswade, Bedfordshire, England
Date of Birth Registration: April – June 1887
Place of Birth Registration: Biggleswade, Bedfordshire, England
Father
Name: George Chessum
DOB: 1866
Place of Birth: Dunton, Bedfordshire, England
Occupation: Groom gardener (not domestic)
Mother
Name: Emma Stanley
DOB: 1865
Place Of Birth: Biggleswade, Bedfordshire, England
Marriage: 5th February 1887 Biggleswade, Bedfordshire, England
Siblings: (Name), (DOB), (POB)
Alfred James Chessum, 1887, Biggleswade
Kate Chessum, 1889, Biggleswade (twin)
Charlotte Chessum, 1889, Biggleswade (twin)
Stanley George Chessum, 1892, Pointon
William Charles Chessum, 1895, Pointon
Census
1891: Alfred is living with his parents in Pointon, Lincolnshire.
1901: Alfred is living with his parents at 1 West Street, Pointon, Lincolnshire.
1911: Alfred is living with Sallie Hodson at Rauceby, Grantham, Lincolnshire. The census gives him an age of 23 and he is listed as a groom domestic.
Marriage
No marriage for Alfred has been found and we can assume that he never had the opportunity to marry.
Newspaper Mentions
Grantham Journal Saturday 13th February 1915
Amongst those serving their King and country from Pointon are two of Mr. and Mrs. Chessum.  One of them, Pte. Alfred Chessum is in the 6th Lincolns, at Belton Park, where he is servant to one of the officers.  When he enlisted he was in the service of Colonel Birch-Reynardson, of Holywell Hall, and this sitiation is being kept open for our local patriot.  Another son, William Charles Chessum, has just been promoted to rank of corporal.  He is atteched to the 8th Battaion Northamptonshire Regiment, now stationed at Penzance. Before the war he was an attendent at Berrywood Avenue Asylum, Northampton.  Twelve men from this institution volunteered their services, and nine were accepted.  Both lads speak highly of the exceptional kindness they have received from their former employers, and also many friends, during the time they have been in training.  It is interesting to mention that a third son of Mr. and Mrs. Chessum, Stanley, also volunteered for service but, much to his disappointment he failed to pass the medical examination, owing to a defective eye.  All honour to him also!  The above photograph ois of Corpl Chessum, with the regiment pet of the 8th Northampton.
Lincolnshire Echo Tuesday 14th September 1915
LINCS. REGIMENT CASUALTIES
The following casualties in the Expeditinary Force are reported under date August 28:
WOUNDED – 6th LINCOLNS
Chessum, 9959 Pte. A. J.
Grantham Journal Staurday 18th September 1915
6th Lincolns
The following casualties have occurred amongst the 6th Lincolns serving in Gallipoli:-
Chessum 9959 A. J.
Lincolnshire Echo Wednesday 23rd August 1916
Mr. and Mrs. Chessum, of Pointon, near Billingborough, have received an official communication stating that their son, Private A. Chessum, of the 6th Lincolns, who has been missing since Aug. 9th last year while fighting at Suvla Bay, must now be regarded as dead.  Another son, Corporal W, Chessum (6th Northamptons), who took park in the recent advance, was severely wounded in the head, but, happily, he has gone on well since he has been in hospital, and he is now approaching convalescence.
Soldier's Died In The Great War
These records show that Private Alfred James Chessum, 9959, 6th Bn Lincolnshire Regiment was killed in action on 9th August 1915 in the Balkan Theatre.
Pension Records
Effects Left To
Medals
The British Medal
The Victory Medal
The 15 Star
Memorials
Commonwealth War Graves Commission:
In memory of Private Alfred James Chessum, 9959, 6th Bn., Lincolnshire Regiment who died on 9 August 1915 Age 27
Son of Mr. G. and Mes. C. Chessum, of Pointon, Billingborough, Lincs.
Remembered with honour, Helles Memorial

© The War Graves Photographic Project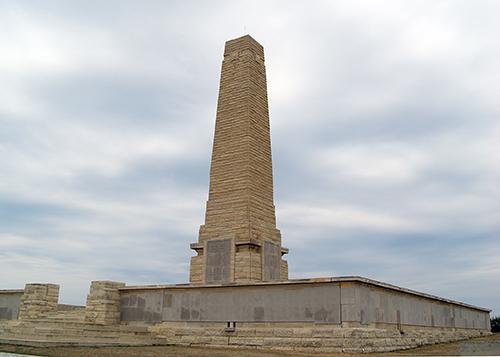 © The War Graves Photographic Project
Military Service Timeline
Enlisted in Stamford, Lincolnshire 18th August 1914
Posted to the 6th Lincolns 30th August 1914
Reported wounded or missing on the 9th August 1915 in the Dardanelles on the 14th August 1915
Official regerded as having died 12th August 1916
This is ongoing research and will be posted when completed
Sources
WW1 Soldier's Records (www.ancestry.co.uk)
Commonwealth War Graves Commission
British Newspaper Archive.