Biography of Private Ernest Henry Rudkin (37867)
2nd Battalion Royal Berkshire Regiment
Died 2nd December 1917
Soldier
Name: Ernest Henry Rudkin
Date of birth: 1891
Place of Birth: Morton, Lincolnshire, England
Date of Birth registration: June – September 1891
Place of Birth Registration: Bourne, Lincolnshire, England
Father
Name: Henry James Rudkin
DOB: 26th October 1870
Place of Birth: Stamford, Lincolnshire, England
Occupation: Horseman on farm
Mother
Name: Mary Ann Wrighton
DOB: 6th August 1869
Place Of Birth: Essendine, Rutland, England
Marriage:1890 Stamford District
Siblings: (Name), (DOB), (POB)
Ernest Henry Rudkin, 1891, Morton
Bertie Evlyn Rudkin, 1893, Morton
Arthur Frederick Rudkin, 1895, Morton
Edith Annie Rudkin, 1900, Witham On The Hill
Florence Mary Rudkin, 1902, Witham On The Hill
Albert Leslie Rudkin, 1904, Corby
Cedric William Rudkin, 1908, Swinstead
Olive Lilian Rudkin, 1912, Kirkby Underwood
Census
1901: Ernest is living with his parents in William On The Hill, Lincolnshire
1911: Ernest is living in Burton Coggles with Mason Family as a Servant. The census gives him an age of 19 and he is listed as a Waggoner on farm.
Wife
Name: Sophia Osborne Hallam
Date of birth: 15th March 1890
Place of Birth:Easton, Northamptonshire, England
Marriage
Date of Marriage:

30th  June 1914

St

Place of Marriage: Michael's Stamford, Lincoln, England
Children, (Name), (DOB), (POB)
Jarvis Osborne Rudkin, 27th November 1914, Bourne, Lincolnshire, England
Wife's parents
Father: Thomas Osborne
Mother: Mary Hallam/Lobley
Newspaper Mentions
Grantham Journal Saturday 5th January 1918
Pte, E. RUDKIN, of Kirkby Underwood.
Mr. and Mrs., Rudkin, of Kirkhy Underwood, have again suffered bereavement in the death of their eldest son at the front.  The following letter has been received from his officer:- "Dear Mrs. Rudkin,- It is with very great regret that I have to inform you of the death of your son No. 37867, Pte Ernest Rudkin.  He was killed by shell-fire on December 2nd, and died instantly without pain. His body was buried, but I am sorry that I am not able to give you particulers of the exact place.  It will be some consolation to you to know that your son died in action gallantly doing his duty. With my deepest sympathy.  Yours truly, W. I  DURNFORD, 2nd Lieut., Royal Berkshire Regt."  Before joining the Army, Pte. Rudkin was working on munitions.  It is only fifteen months since Mr. and Mrs. Rudkin lost a younger son, Pte Bert Rudkin another son, is at the front.  Much sympathy is felt for them in their loss.
War Office Weekly Casualty List January 15th 1918
KILLED
ROYAL BERKSHIRE REGIMENT
Rudkin 37867 E. H. (Kirkby Underwood)
Grantham Journal Saturday 30th November 1918
In fond memory of a loving son and brother, Pte. Enrest H. Rudkin, of Kirkby Underwood, killed by shell, in Belgium, Dec. 2nd, 1917.
Somewhere out yonder he is lying,
But where we cannot tell;
But God above He knows the place –
He was with him when he fell.
Sadly missed by his sorrowing
FATHER, MOTHER, BROTHERS, ans SISTERS.
Grantham Journal Saturday 30th October 1920
RUDKIN – In loving memory of our two brothers, Bertie Rudkin, who died of wounds, September 1916; and Ernest H. Rudkin, who was killed in action, December, 1917.
Tis sweet to think we'll meet again,
When partings are no more;
That our boys we loved so well
Have only gone before.
Fred and Flo (Corby)
Grantham Journal Saturday 3rd December 1921
RUDKIN – In loving memory of our two boys, Bertie Rudkin, died of wounds, in France, September 27th, 1916; also of Ernest Henry, killed by a shell, in Belgium, Dec. 2nd 1917.
Constant Sorrow; everlasting love
From Father, Mother, Brothers & Sisters
(Kirkby Underwood, Bourne)
Soldier's Died In The Great War
These records show that Private Ernest Henry Rudkin, 37867, 2nd Battalion Princess Charlotte of Wale's (Royal Berkshire Regiment) was killed in action on 2nd December 1917 in the Western European Theatre in France and Flanders.
Pension Records
Effects Left To
Medals
The British Medal
The Victory Medal
Memorials
UK:
Kirkby Underwood, plaque in St Mary and All Saints Church
Kirkby Underwood, Names on the stained glass window in St Mary and All Saints Church
Commonwealth War Graves Commission:
In Memory of Private Ernest Henry Rudkin, 37867, 2nd battalion, Royal Berkshire Regiment who died on 2 December 1917
Remembered with Honour, Tyne Cot Memorial
Panel Ref: Panel 105 to 106 and 162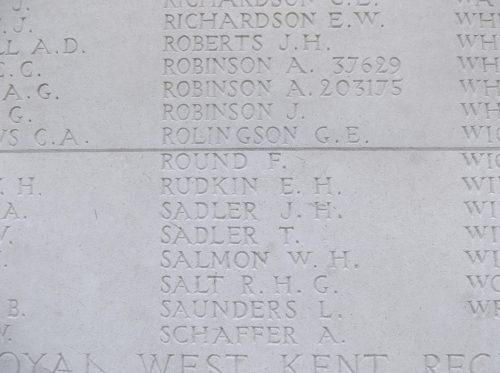 © Picture taken by South Lincolnshire War Memorials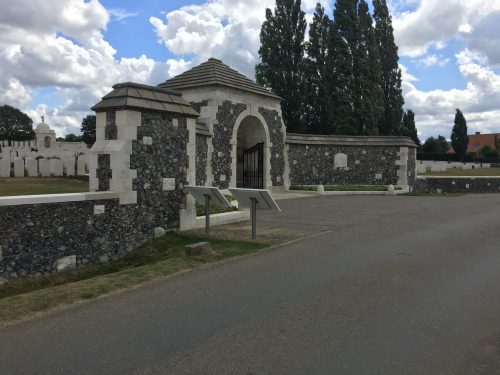 © Picture taken by South Lincolnshire War Memorials
Military Service Timeline:
Sources
WW1 Soldier's Records (www.ancestry.co.uk)
British Newspaper Archive.
Fold 3
Find My Past
Genealogist
Forces War Records
British Army Service Numbers
War Gratuity Calculator
Commonwealth War Graves Commission
National Archives – Battalion War Diaries
General Registry Office