Biography of Private Bertie Evlyn Rudkin, (43011)
1st Battalion Lincolnshire Regiment
Formerly 3928 1st/4th Lincolnshire Regiment
Died 27th September 1916

Soldier
Name: Bertie Evlyn Rudkin
Date of birth: 1893
Place of Birth: Morton, Lincolnshire, England
Date of Birth registration: April – June 1893
Place of Birth Registration: Bourne, Lincolnshire, England
Father
Name: Henry James Rudkin
DOB: 26th October 1870
Place of Birth: Stamford, Lincolnshire, England
Occupation: Horseman of farm
Mother
Name: Mary Ann Wrighton
DOB: 6th August 1869
Place Of Birth: Essendine, Rutland, England
Marriage: 1890 Stamford District
Siblings: (Name), (DOB), (POB)
Ernest Henry Rudkin, 1891, Morton
Bertie Evlyn Rudkin, 1893, Morton
Arthur Frederick Rudkin, 1895, Morton
Edith Annie Rudkin, 1900, Witham On The Hill
Florence Mary Rudkin, 1902, Witham On The Hill
Albert Leslie Rudkin, 1904, Corby
Cedric William Rudkin, 1908, Swinstead
Olive Lilian Rudkin, 1912, Kirkby Underwood
Census
1901: Bertie is living with his parents in William On The Hill, Lincolnshire
1911: Bertie is living in Swinstead with Cook Family as a Servant. The census gives him an age of 18 and he is listed as a Farm Waggoner.
Marriage
No marriage for Bertie has been found and because of his age we can assume that he never had the opportunity to marry.
Newspaper Mentions
Sheffield Daily Telegraph Tuesday 7th November 1916
DIED OF WOUNDS
LINCOLNS.
Rudkin (43011), B. (Kirkby)
War Office Casualty Lists 7th November 1916
N.C.O'S ans MEN
Died of wounds
Lincolnshire Regiment
Rudkin 43011 B.
Grimsby News Friday 10th November 1916
DIED OF WOUNDS.
Lincolnshire Regiment.
Rudkin, 43011 B. (Kirkby)
Mansfield Reporter Friday 10th November 1916
TUESDAY'S LIST
DIED OF WOUNDS
Lincolnshire Regiment
B. Rudkin 43011, Kirkby
Grantham Journal Saturday 30th October 1920
RUDKIN – In loving memory of our two brothers, Bertie Rudkin, who died of wounds, September 1916; and Ernest H. Rudkin, who was killed in action, December, 1917.
Tis sweet to think we'll meet again,
When partings are no more;
That our boys we loved so well
Have only gone before.
Fred and Flo (Corby)
Grantham Journal Saturday 3rd December 1921
RUDKIN – In loving memory of our two boys, Bertie Rudkin, died of wounds, in France, September 27th, 1916; also of Ernest Henry, killed by a shell, in Belgium, Dec. 2nd 1917.
Constant Sorrow; everlasting love
From Father, Mother, Brothers & Sisters
(Kirkby Underwood, Bourne)
Soldier's Died In The Great War
Pension Records
Effects Left To
Medals
The British Medal
The Victory Medal
Memorials
UK:
Kirkby Underwood, plaque in St Mary and All Saints Church
Kirkby Underwood, Names on the stained glass window in St Mary and All Saints Church
Commonwealth War Graves Commission:
In memory of Private B E Rudkin, 43011, 1th Battalion, Lincolnshire Regiment who died on 27 September 1916 Age 23.
Son of Henry James and Mary Ann Rudkin, of Kirkby Underwood, Bourne, Lincs. Born at Morton nr Bourne, Lincs
Remembered with honour, Etaples Military Cemetery.
Grave XI. C. 14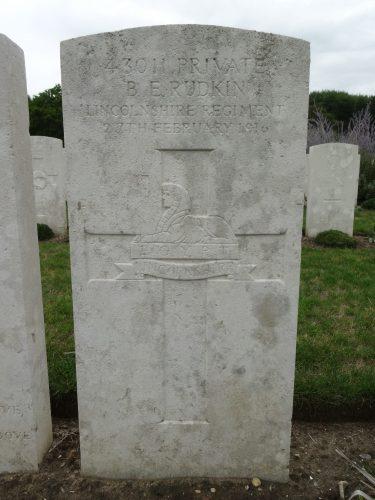 © Picture taken by South Lincolnshire War Memorials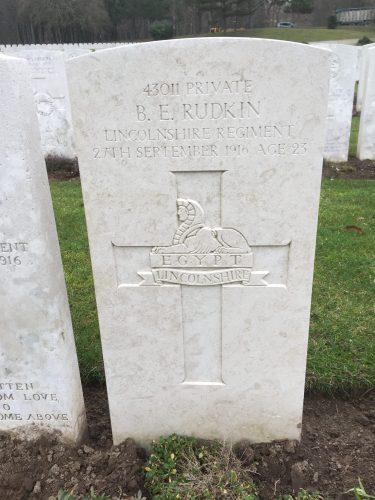 © Picture taken by South Lincolnshire War Memorials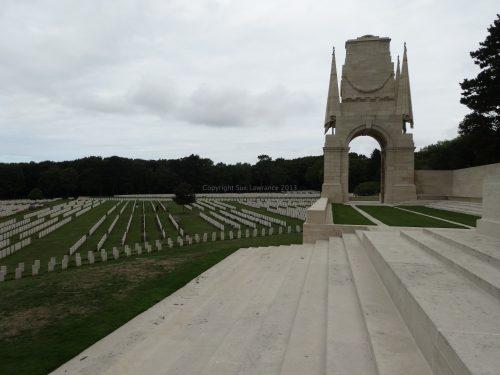 © Picture taken by South Lincolnshire War Memorials
Military Service Timeline:
Sources
WW1 Soldier's Records (www.ancestry.co.uk)
British Newspaper Archive.
Fold 3
Find My Past
Genealogist
Forces War Records
British Army Service Numbers
War Gratuity Calculator
Commonwealth War Graves Commission
National Archives – Battalion War Diaries
General Registry Office