Biography of Private Thomas Walter Lynn (43645)
1st/5th Battalion South Staffordshire Regiment
Died 28th September 1918
Soldier
Name: Thomas Walter Lynn
Date of birth: 1899
Place of Birth: Edenham, Lincolnshire, England
Date of Birth Registration: April – June 1899
Place of Birth Registration: Bourne, Lincolnshire, England
Father
Name: Thomas Lynn
DOB: 1866
Place of Birth: Newton, Lincolnshire, England
Occupation: Blacksmith
Mother
Name: Mary Bates
DOB: 1856
Place Of Birth: Aslackby, Lincolnshire, England
Marriage: 1894 Bourne District
Siblings: (Name), (DOB), (POB)
Ernest Tom Bates, 1885, Leeds (Half brother)
Kate Lynn,  1892, Aslackby
John Gibson Lynn, 1895, Sibsey
William Stanley Lynn 1896, Edenham
Edwin Harry Lynn, 1897, Edenham
Thomas Walter Lynn, Edenham
Census
1901: Thomas is living with his parents in Back Lane, Edenham, Lincolnshire.
1911: Thomas is living with his parents in Edenham, Lincolnshire. The census gives him an age of 11 and he is listed as being at school.
Marriage
No marriage for Thomas has been found and because of his age we can assume that he never had the opportunity to marry.
Newspaper Mentions
Grantham Journal Saturday 9th November 1918
EDENHAM
MISSING – Mr. and Mrs. Thomas Lynn have received official notice that their son, Pte. Walter Lynn (South Staffordshire Regiment), has been posted missing since September 28th.  Mr. and Mrs. Lynn lost their second son in January, and the sympathy of all goes out to them in their bereavement.
Grantham Journal Saturday 20th September 1919
EDENHAM
PRESUMED DEAD – News of Pte Thomas Walter Lynn, South Staffs. Regiment, youngest son of Mr and Mrs Thomas Lynn, has just come from Record Office at Litchfield saying the authorities are "regretfully constrained to conclude that he is dead, and that his death took place on 28th Sept 1918." The deceased has been missing for nearly a year and the only information received by his parents was a letter from his office, who wrote he was told Pte. Lynn was killed on the date named, that he had fulfilled his duties as a soldier faithfully and devotedly, and expressed his deepest sympathy with the bereaved parents and family. All in the parish deeply regret the loss and express their great sympathy with Mr and Mrs Lynn, this being the second son they have lost in the war.
Grantham Journal Saturday 31st January 1920
IN MEMORIAM
LYNN – In loving memory of our two dear boys, William Stanley Lynn, who died February 2nd 1918 and Thomas Walter Lynn, who was reported missing on September 28th 1918 and since presumed dead, somewhere in France.
Ever in our thoughts
From their loving
MOTHER, FATHER, SISTER and BROTHERS (Edenham)
Soldier's Died In The Great War
These records show that Private Walter Thomas Lynn, 43645, 1st/5th Battalion (Territorial Force) South Staffordshire Regiment was killed in action on 28th September 1918 in the Western European Theatre in France and Flanders.
Pension Records
Effects Left To
Medals
The British Medal
The Victory Medal
Memorials
Commonwealth War Graves Commission:
In memory of Private Walter Thomas Lynn, 43645, 1st/5th Battalion, South Staffordshire Regiment who died on 28 September 1918 Age 19
Son of Thomas and Mary Lynn of Edenham, Bourne, Lincolnshire
Remembered with honour, Vis-En-Artois Memorial
Panel 6 and 7.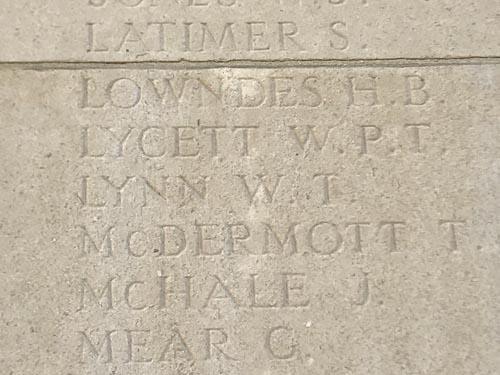 © Picture taken by South Lincolnshire War Memorials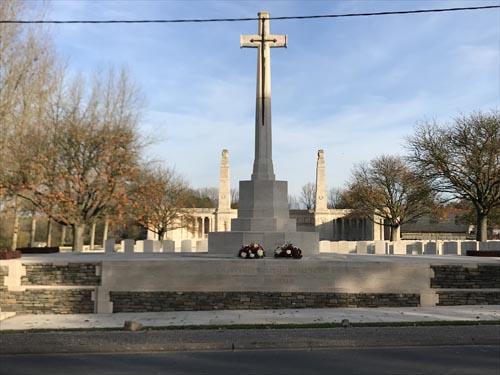 © Picture taken by South Lincolnshire War Memorials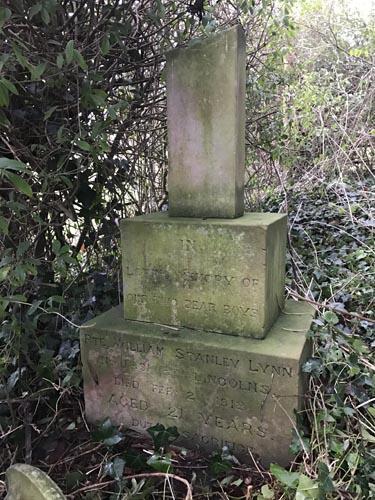 © Picture taken by South Lincolnshire War Memorials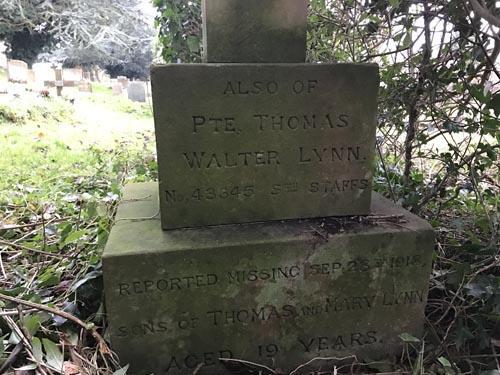 © Picture taken by South Lincolnshire War Memorials
Military Service Timeline
This is ongoing research and will be posted when completed
Sources
WW1 Soldier's Records (www.ancestry.co.uk)
British Newspaper Archive.
Fold 3
Find My Past
Genealogist
Forces War Records
British Army Service Numbers
War Gratuity Calculator
Commonwealth War Graves Commission
National Archives – Battalion War Diaries
General Registry Office