Biography of Private Thomas Wand (21543)
2nd/5th Battalion Lincolnshire Regiment
Formerly 7th Battalion Lincolnshire Regiment
Died 6th December 1917
Soldier
Name: Thomas Wand
Date of birth: 1894
Place of Birth: Dunsby, Lincolnshire, England
Date of Birth Registration: June – September 1894
Place of Birth Registration: Bourne, Lincolnshire, England
Father
Name: John Joseph wand
DOB: 1872
Place of Birth: Morton, Lincolnshire, England
Occupation: Farm labourer
Mother
Name: Mary Ann Grange Vickers
DOB: 1892
Place Of Birth: Bourne, Lincolnshire, England
Marriage: 1891 Bourne District
Siblings: (Name), (DOB), (POB)
George William Wand, 1891, Bulby
Beatrice Wand, 1892, Bulby (Twin with Gertie)
Gertie Wand, 1892, Bulby (Died 1894) (Twin with Beatrice)
Sarah Elizabeth Wand, 1894, Dunsby (Twin with Thomas)
Thomas Wand, 1894, Dunsby (Twin with Sarah)
Gertrude Wand, 1896, Dunsby
Eliza Wand, 1897, Dunsby
Lily Wand, 1900, Dunsby
Harry Wand, 1902, Dunsby
Charles Robert Wand, 1904, Dunsby
Annie May Wand, 1907, Dunsby
Emily Wand, 1908, Dunsby
Ethel Wand, 1911, Dunsby
Edith Wand, 1913, Dunsby
Plus 1 more whose name are unknown from 1911 census.
Census
1901: Thomas is living with his parents in Dunsby, Lincolnshire.
1911: Thomas is living with the Haresign family in Pinchbeck, Lincolnshire. The census gives him an age of 17 and he is listed as a horseman on farm.
Marriage
No marriage for Thomas has been found and because of his age we can assume that he never had the opportunity to marry.
Newspaper Mentions
Sheffield Daily Telegraph Friday 11th January 1918
KILLED
LINCOLNS
Wand (21543), T. (Dunsby)
War Office Weekly Casualty List January 15th 1918
KILLED
LINCOLNSHIRE REGIMENT
Wand 21543 T. (Dunsby)
Soldier's Died In The Great War
These records show that Private Thomas Wand, 21543, 5th  Bn Lincolnshire Regiment was killed in action on 6th December 1917 in the Western European Theatre in France and Flanders.
Pension Records
Effects Left To
Medals
The British Medal
The Victory Medal
Memorials
UK:
Dunsby, Roll of Honour in All Saints Church
Commonwealth War Graves Commission:
In memory of Private T Wand, 21543, 2nd/5th Bn., Lincolnshire Regiment who died on 6 December 1917
Son of Mr. J. J. Wand, of Dunsby Fen, Bourne, Lincs.
Remembered with honour, Orival Wood Cemetery, Flesquieres
Grave II. C. 7.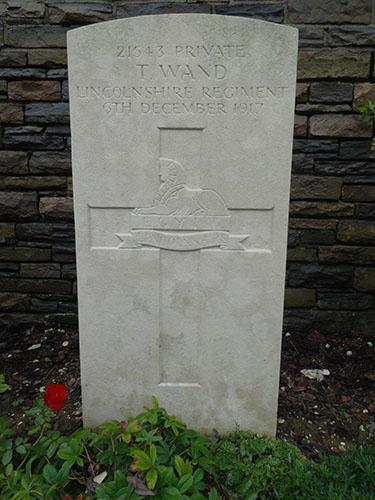 © Picture taken by South Lincolnshire War Memorials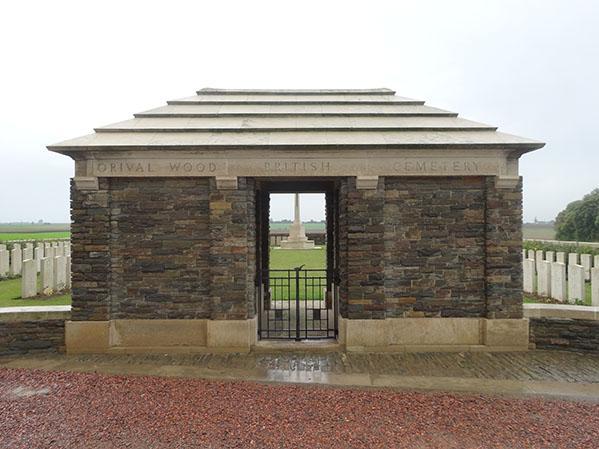 © Picture taken by South Lincolnshire War Memorials
Military Service Timeline
This is ongoing research and will be posted when completed
Sources
WW1 Soldier's Records (www.ancestry.co.uk)
British Newspaper Archive.
Fold 3
Find My Past
Genealogist
Forces War Records
British Army Service Numbers
War Gratuity Calculator
Commonwealth War Graves Commission
National Archives – Battalion War Diaries
General Registry Office